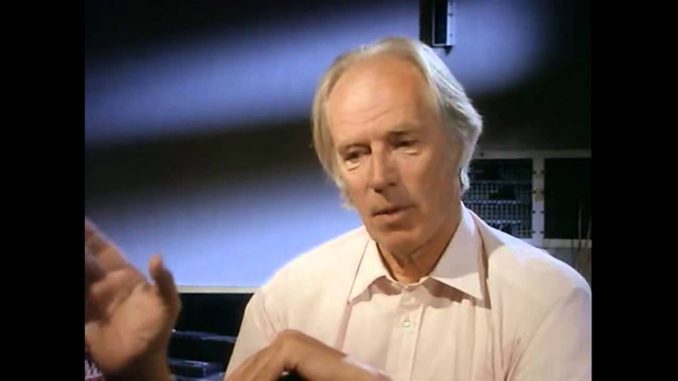 This article was last updated on May 27, 2022
Canada:

Oye! Times readers Get FREE $30 to spend on Amazon, Walmart…
USA:

Oye! Times readers Get FREE $30 to spend on Amazon, Walmart…

The Beatles producer a symbiotic success in turn made by The Beatles he helped to create
By Stephen Pate – Sir George Martin OBE was most likely lowest producer in the EMI Music organization when he first heard The Beatles on February 13, 1962.
Sir George Martin turned 89 on January 3, 2015 and still remains hale and hearty although his hearing has suffered from a life of music production. He wears hearing aids like 100's of millions of other people, myself included.
After The Beatles split up, George Martin formed AIR studios and produced numerous award winning albums including albums for The Beatles and Paul McCartney such as The Beatles Anthology, and The Beatles Love.
The Beatles had been playing clubs together in Liverpool, England and Hamburg, Germany since 1960 and while they had an exciting club act, there Decca produced demo was considered wretched, tiring and listless.

Their manager Brian Epstein had no success in getting the Liverpool lads, John Lennon, Paul McCartney, George Harrison and drummer Pete Best, a record contract. Without a recording contract, The Beatles were assured a lifetime of obscurity not the fame they achieved by late 1962 and 1963.
George Martin was a classically trained musician who started his apprenticeship at EMI Parlophone Records in 1950 producing low-budget classical records.
The Parlophone catalogue was a joke literally at EMI which had the biggest stars in the UK. Parlophone was expected to break even by selling only 500 copies of obscure small classical records.
To liven things up, they added comedians like Spike Milligan and Peter Sellers. Parlophone was the sub-basement of British recording. Despite the chances of success, George Martin worked hard and learned how to make records, even producing a #1 hit before he met The Beatles.
Brian Epstein secured a meeting with a reluctant George Martin who thought the Decca demo was dismal, "rather unpromising" was his dry comment. Despite that, a May meeting and 4-song recording occurred that George Martin largely ignored, showing up at the end.
The story goes that Martin asked The Beatles what they didn't like and George quipped "your tie for one thing." The quick humor convinced Martin to sign them. He did insist they replace Pete Best with another drummer which is how Ringo Starr got into the band. In September 1962 they recorded "Love Me Do" and later "Please Please Me" which became The Beatles first hits.
This started the most successful relationship between a producer and musicians in history. Only the Phil Spector co-produced Let It Be would break the streak.
Martin brought his production skills and musical experience to The Beatles and helped them grow from a simple R&B based rock and roll group to the most innovative of rock musicians.
Along with suggestions as to what worked, he insisted John and Paul at least take music lessons. When you see Paul and John play the piano, that's a credit to George Martin. Once you move beyond the guitar to a full keyboard, music opens up. Anyone who listens to the musical progression from "With the Beatles" to "Rubber Soul" can see they made fantastic progress.
George Martin's contributions to The Beatles
While I wasn't there when The Beatles and George Martin produced that marvelous music, the recording sessions are well documented in several books which I've read including All You Need Is Ears: The inside personal story of the genius who created The Beatles and The Beatles Anthology.
The Beatles had talent but they were slack on musical skills. George Martin helped them achieve their goals. He of course scored the orchestral parts and played keyboard until they took over that role, after music lessons.
The Beatles were quick studies with John and Paul taking to the piano and George expanding into Indian musical styles and instruments. Ringo Starr was the least in need of any instruction since he was a fully formed professional drummer when he joined the band.
"It was Martin's idea to put a string quartet on "Yesterday", against McCartney's initial reluctance. Martin played the song in the style of Bach to show McCartney the voicings that were available. Another example is the song "Penny Lane56666666666", which featured a piccolo trumpet solo. McCartney hummed the melody he wanted, and Martin notated it for David Mason, the classically trained trumpeter."
"Martin's distinctive arranging work appears on many Beatles recordings. For "Eleanor Rigby" he scored and conducted a strings-only accompaniment inspired by Bernard Herrmann. For "Strawberry Fields Forever", he and recording engineer Geoff Emerick turned two very different takes into a single master through careful use of vari-speed and editing. "
Paul McCartney once commended Martin by saying: "George Martin [was] quite experimental for who he was, a grown-up." (Wikipedia). Sir Paul McCartney is nothing by gracious and generous to George Martin who earned nothing but his salary from all their success, a lesson not lost of today's music producers who earn credit and royalties.
The Beatles made amazing musical progress and later came to resent George Martin which is not unusual when the pupil thinks he or she no longer needs a tutor or mentor.
The Fifth Beatle?
Somewhere along the way, Sir George was given the label "5th Beatle" which appellation he eschewed. In one of his many nasty, sour moods John Lennon threw cold water on giving Martin any credit for their success. That of course is rubbish but John Lennon was not always in full control of his rational faculties.
"George Martin… I don't know. You see, for quite a few of our albums, like the Beatles' double albums," said Lennon. "George Martin didn't really produce it. In the early days, I can remember what George Martin did."
J. Wenner (Rolling Stone Magazine): "Why did you use Phil (Spector) now instead of George Martin?"
"Well it's not instead of George Martin. That's nothing personal against George Martin. He's more Paul's style of music than mine. But I don't know, really… it's a drag to do both. To go in the recording studio and then you run back and say did you get it? Rolling Stone
Martin never claimed to be "the 5th Beatle" – that was a label created by the press. Lennon's ungracious memory in 1970 can be viewed within the context of his rancor against The Beatles breakup and life in general. Schlock shock radio host Howard Stern tried to stir up a tempest in a teapot over the relationship between Lennon and Martin but Martin will have none of it.
Happy Birthday Sir George and a gracious thank you for producing the greatest rock and roll band of all time.
For The Beatles albums, movies and memorabilia see The Beatles store

on Amazon.com and The Beatles
Follow NJN
Twitter – @sdpate
Facebook at NJN Network
Add the NJN icon to your desktop
Subscribe and get new stories by email
You can publish this article on your website as long as you provide a link back to this page.