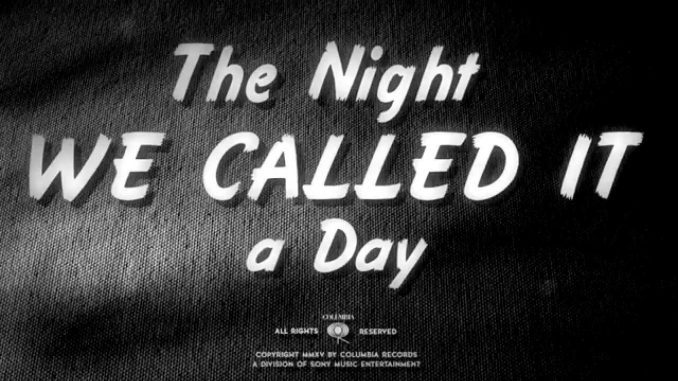 Dylan's new video from Shadows in the Night features movie director Nash Edgerton and Bob Dylan
By Stephen Pate – The Night We Called It A Day may be a love song but Bob Dylan visualizes it as a black and white film noir video with a violent ending. The song from the new CD Shadows In The Night

which reached # 1 in some countries and #7 on the US Billboard 200 chart.
The video story line features a three-way romance with a femme fatale dancer, Dylan and Robert Davi as her suitors and a downer ending played tongue in cheek.
Dylan has been fascinated with films and film dialogue for decades. His songs have been littered with lines from movies. From the classic John Huston detective movie The Maltese Falcon

there are several direct references.


"I don't mind a reasonable amount of trouble…" (Seeing the Real You at Last)
"Don't look for me/I'll see you…" (When the Night Comes Falling from the Sky)
"Maybe you love me and I love you …" (When the Night Comes Falling from the Sky)
"You wanna talk to me/Go ahead and talk…" (Tight Connection to My Heart)
"Well, I'll have some rotten nights after I've sent you over/But that'll pass…" (Seeing the Real You at Last) (from The Thrilling Detective)
Jim Linwood compiled a list of direct quotes from movies in Dylan lyrics. Film Dialogue in the Lyrics of Bob Dylan
"Out of the 61 films listed, 19 belong to the dark, cynical cycle of 40/50s crime films that French cineastes later christened film noir and nine star the archetypal noir anti-hero, Humphrey Bogart" said Linwood.
"The film from which most of Dylan's quotes are taken is John Huston's The Maltese Falcon (1941), which defined the noir genre and Bogart's screen persona. Like film noir, Dylan's songs of the 80s, from which most of the quotes are taken, point to what Eddie Muller called the struggle of the individual to transcend or escape "the black core of corruption in our 'civilized' society and our primitive essence.""

Director Nash Edgerton is known as a stunt actor for the idiosyncratic The Matrix and The Matrix Reloaded

movies. He has directed four Bob Dylan videos including this one and Duquesne Whistle, Beyond Here Lies Nothin', and Must Be Santa.
All four videos that Edgerton directed for Dylan have violent themes. At first the violence has a shock effect but that wears off. We are inured to violence in movies. The juxtaposition of violence and popular music can be jarring but it's not surprising. Dylan never plays it straight when he appears on screen and one could say his acting is getting better. Or should I say, he is better at playing his inner self – the tough guy gangster.
There is a previous Australian movie called The Night We Called It A Day about Frank Sinatra's 1974 tour of Australia. The filmed starred Dennis Hopper as Frank Sinatra and Melanie Griffith as Barbara Marx. Other than the link to the Sinatra song and Edgerton being Australian as well, there is no connection between the two films.
Production credits
Production Company: The Directors Bureau
Director: Nash Edgerton
Executive Producer: Sue Yeon Ahn
Producer: Benjamin Gilovitz & Kimberly Stuckwisch
Commissioner: Bryan Younce
Director of Photography: Morgan Susser
Production Designer: Toby Corbett
Stylist: Francis & Pereira
Editor: Luke Doolan & Nash Edgerton
VFX Artist: Denis Sharabarin
VFX Producer: Kevin Cornish
Color & Conform: Bonch
Colorist: Bill Pollock
Cast: Bob Dylan, Robert Davi & Tracy Phillips.
Shadows in the Night is available from Amazon.com

, Amazon.ca in Canada

and Amazon.co.uk in the UK

.
Also available from iTunes – Shadows in the Night – Bob Dylan
Follow Stephen Pate
Twitter – @sdpate
Facebook at NJN Network
Add the NJN icon to your desktop
Subscribe and get new stories by email
By Stephen Pate, NJN Network