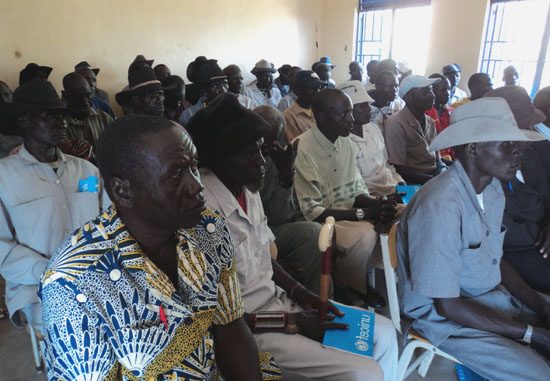 This article was last updated on April 16, 2022

Kapoeta North County in Eastern Equatoria State yesterday commenced a 3 day comprehensive training of 57 chiefs on their duties and roles as a requirement by the Local Government Act 2009.

Under the theme: 'Together we can handle our own affairs', the County Executive Director, Mr. David Eriga told Gurtong at the County Headquarters that the training which had just kicked off at Riwoto secondary school, is sponsored by the County Authorities and it would from time to time be facilitated by him with assistance from his Deputy, Mr. Tito Abbas Lomoro under the chairmanship of the County Commissioner, Mr. Lokai Iko Loteyo.

He revealed that the 57 chiefs include the County Paramount chief, who chairs 'C' court and 7 Payam executive chiefs who chair their Payam respective 'A' courts in addition to head chiefs who chair their Boma's respective 'A' courts.
Mr. David Eriga further explained that the purpose of the training is mainly to introduce the chiefs on the concepts of Local Government Act 2009 and tools of leadership, acquainting them with their areas of jurisdictions from Boma, Payam to County levels by defining their roles, duties and functions apart from detailed introduction on financial management and leadership skills and work ethics.

He said since the chiefs are supposed to be role models in the community, dressing code are going to be an emphasis during the training. Uniforms for chiefs shall now be introduced since they will be under the Local Government leadership.

Eriga added that the chiefs shall be taken through the Local Government financial concepts and shall be exposed to sources of revenue at all levels i.e. social taxes, local rates and other taxes from Boma, Payam to County levels. They will also be trained on customary laws, legal court laws, police Act, dressing code of chiefs, conflict resolutions and procedures for elections or appointment of chiefs and paramount chiefs shall be introduced systematically.

The Chiefs and the entire County authorities are under the Local Government and they discharge their duties within the Local Government Act 2009.
The Executive Director also called for cooperation among the public servants while saying that, "whatsoever we do be it in our homes, offices, cooperation is a key to success," he said while quoting the old adage, 'Divided we fall, united we stand'.
While speaking to Gurtong in his office, the County Commissioner, Mr. Lokai Iko Loteyo emphasized the importance of the training saying it would enable the benefactors to know their roles hence handle affairs accordingly.
You can publish this article on your website as long as you provide a link back to this page.