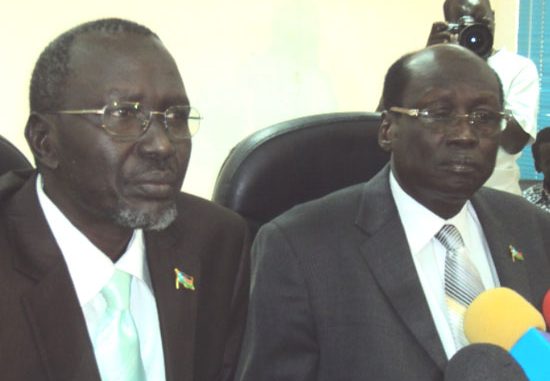 This article was last updated on April 16, 2022
Canada:

Oye! Times readers Get FREE $30 to spend on Amazon, Walmart…
USA:

Oye! Times readers Get FREE $30 to spend on Amazon, Walmart…

During an official briefing yesterday by the South Sudan National Minister of Petroleum and Oil Hon. Stephen Dhieu to the press, the government is accusing Sudan of blocking transfers of the South Sudan oil sales.
Dhieu disclosed a deliberate strategy by the Sudanese government since late 2011, efforts he described aimed at blocking the Republic of South Sudan from selling its oil using Sudan's facilities.
Since gaining independence on July 9th last year, South Sudan still depends on Sudan's oil refinery facilities to extract and sell its oil to the international markets. Sudan has since levied high charges on South Sudan for using these facilities.
"A new year, same old behaviours: Khartoum is trying to steal the South's oil resources once again," Dhieu warned dealers on Khartoum's oil export of a dead business future.
"The Government in Khartoum has decided to once again steal crude from the Republic of South Sudan rather than view a New Year as an opportunity for renewed co-operation," Dhieu stated.
Dhieu who is also one of the members of the South Sudan Task Force involved in negotiations with Khartoum to finalize outstanding issues of the expired Comprehensive Peace Agreement, CPA accused Khartoum that;
"It ordered the foreign oil companies to divert all South Sudan's Nile Blend crude oil entitlements for December to the Khartoum and El Obeid refineries. It ordered 550,000 barrels of South Sudan's Dar Blend's crude oil entitlement for December to be delivered to a Sudanese buyer.
"Khartoum started the reconstruction of a new tie-in pipeline between the Petrodar Pipeline and the Khartoum Refinery designed to permanently divert 13% of Dar Blend.
He also pointed out that, last month Khartoum also prevented two ships from leaving the port one carrying 1.6million barrels of Dar blend originating from South Sudan and preventing one additional vessel to load 0.6 million barrels of Dar blend.
He added that, Sudan had also prevented two other ships from entering the Port of Sudan to take possession of 1.2million barrels of Nile blend purchased from South Sudan.
This is the latest Khartoum's blow on international cooperation with South Sudan on the economic sector. Since the signing of the CPA in 2005, South Sudan and Sudan have failed to resolve their differences on oil deals.
However, Dhieu pointed out that, despite Khartoum's aggression on the matter, the Republic of South Sudan is still committed to define their differences with Khartoum on table.
The Minister stated that, in two weeks time the two countries will meet in the Ethiopian Capital of Addis Ababa to finalize talks on the oil deal. "If there is no final resolution on this issue the Ministry of Petroleum has its own arrangements," Dhieu said.
Meanwhile the South Sudanese Government Spokesperson Dr. Barnaba Marial Benjamin has warned of 'break-apart' of ties with Khartoum if it continues with its aggression.
"There is no where in the world where another country can go and interfere with the resources of another country. Iraq tried to invade Kuwait because they wanted to take the oil of Kuwait you know what happen to Saddam Hussein about that," Marial rhetorically asked.
"If our brothers in Khartoum are thinking that they have another Kuwait which is South Sudan for them then they miss the point. They should now understand that we are two sovereign States," warned Marial.
You can publish this article on your website as long as you provide a link back to this page.