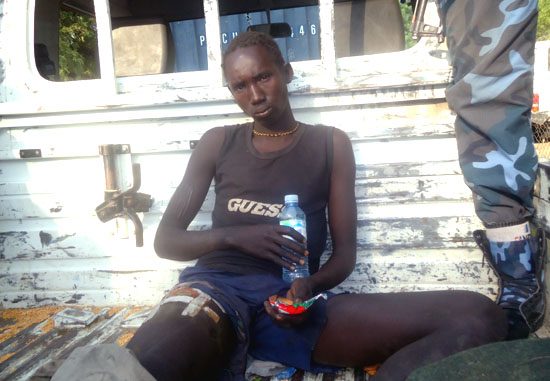 A Murle man was apprehended at Akeer village in Duk County last Wednesday while heading to Lou area to raid cattle. Mr. Thamatho Ketcho disclosed that they were 5 in number and their intention was to raid cattle in Lou.
Ketcho was shot and wounded while his 4 colleagues managed to escape. "We wanted to raid cattle but after reaching there we were detected by the cattle owners who began shooting at us, I was wounded and my 4 other brothers escaped but I was unlucky," Ketcho said.
The suspect explained that he came from a village called Ngacameracho of Gumuruk Payam in Pibor County. Ketcho who was abducted from Bor years back when he was a young child could not locate his home village in Bor because at the time he was abducted he was not able to differentiated clan names.
Thamatho is believed to be from Dinka Bor due to some initiation marks on his face and some childhood identification marks on his body identified by some elders from Bor community.
A man who identified himself as Gatluak revealed that Ketcho dint belong to the Murle community by identity. Gatluak said he might be abducted from either Dinka or from Anyuak, Mundari because of the marks on his face.
Meanwhile, Ketcho doesn't speak Dinka language; he only communicated using Murle language.
Ketcho said that, "I'm now happy because the government captured me and it will protect me from the hands of my captors who would have killed me.
He said that, "If I'm released, I will talk to my people to stop cattle raiding and join the government in peace." Investigations are underway to find clear information about Mr. Thamatho Ketcho who is currently being treated in a prison based clinic.