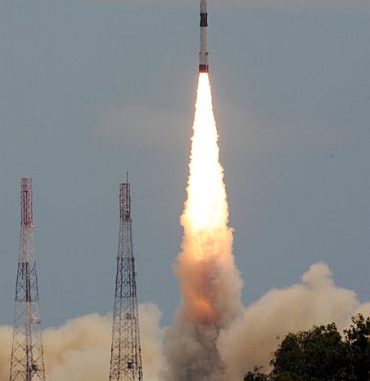 India's Polar Satellite Launch Vehicle (PSLV-C18) has confirmed its dependability and consistency yet again when it put easily four satellites in orbit on Wednesday.
The satellites were: Megha-Tropiques, an Indo-French mission to study the weather and climate in the tropical regions of the world; SRMSat, built by students of SRM University, near Chennai; Jugnu, put together by Indian Institute of Technology, Kanpur students; and VesselSat from Luxembourg.
The fourth stage ablaze the four in orbit after 21 minutes of a flawless flight, the 19th consecutive success of the PSLV, prompting P.S. Veeraraghavan, Director, Vikram Sarabhai Space Centre, Thiruvananthapuram, to brand it a "Perfect Satellite Launch Vehicle."
K. Radhakrishnan, Chairman, Indian Space Research Organization (ISRO) has described the flight as "a grand success" and has said that the information received from the Megha-Tropiques satellite would be useful to the global community for quantifying the precipitation in the tropical regions of the world. Twenty-one scientific teams from several countries would use the information for doing research on weather conditions in the tropical countries.
S. Ramakrishnan, Director, Liquid Propulsion Systems Centre, ISRO, describing it as "a outstanding mission," said: "Today, with the PSLV, we have an assured access to space. This is something that not many countries can boast of."
There were patches of clouds above the spaceport as the PSLV-C18 soared from the seaside first launch pad at 11.01 a.m., after a delay of one minute. "We shifted the launch by a minute," Dr. Radhakrishnan has explained, to disqualify the "probability of space rubble," demolished into the satellites.
T.K. Alex, Director, ISRO Satellite Centre, Bangalore, has said that space debris travelled at a rapidity of eight km a second and so the ISRO did not want to take any chances. The vehicle lifting majestically quickly disappeared into a bank of clouds. As it knifed out, it looked stunning, riding on bright yellow flames and climbing calmly into the sky. Clouds blanketed it again but it emerged, gathering velocity. The engines worked with clock-work precision, erupting into life on the dot and throwing away into the Bay of Bengal after spending themselves out.
After the third stage burn-out, the fourth stage coasted on its own, without any power, that is, without firing. The vehicle was gaining height all the time Then, the two engines in the fourth stage started up, and 21 minutes after lift-off, the four satellites were shot into orbit one after the other, at a velocity of 26,000 km an hour. Megha-Tropiques went into orbit at an altitude of 865 km against the targeted 867 km.
Article viewed on Oye! Times at www.oyetimes.com