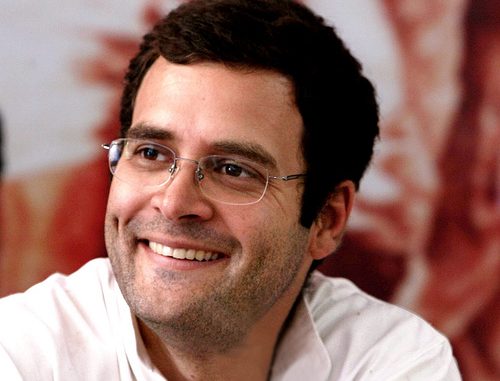 Congress general secretary, Rahul Gandhi on Saturday has asked people to rebuff 'caste and communal' parties in the upcoming UP assembly elections and vote for the growth. Hehas  promised if voted to power, Congress will develop the state in five years.
Addressing a rally in Kasganj, Kanshiramnagar, Rahul said: "Other parties make tall claims and promises. We made just one promise. We will bring a government that would be delegate of all classes of society. For last 22 years, UP is being ruled by the parties which talk on caste and public lines. The people of the state should give the Congress just five years, after giving other parties a chance for the past 22 years," he said.
Rahul has told that UP chief minister, Mayawati had on October 9, 2007 said that no one would advantage from MNREGA. "Go to Rajasthan, Orissa, Andhra Pradesh, Maharashtra and Punjab. Even the poorest of the poor people would tell you what they have got from MNREGA. They would tell you they have got self-respect, they have got employment, they have got money to enhance their quality of life," he added.
Condemning BSP government of corruption, Rahul has said that the ministers and not poor people in UP have taken assistance from MNREGA. He said: "We give funds to the UP but there is a 'magic' elephant (BSP's election symbol) in Lucknow which eats up all the money."
He has indicated that the central government has given the people the Right to Information Act. "Earlier only the advantaged few had access to information. Now everyone, the common man, has the right to information." Rahul cited example of how a common man got access to the letters written by him to the prime minister through RTI.
Rahul has also told that the central government has given people Right to Education. "Earlier children did not go to school but used to work at home or as laborers. But now mothers send children to school and tell them children that they will also get food in addition education."
He has reiterated how he found people from UP work as immigrant labourer in places like Delhi, Mumbai, even Ladakh. They did so because there was no employment opportunities closer home, he added.
Article viewed on Oye! Times at www.oyetimes.com.