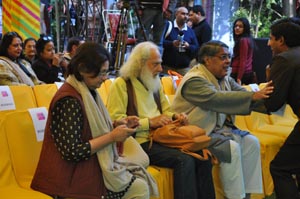 This article was last updated on April 16, 2022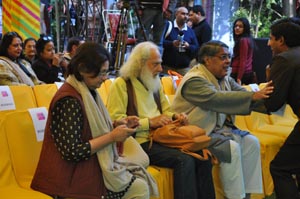 Censorship Alive and Well in India ….Yet, the Show Goes-on
Attendees at the Jaipur Literary Festival were outraged to learn that Salman Rushdie was forced to cancel plans to be at the Festival and to read from his book Midnights Children. It appears that the fatwa or injunction issued at the time of release of Rushdie's book "Satanic Verses" by extremists Muslims still is in effect. Some Muslims feel that Satanic Verses is blasphemy and the fatwa which calls for the assassination of Rushdie must be obeyed by all Muslims across the world.

The crowds here are agog with the news that American TV host and business magnate Oprah Winfrey will be at the festival on January 22nd to interview Deepak Chopra.
The festival is being held at Diggi Palace. Diggi Palance is the residence of Thakur Ram Pratap Singh Diggi and his wife, Thakurani Jyotika Kumari Diggi. Parts of the palace have been converted to a boutique hotel of 70 rooms. The palace sits on 30,000 square feet of meticulously tended lawns and shady gardens
Organizers of the Jaipur Festival consider it to be the largest and most charming of
South Asian literary festivals
. The 60,000 people in attendance will be able to choose from over 250 writers from every imaginable genre. According to the festival organizers 950 media personnel requested accreditation but only 550 media passes were issued.
The Jaipur Festival is different to most other festivals because half of the writers and about 40 per cent of the events will be in a language other than English. As a result the festival is receiving wide media coverage in all parts of India unlike the Galle Literary Festival in neighbouring Sri Lanka which is only covered by the English language media in that country.
Jaipur is also different in that because it is sponsored by a large Indian construction company every event is free. In contrast at the Galle Festival tickets for certain events are as much as $50.00.
Some of the internationally known authors who will be in Jaipur in the next four days include Chatan Bhagat, Michael Ondaatje, Amy Chau and Ben Okri. Interestingly though while a few authors such as Richard Dawkin who are attending the Jaipur Festival are also attending the Galle Literary Festival, Sri Lankan born Ondaajte has chosen not to visit the festival held in the country of his birth.
While it is difficult if not impossible to choose a crowd favourite Gulzar would certainly be in the top three of any ranking. Gulzar who is known to International movie audiences because of the Oscar and Grammy awards he received for the hit song Jai Ho in the movie Slum Dog Millionaire is famous in India for his many collections of poetry and short stories in Urdu as well as for film scripts, children's stories, plays, ballets translations as well as the music albums he has created.
Though there are five event locations a common complaint is that all events are overcrowded. The organizers have tried to attempt to deal with overcrowding by setting up TV screens at various strategic locations including in the open air deck that is set-aside for media. The obviously media savvy organizers also seem to go out of the way to generate good press by providing the media with free food, a web of computers, providing pictures as soon as an event has concluded and by being ever ready to arrange interviews with some of the notable authors.
An unusual aspect of the Jaipur Festival is the various musical programs that commence after the literary events conclude. The New Orleans type "dirge" music of the Jaipur Kawa Brass Band, Qawwli music of the Sabri Brothers, Dub Colossus with their Ethiopian influenced beats, the classical Indian music of Dr. Pankhi Dutta , and the delicate yet fiery music of Vishva Mohan Bhatt celebrates and confirms the cacophony of Indian life.
Security at the festival is very tight and visible. Prior to entering the palace garden attendees need to go through three levels of security checks including scanners, pat downs and bar-coded entry badges. Any attendee with a camera is also required to power it on and take a picture to establish that the camera is not an improvised explosive device.
Viresh Fernando is a Toronto based lawyer
Article viewed on Oye! Times at www.oyetimes.com

You can publish this article on your website as long as you provide a link back to this page.