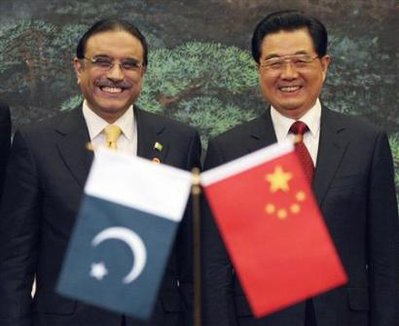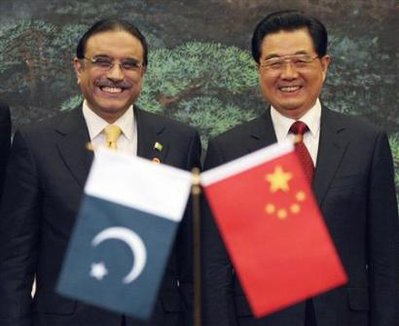 China has told visiting Pakistani foreign minister Makhdoom Shah Mahmood Qureshi that it wants to avoid action like investing in Pakistan-occupied Kashmir, which might hamper the proposed India-Pakistan peace talks, according to an expert close to the Chinese foreign ministry.
"China does not want to invest in Pakistan-occupied Kashmir. Chinese government knows Kashmir is a sensitive issue and a disputed area," Ma Jaili, senior researcher at the State-run Institute of Contemporary International Relations told TNN.
China is conscious about India's sensitivities when it deals with Pakistan, he said. Most observers feel that any Chinese presence in PoK in the form of infrastructure building will come in the way of India-Pakistan peace talks.
Indian foreign ministry officials said they have picked up similar signals suggesting that China was not interested in any deterioration in India-Pakistani relation at this time. Beijing is more concerned about the unstable political situation within Pakistan and in Afghanistan partly because the Taliban exerts some influence over rebels in Xingjian in western China.
Qureshi had talks with Chinese foreign minister Yang Jiechi on Monday and is scheduled to meet premier Wen Jiabao on Tuesday. He is seeking China's advice on the London conference on Afghanistan and the proposed peace dialogue with India. This is his first visit to China as foreign minister in the Zardari regime.
"This visit is important because of the security situation in Pakistan. The situation has become more serious after US president Barack Obama decided to send more troops to Afghanistan," Ma said. China will consider supporting Pakistan by offering to train more military and para-military forces and extend financial aid. But it would do nothing to cause unease in New Delhi, he said. China might also be reluctant to extend help for establishing more nuclear plants in Pakistan at this time, he said.
Qureshi told the Chinese media that the outcome of talks with India "depends on the response from Indian side". The peace process between the two countries was proceeding well, but India unfortunately suspended the talks after the Mumbai incident, he said. He earlier told the Pakistani media that he was "optimistic" about the talks.
The London conference, organized by the British government, is important to China because it might result in greater role for India in Afghanistan as well as enhance the operations of western powers. China has reasons to worry for reasons of its domestic politics as well.
The Taliban in Pakistan and Afghanistan are known to offer training and resources to Uighur separatists operating in the Xingjian region in western China. This is one of the reasons why China maintains a close relationship with both political and military leadership in Pakistan.
Qureshi will make a presentation at a government run think-tank on Tuesday and also visit Shanghai during his 5-day visit to China.