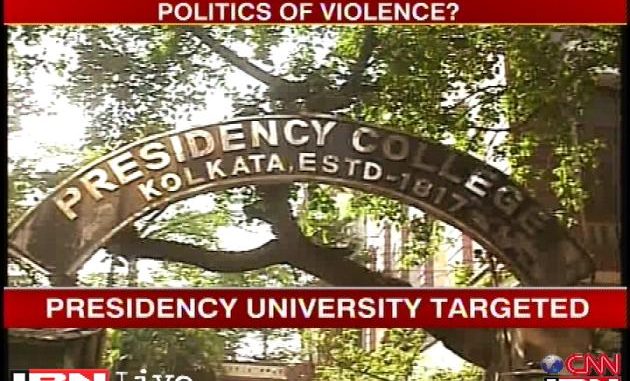 Presidency University, Bengal's most famous education institute, became a war zone on Wednesday when groups belonging to Trinamool Congress Chhatra Parishad forced themselves in the campus. The mob attacked students and vandalized its heritage physics laboratory, Baker Lab.

Ironically, the police parked at the entrance of the university failed to take any action against the protestors alleging that they cannot proceed without orders from higher-ups. The attackers were armed with spears and sticks and went to the extent of threatening female students.

"They started beating up whichever students they found, they chased girls, and made obscene remarks. The four policemen here took no action. The staff went down to protect students… One of the things they dropped was a javelin which shows how dangerous they were," said the university's Vice chancellor Malabika Sarkar.

However, the chief of Trinamool, CM Mamata Banerjee, has denied all allegations and blamed her rivals.

"This was a planned attack by the CPM," said Trinamool leader Derek O'Brien.

On the other hand, terming the tragic incident as ill-fated, CPI (M) leader Mohammad Salim criticized the police officers who were present at scene and failed to stop the attackers from terrorizing students and vandalizing the building.

"This was an entirely unprovoked attack. The TMC announced a week long dharna as their plan to capture colleges across the city… The police were just bystanders while students, professors and security staff were attacked," he said.