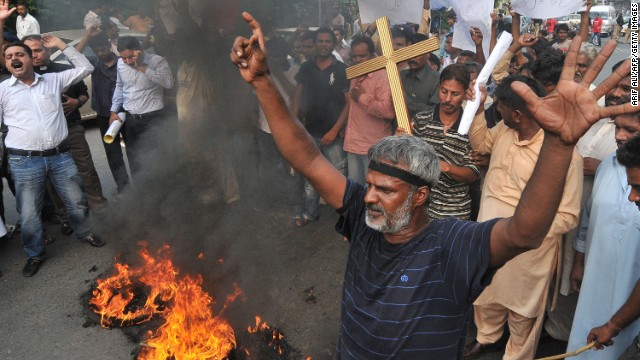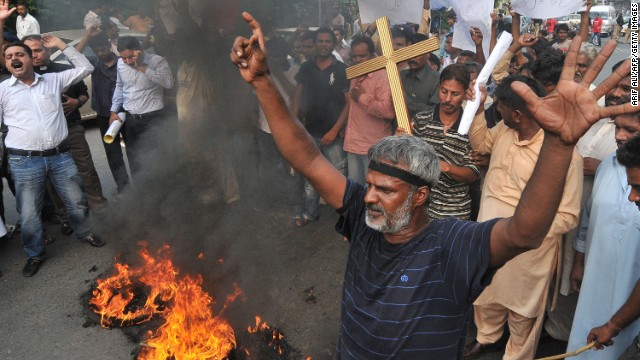 Thousands of people brought the protests against Peshawar blasts to streets and blocked traffic in different cities of Pakistan. Terrorist attack on a Church in Peshawar was condemned across the country whereas religious leaders and human rights activists criticized the heinous incident that kill up to 80 people on Sunday.

Busy roads of Lahore, Karachi and Islamabad mostly remained blocked due to traffic jams. The protesters included a high number of activists, civil society members, lawyers and students from various institutes. They claimed that it is irrelevant whether they are Muslims or Christians because they all stand with the Christian community and other minorities in Pakistan.

Nevertheless, some unfortunate incidents where protesters violated the law and caused havoc were also reported. Protesters in some areas of Peshawar, Karachi and Multan channeled their anger by vandalizing the city and caused damage to public property.

Church of Pakistan President Bishop Samuel Robert Azariah requested the Christian community and other people to hold protest demonstrations peacefully.

"The Christian community should refrain from violence and damaging property belonging to individuals or the state. We need to maintain our belief and teachings that we are a peaceful community that has the spirit of tolerance and forgiveness," said Bishop Samuel.

Meanwhile, sources have confirmed that the outlawed militant group of Tehreek-i-Taliban Pakistan (TTP) has denied involvement in the attack. TTP spokesman Shahidullah Shahid claimed that the incident is an attempt to disrupt peace talks and acknowledged the presence of certain elements that are allegedly against dialogue.