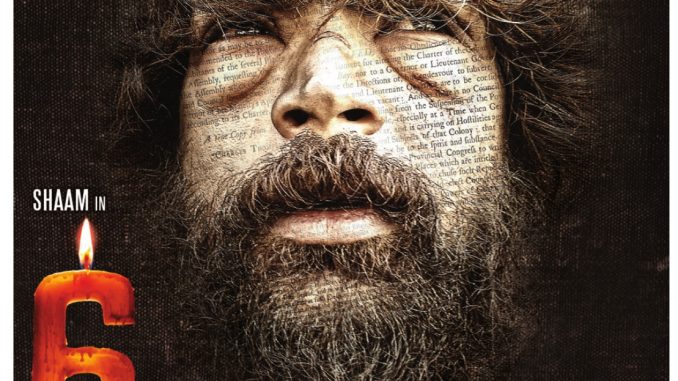 Movie Review
6 Candles
Cast: Shaam, Poonam Kaur, Anil Murali
Directed by: V.Z.Durai
Review by: Faisal Saif
Ratings: *
Shaam is needs a hit for a long time now. In spite of proving his acting skills in a big way in a Telugu Film Kick (Only), he could not register a massive commercial hit to his name. This has made him to travel between Tamil and Telugu film industries and do all kinds of film. The actor, who was last seen in Agam Puram (A Frustrated Bad version of American Gangster) in Tamil films, is returning to Kollywood with 6 Candles. I don't know how many more "Come-Back's" he is aiming at.
To mention further, Some sources say first of all, Shaam is never approached by a Named or a Big Film maker or a Production House in Tamil Cinema. If any Independent Director approaches him with a Genuine Script, Shaam starts putting forward his Inputs and changes the script. If sources (I mean "Strong" sources) to be believed, Maybe 6 Candles is a perfect example of an emotional thriller that changes into a lousy film? Is this the reason why Shaam is not doing more Tamil Films? Is Shaam the "Flop-Wannabe" Aamir Khan of Tamil Cinema?
Talking about the film's story, Ram (Shaam) loses his son on his sixth birthday. The frustrated father, in order to find his only son, travels every corner of the country. In the process, we are told about child trafficking gangs. To cut the dragging explanation short, What the father faces and learns forms the rest of the story.
Yes, You guessed it right. 6 Candles is another "Wannabe" and "Frustrated" version of Liam Neeson's Taken. The Film has also got some strong emotional scenes which makes you laugh especially after you see Shaam performing them. Those emotional scenes also reminds you of Angelina Jolie starrer Changeling while other reminds you of Kevin Kline's Trade. So you get to see 3 Hollywood Films in one Tamil Film.
Shaam has put a lot of effort (Which i still fail to understand) by gaining and losing weight for his role in the film. But after watching this film, I really feel sorry for the actor as his efforts are wasted. Poonam Kaur is just okay and passable and so is the rest of the cast who literally over-acted along with Shaam.
I still cannot believe V.Z.Durai making this film as i am a huge fan of his earlier film Mugavaree which was an amazing film with an original plot. The camera work is good. Editing is very weak and lousy. Music is not worth listening to at all.
I hear people have gone ahead and compared this film with classics such as Kaadhal and Myna. In that case, Either those people (Who have drawn the comparison) do not have sense of watching a particular film, Or something "Fishy" is cooking.
I can give only "One Star" to this film because of the Efforts. But the film 6 Candles will torture you 6 Times for sure. 3 Times before the Interval, And 3 Times after the Interval. Prepare yourself for it!