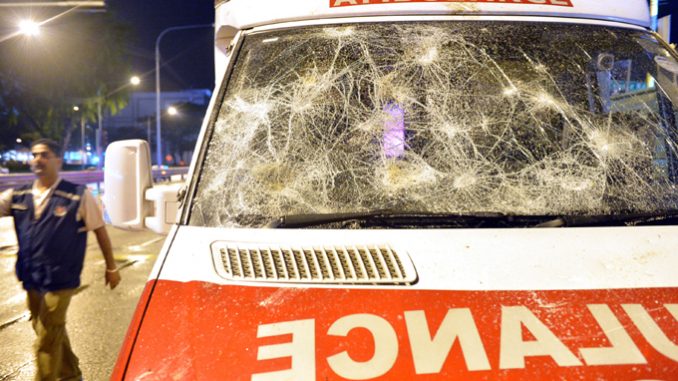 The submissions made to the Committee of Inquiry's hearing in the Court this Wednesday revealed that the Little India riot caused an over $650,000 worth of damages to the public property. The damages included overturned police cars, a burnt ambulance, cement blocks which were broken, as well as dustbins and metal poles that were thrown aside.

According to the earlier reports, the Home Team had sent 300 police officers and Singapore Civil Defence Force (SCDF) officers to the scene, of which almost 22 police officers, five auxiliary police officers as well as 12 SCDF personnel received serious injuries. There were also 16 police and nine SCDF transport vehicles damaged which included an ambulance, 3 police cars and a traffic police bike which were burnt. An official Committee of Inquiry has begun further investigation into the city's first riot of civil unrest in four decades. Almost seventy witnesses who included officials, police officers and foreign workers accused of involvement in the outbreak that took place on the 8th of December. Injured police officers are expected to give evidence over the next four weeks of the investigation.

The bus driver and the bus assistant, who were arrested on suspicion of causing death by a negligent act, have already been cleared but are expected to appear in the court. 'The Attorney General's Chambers will be leading the evidence,' the government stated in a statement released this Wednesday. On the first day of hearing this Wednesday, the Senior State Counsel David Khoo presented an opening statement which broadly explained the evidence, covering the events surrounding the riot as well as other possible factors that may have led to it.