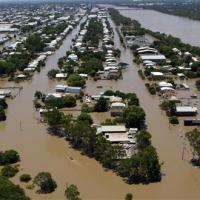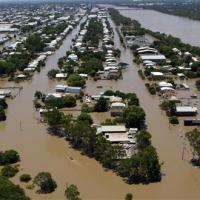 On Wednesday, a funeral was held for a 13 year old boy and his mother who were swept away in the surging waters of a flood in the town of Toowoomba, 80 miles west of Brisbane. According to reports, their car became trapped in a raging torrent of water. When rescuers arrived to help, Jordan Rice insisted his 10 year old brother Blake be rescued first but before they could get back to help, Jordan 13 and his mother Donna, 43, were swept to their deaths.
Saved Boy Mourns Flood Hero Brother in Australia
Hundreds turned out for the funeral of a teenager in Queensland, Australia, who died when water swamped his family car and he insisted rescuers save his brother first. Further south in Victoria more towns were battling flooding. (Jan. 19)
http://www.youtube.com/watch?v=Z7qWPUpz53M
Coal Production
The world's biggest miner
BHP Billton
has stated that the floods have cut coal production by 30%. While stocked inventory is helping meet market demand, there are suspicions that reduced output will lead to higher prices in a couple of months. Australia supplies two-thirds of the world's hard coking coal used in the production of steel.
Voluntourists
Volunteer travel, volunteer vacations or voluntourism is travel which includes volunteering for a charitable cause. In recent years, "bite-sized" volunteer vacations have grown in popularity. The types of volunteer vacations are diverse, from low-skill work cleaning up local wildlife areas to providing high-skill medical aid in a foreign country. Volunteer vacations participants are diverse but typically share a desire to "do something good" while also experiencing new places and challenges in locales they might not otherwise visit.
Click
HERE
to read more from William Belle.