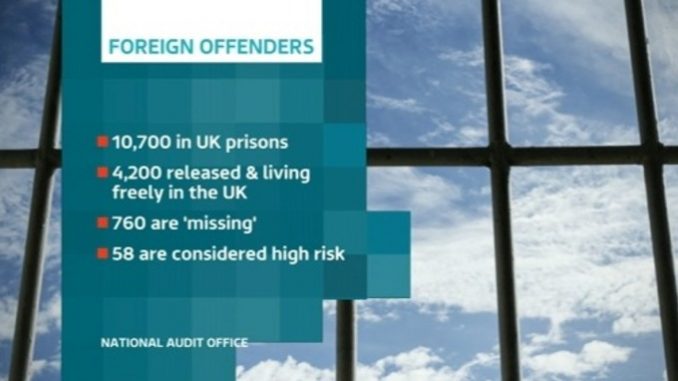 The spending watchdog has criticised the British government for deporting lesser number of foreign criminals despite having wide range of available resources.
The National Audit Office (NAO) revealed in a shocking report that 760 foreign national offenders awaiting deportation have escaped and 395 of those have been missing for more than four years. Out of the missing criminals, 58 are considered "high harm".
The bashing report has disclosed how easy it was for foreign criminals to slip through the net, when it emerged police had failed to conduct overseas criminal record checks on more than two thirds of arrested foreign nationals.
According to NAO, almost £1 billion of tax-payers money was spent in managing to locate 12,500 foreign national offenders (FNOs) in the country at the end of March this year, either in prison or living in the community pending removal from the country. The number of foreign prisoners has risen by 4% over the eight years. Some 10,231 were behind bars in 2006, whereas 10,649 are now in British prisons.
In the meantime, removal numbers have fallen to 5,097- which is 9% less than the witnessed peak of 5,613 in 2008.
The spending watchdog have also argued that despite having ten times the number of police officials working on the foreign prisoners now, the numbers of such foreign offenders has gone up.
The chairman of the Public Accounts Committee, Margaret Hodge has said: "It beggars belief that the Home Office and Ministry of Justice are managing the removal of foreign national offenders without knowing basic costs and how best to target their resources."
Following the publication of fresh facts, Prime Minister David Cameron told MPs there were "too many obstacles in the way" when it came to deporting foreign offenders, and that the government's policies needed more support to curb the problem.
"We're making progress, the buck does stop with me, but I wouldn't mind a bit of cross-party support for the actions we need to take."
Article viewed on Oye! Times at www.oyetimes.com.