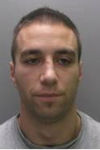 This article was last updated on June 18, 2022

A 31-year old man has today, Wednesday 23 February, been sentenced to three years in jail after he pleaded guilty to an indecent assault dating back to 1996.
On 30 January 1996 at approximately 15:15hrs an employee at a south London hospital was sexually assaulted while on duty.
During her shift the victim, in her 40s at the time, made a visit to the hospital storeroom where an unknown man followed her, closing the door behind him. Whilst inside the storeroom her attacker, Daniel Dolen, now 31, of no fixed address, covered her mouth with his hand and told her to keep quiet. He pushed her into the back of the storeroom and made the woman perform oral sex on him.
Two doctors had noticed the victim being followed into the storeroom and went to investigate. They banged on the door disturbing Dolen mid-attack. Dolen had tried to escape via a rear door but could not get away. He told the victim to stay quiet before calmly walking out via the same door he entered. Dolen walked past the two doctors, who were unaware that the attack had taken place inside, and left the hospital.
The victim followed Dolen out of the storeroom and when he was at a safe distance away told her colleagues she had just been attacked.
Following advances in DNA techniques, Dolen was identified in March 2001 from retained material. The DNA results provided a match probability of one in a billion.
Detective Constable Claire Watts, from the Metropolitan Police Service's Sapphire Cold Case Investigation Team, said: "The victim went through a terrifying ordeal at her place of work where she should have felt safe and at ease.
"This sexual attack happened 15 years ago before modern advances in DNA. If it had not have been for the two doctors' quick thinking at the time of the attack, then we may not have been able to retain evidence at the scene and find a DNA match years later."
"The result today shows our determination not to give up and find justice for victims and their families. We hope today's conviction will bring some closure for the victim, after living with this terrifying ordeal for 15 years."
Dolen was arrested, interviewed and charged on 27 September 201
You can publish this article on your website as long as you provide a link back to this page.