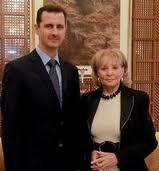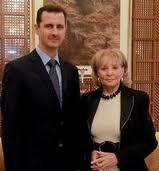 Has the country reached a tipping point or was that point reached some time ago? It is more than evident that the protests against the Assad government have self-combusted, that is, they are moving forward no matter what repression is unleashed on the population.
The United Nations has reportedly declared Syria in a state of civil war. Navi Pillay, the High Commissioner for Human Rights for the U.N. is estimating the number of dead since the start of the uprising to be in excess of four thousand. (Globe and Mail) It is a telling reminder of the 1982 Hama massacre when then president Hafez al-Assad ordered the army to quell a revolt by the Sunni Muslim community. The lower estimates place the number of dead in 1982 at ten thousand while others place their estimates at twenty, thirty and even forty thousand killed. (Wikipedia) How far can any government go in order to retain control of its people? How far can any leader go in order to retain power? If the adage is true, "like father, like son", it may be that Bashar al-Assad will not stop until he manages to outdo dear old Dad.
All the newspapers are reporting on an interview with Syrian president Bashar al-Assad conducted by ABC's Barbara Walters. Ms. Walters said in a talk before the airing of the interview that Assad appears to be quite distant from the reality of what's going on in his own country. Is the president that isolated or is he that delusional? The Globe and Mail quoted Assad from the Walters interview as saying, "We don't kill our people. No government in the world kills its people, unless it's led by a crazy person. There was no command to kill or be brutal."
Published on Dec 7, 2011 by Euronews
Al-Assad: 'We don't kill our people'
The Syrian President, Bashar al-Assad remained defiant during an interview with ABC New's Barbara Walters. She challenged him on the United Nations' report that 4,000 people have been killed so far in the military crackdown since the Arab Spring arrived in Syria in mid-March. He brushed off the report, responding: "Who said that the United Nations is a credible institution?"
Uploaded by ABCNews on Dec 7, 2011
Barbara Walters' Interview With Syria's President: Bashar al-Assad 'Not Like Moammar Gadhafi'
References
ABC – Dec 7/2011
Barbara Walter's interview with Bashar al-Assad (Transcript)
The following is the transcript of the interview ABC's Barbara Walters conducted with Syrian President Bashar al-Assad. It was his first American interview, and the president was asked about Syria's role in the Arab League and how he is treating protesters in his country.
Wikipedia: 2001 Syrian uprising
The 2011 Syrian uprising is an ongoing internal conflict occurring in Syria. Protests started on 26 January 2011, and escalated into an uprising by 15 March 2011.
Wikipedia: Timeline of the 2011 Syrian uprising (from September)
Wikipedia: Hama Massacre
Click HERE to read more from William Belle
Article viewed at: Oye! Times at www.oyetimes.com