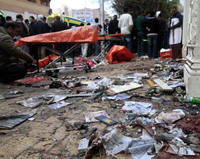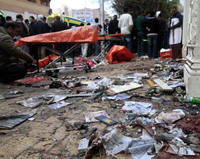 The BBC is reporting that Arab newspapers have reacted angrily to the bombing on New Year's of a Coptic church in Alexandria.
Their article
reprints commentary from many of the major papers: Egypt's Al-Ahram, Palestinian Al-Hayat Al-Jididah, Saudi Al-Riyadh, Qatar's Al-Rayah and more. The consensus of opinion is that this was a horrible, unwarranted attack and will in the long run do more harm than good. Many are predicted Christians will start fleeing as they have had to do elsewhere such as in Iraq or even Pakistan to avoid persecution and the BBC quotes Jordan's Al-Dustour as saying,
"If the situation continues, it will not take long to declare the Middle East – the cradle of Christianity – Christian-free."
The situation around the church apparently remains tense with riot police deployed. At the church and elsewhere in the country, there have been riots as a result of the bombing. This has been a flashpoint for Christians in Egypt who have felt for a long time now that they are being persecuted in the country. They are angry with the government who they say has failed to address the on-going discrimination and violence against their community.
The bombing on New Year's Eve left 21 killed and over 70 injured.
http://www.youtube.com/watch?v=UTRLvefzXWk