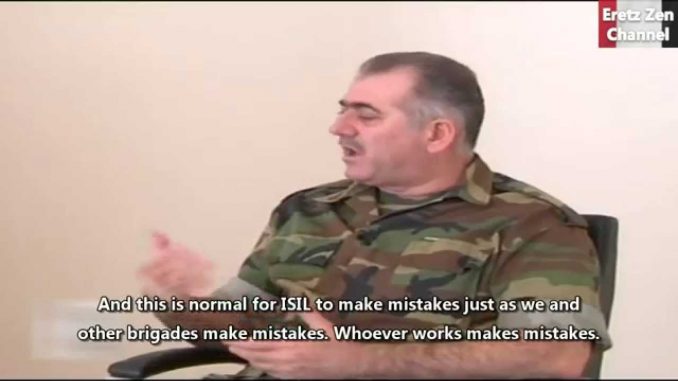 This article was last updated on April 16, 2022
Canada:

Oye! Times readers Get FREE $30 to spend on Amazon, Walmart…
USA:

Oye! Times readers Get FREE $30 to spend on Amazon, Walmart…
It is increasingly becoming apparent that the current situation in Syria and Iraq is complex beyond belief as we can see on this diagram from
Think Progress
:
There are so many players in the game that it is almost impossible to tell which group is on which side of the conflict. To help better understand why this posting is important, here is a map showing who controls Syria:
Hopefully, this will help you put the following information into context.
At the 18 second mark, you will see Colonel al-Okaidi being interviewed in November 2013 about his relationship with ISIS. Here are his responses:
Interviewer – How is your relationship with the Islamic State in Iraq and the Levant?
al-Okaidi – It is good. My relationship with the brothers in ISIL is good.
Interviewer – Do you communicate with them?
al-Okaidi – Yes, of course. I communicate almost daily with brothers in ISIL to settle these disputes and issues. The issues are being overinflated by the media. There's a lot of spotlight being put on the issue of ISIL, that they are Takfiris (apostate Muslims) etcetera.
Interviewer – And they are not?
al-Okaidi – The majority are not as such. There are some elements who might have the wrong ideology, however, when we sit down with them…
Interviewer – So it's a matter of individual mistakes then?
al-Okaidi – Perhaps it's individual mistakes, however, when we sit down together with their leaders, they don't have this ideology. And the relationship is good, even brotherly. However, in some of their behaviours on the ground, there are mistakes.
Here's what al-Okaidi had to say:
"We thank Allah and we bring good news to our people in Syria and to our Muslim people in all the world that Allah has been generous with us during this blessed month with this great victory after we achieved victory in Khan al-Assal and now in Menagh military airbase which got liberated at the hands of these heroes."
Interviewer – Why is Jabhat al-Nusra being listed on the terrorist organizations list?
al-Okaidi – I don't know. There are not longer any questions or discussions except about Jabhat al-Nusra which perhaps constitutes ten percent of the Free Syrian Army in Aleppo or in Syria. I don't know what are the illegal or unusual acts that Jabhat al-Nusra members have practiced so it can be listed on the terror list. We truly did not see from them except good morals and brave and heroic fighting against this regime.
So, what all of this means is that coalition support for the Free Syrian Army has put arms into the hands of both ISIS and al-Qaeda's proxy in Syria. It is interesting to note that 29 Syrian opposition groups have signed a petition which condemns the United States designation of Jabhat al-Nusra as a terrorist group, urging rebel supporters to raise the Jabhat al-Nusra flag.
Let's close this posting with a photo montage showing Colonel al-Okaidi with Ambassador Robert Ford and with ISIS commander Abu Jandal, a montage that shows us how opaque and complex the situation in Syria really has been all along:
Click HERE to read more of Glen Asher's columns
You can publish this article on your website as long as you provide a link back to this page.