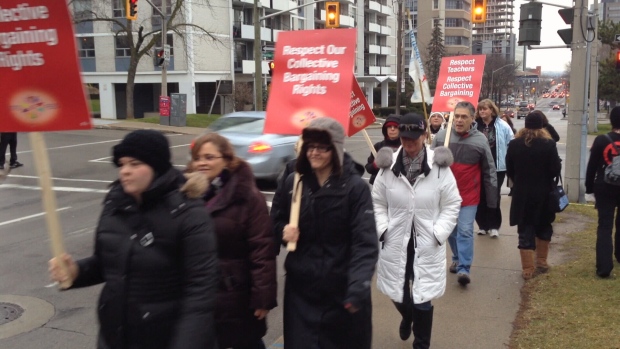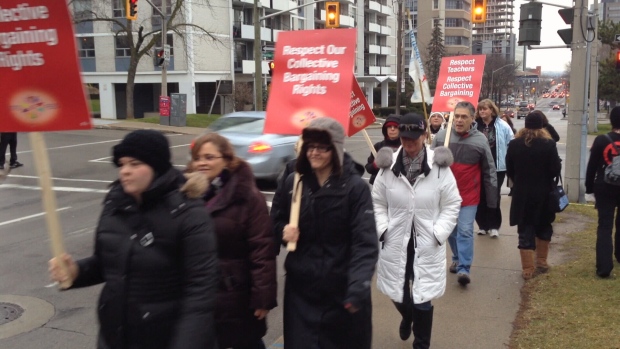 Innumerable elementary school students of eight Ontario school boards did not attend classes on Tuesday in wake of the teachers' one-day rolling strike in the area. The announcement from The Elementary Teachers' Federation of Ontario calculated that almost 35,000 teachers, 14,000 of which are from Toronto only, are demonstrating today in what is being called "Super Tuesday," in protest of the ongoing labour dispute with the province.

Commenting on the rolling strikes by the teachers' federation during a morning show on a TV news channel, Premier Dalton McGuinty, claimed that his governments' stance is nothing but a financial necessity. He elaborated that "it's gotten a little sticky, that's unfortunate, but I am convinced we are doing the right thing for the long term." McGuinty pushed that he still insists that teachers shall resume the normal bargaining sessions, while thanking parents for "all the extra efforts they are making to manage this circumstance." He admitted that "thankfully, it's just the one day."

In order to aid the parents to arrange backup plan for their children in Toronto, the government offered a deal with the Royal Ontario Museum, which offered a kids day for children aging five to 14, at a discounted rate of $65 per child. Secondly, the City also invited students to the Toronto training centre, which offered a one-day youth improv camp for students studying in Grades 1 to 8 for $20 per student. The governing Liberals have threatened that in case the strikes prolong from one-day it will enforce a decisive action, which it is fully capable of.