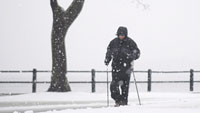 This article was last updated on April 16, 2022

The extreme blow of freezing temperature have reached parts of Ontario and Quebec today, as the winter starts to mature, storm system triggered from the U.S. has begun causing travel delays during the busy holiday season.
A meteorologist, Jay Scotland, predicted that heavy snow will cover northeastern Ontario on Friday morning, bringing another five to ten centimetres in the Nickel Belt. Whereas Environment Canada claims that snowfall will expectedly slide off and travel to Quebec, causing as much as 40 centimetres in the areas north of Montreal. Moreover, it was added that the Colorado Low, will more further northeast, and might even result in snowfall of almost 15 to 20 centimetres in Ottawa by Friday evening. Scotland alleged that by Friday morning, snowfall of 19 centimetres has already been recorded at the airport in the nation's capital. He alleged that "this is where the nasty weather is, Ottawa and east [of Ottawa]." Scotland mentioned "and we're looking at that heavier snow really working its way through southern Quebec.… It's a messy one today thanks to this [Colorado] low. If you are travelling, do check for travel delays."
Another weather reporter and forecaster, Trevor Dunn, reported from Pearson airport on Friday morning informing about several passengers arriving to witness nothing but long lines and some cancellations. Dunn claimed that "It's already looking like one of the busiest travel days of the year." He added that "check-in lines are long here at Terminal 1 … but on the whole, flights look like they're moving well right now."
You can publish this article on your website as long as you provide a link back to this page.