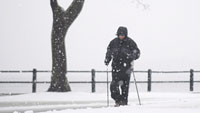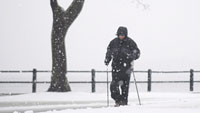 The disputed owner of the famous Ikea monkey, actually named Darwin, has been denied to have custody of her beloved pet primate at least for the holidays. It was announced by Justice Michael Brown in an Oshawa courtroom on Friday morning that the young monkey, who rose to fame after being discovered strolling in an Ikea store parking lot earlier in December, shall continue living at the animal sanctuary, located in northeast of Toronto, until the case is heard in January.

Lawyers of the monkey's owner, Yasmin Nakhuda, had requested Brown on Thursday to allow her Darwin's custody until the case is heard, while highlighting the fact that the case is placed on a temporary adjournment as per request of the sanctuary's lawyers. Theo Charney, the lawyer representing Nakhuda, is presenting a case alleging that the Story Book Farm primate sanctuary has placed "unreasonable" conditions for Nakhuda's visitation, while also accusing Toronto Animal Services to have illegally taken the custody from Nakhuda in the first place. Charney claims that since it's illegal to keep such an animal in Toronto, Nakhuda should have only be fined and nothing more. He further added that that Nakhuda fears that her "bond" with Darwin would suffer if the monkey stays at the sanctuary over the holidays.

However, Brown admitted while announcing the judgment on Friday admitted that "there is no doubt that both the plaintiffs and the defendants have great affection for Darwin." Brown added that Darwin seems to be well fed at the sanctuary and that the "status quo" should remain until January.