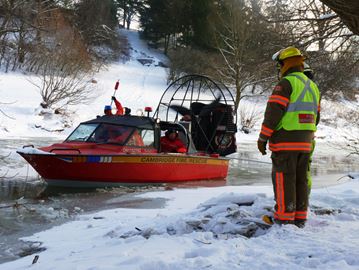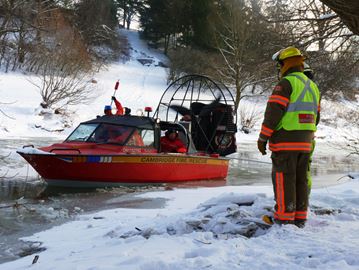 Police department and firefighters have undertaken a search mission to locate a lost five-year-old Robbie Reiner who is believed to have disappeared near the Nith River in New Hamburg this morning. Police is now calling ongoing mission of missing child to have become a recovery operation. The search operation than continued for five hours on Thursday night, included an inspection of the area near the frozen banks for clues to his whereabouts, though it was forced to be called off around 10 p.m. due to safety concerns.
Police responded to the boy's Asmus Street home at around 4:40 p.m. on Thursday, when the boy's father Bill Reiner realized he was missing from home. Thereafter, Bill followed the boy's footprints through a field next to their home until they reached the river's edge and led to a hole in thin ice along the river bank. Regardless of the -16C temperature in recent days, ice hasn't fully formed across the river and the current is strong.
Robbie's aunt Chris Reiner describes the boy as autistic, though she doesn't believe he's been clinically diagnosed. She mentioned that "he needs to be restrained or he just takes off wherever he wants to" adding that he also loves water. Though Chris hasn't been in touch with her brother since Robbie's disappearance, she learned from her mom that Bill had went outside to chop some wood and returned at around 4 p.m. He instinctively shut the door and locked it, but realized few minutes after Robbie wasn't in the house.