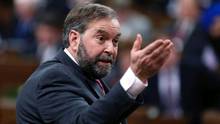 This article was last updated on April 16, 2022

In his latest campaign-style speech, Federal New Democrat leader Thomas Mulcair promised to bring a Quebec-style child care program for the entire country if they get elected in the 2015 election. Mr. Mulcair was addressing NDP MPs on Thursday morning, when he unveiled that his party will reveal its proposal to move "step-by-step" to the early learning and child care model based on Quebec's $7-a-day system.
Criticizing the Liberals and Conservatives for not being able to fulfil their promises regarding child care spaces, Mr. Mulcair stated that "New Democrats are proud to be the only party committed to quality, affordable, accessible child care." Muclair listed priorities ahead for the NDP, namely including child care, health care, job creation, renewable energy and a pledge to invest in infrastructure, pledging to be a "partner" to cities he said lack the financial capacity to do it alone. He mentioned that "our cities and communities are at the heart of our economy, they're at the heart of our country and they're at the heart of our success in the 21st century."
Mulcair alleged that scheme would be headed by Edmonton Mayor, Don Iveson, who joined with other representatives from the Federation of Canadian Municipalities. Iveson mentioned in his remarks that "I think any party that wants to form government in the next election is going to have to be a party of the cities." Iveson added that "if you can't win the substantial support in most or all of those communities, it will be next to impossible . . . to form government."
You can publish this article on your website as long as you provide a link back to this page.