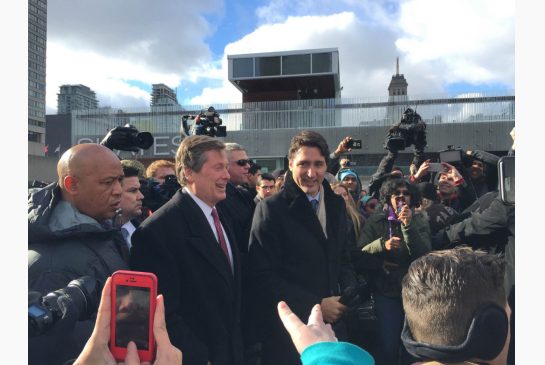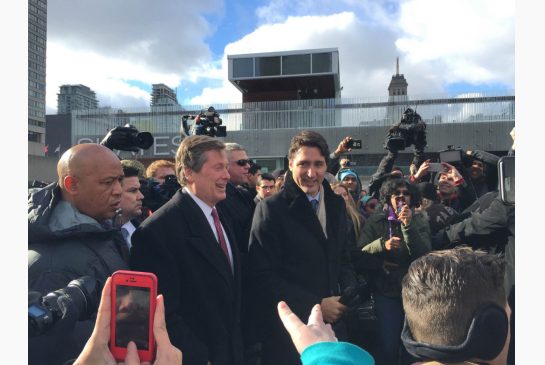 In his first official visit as a prime minister to city hall, Prime Minister Justin Trudeau mingled with fans and often posed for selfies on his way to Toronto City Hall on Wednesday. Apart from his fans, Trudeau also encountered angry taxi drivers and marijuana advocates among his fans.

Emerging after an apparently successful meeting with Mayor John Tory, Trudeau stressed that it's time for all levels of government to work together. He stated that "regardless of the level of government, we all serve the same people," adding that "I'm very touched by the passion you have for your city." Both the leaders, Trudeau and Tory, spoke of a fresh federal commitment to invest in transportation, housing and green infrastructure. Moreover, Trudeau appraised Torontonians for their active role in helping to resettle Syrian refugees.

Whereas on the other hand, Tory's remarks focused on a renewed relationship between the federal government and city. He alleged that "we'll save a lot of money as well as put people to work." In a veiled jab to former Toronto Mayor Rob Ford, Tory stated that "we have put behind us the politics of division and we are working much better together to build the city of the future." Toward the end, Tory presented Trudeau with a Toronto Maple Leafs jersey and later tweeted a photo of himself giving Trudeau the jersey as the prime minister lifted a pant leg to show off his Montreal Canadiens socks.