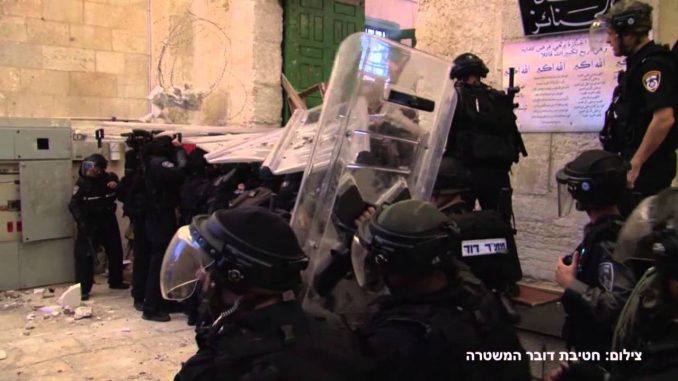 This article was last updated on April 16, 2022
Note that most of the American "law enforcement executives" are employed in sheriff's offices.
Given that the Israeli security forces term many of the Arabic and Palestinian people living among and adjacent to them as either "terrorists" or "potential terrorists", the fact that law enforcement officials from the United States are attending training sessions that will enable them to better battle domestic unrest/terrorism at home should be a bit concerning. As Ms. Gillies states, and it bears repeating:
"The mission to Israel is a tremendous opportunity for American law enforcement professionals to learn from their counterparts in the Middle East, draw from the latest developments in terrorism prevention and bring these methods back home to implement in their communities."
Does any of this look familiar?
"This reciprocal cycle of tactical evolution, and intertwined relationship of Israel's police and army, is proving politically valuable to Israel by helping to shape international norms on policing more like its own."
Please observe that the article highlights that several states have "recognized Israel's valuable input in protecting the American public", noting that Illinois, Maryland and Michigan have garnered up with Israel and that:
"American law-enforcement officers and first responders are increasingly studying Israel's battle against terrorism to glean lessons for U.S. efforts to protect its citizens. Israel frequently hosts delegations of American police chiefs, sheriffs and emergency responders. These officials have returned to infuse their departments' training with lessons on how Israeli security forces prevent terrorist attacks such as suicide bombings."
"No experience in my life has had more of an impact on doing my job than going to Israel."
Perhaps now we have a better understanding why today's police forces…
…look more and more like Robocop and why civilians are being treated like an "enemy force".
You can publish this article on your website as long as you provide a link back to this page.