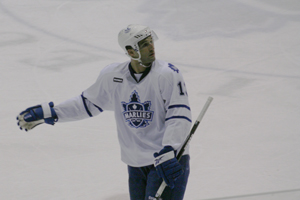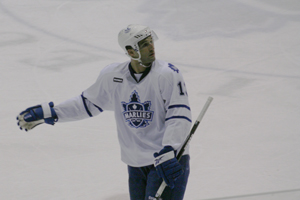 Toronto Marlies forward Andre Deveaux took the time to sit down with Oye! Times reporter Aman Dhanoa for a Q & A session to talk hockey and give fans more insight to the one known as Devo.
The 6-foot-4, 232-pound Deveaux was born in Freeport, Bahamas and raised in Welland, Ontario. Deveaux was signed as an unrestricted free agent by the Toronto Maple Leafs on July 21, 2008. Deveaux is the first person born in the Bahamas to play in the NHL and made his NHL debut on November 27, 2008 against the Ottawa Senators. He played 21 games with the Toronto Maple Leafs last season and was called up for one game earlier this season.
Deveaux is certainly no stranger to the penalty box as he has racked up penalty minutes with his undeniable physical presence. In addition to being the team leader in penalty minutes, Deveaux is also the Marlies leading scorer this season and is having his best year of his professional hockey career.
You were born in the Bahamas, how old were you when you came to Canada?
"I was 3, I think. My mother had to come back and finish medical school in Newfoundland. I moved to Newfoundland with my mom and she finished medical school and then we moved to Welland where she practiced as a physician."
When did you start playing hockey?
"I started playing hockey when I was 5 years old. I grew up in a small town of Welland, that's basically what all the kids did there. My parents put me into instructional hockey and I liked it and I continued on playing and moved up the ranks with my friends."
Who was your favourite player or what players did you look up to growing up?
"For a long time it was a defenceman when I first started, Phil Housley, and when I moved up to forward when I was 13, 14 it changed to Sergei Fedorov. When I was little I used to write Phil Housley letters, I was a big fan."
Where did you play junior hockey?
"I got drafted to Belleville, I played 2 ½ years for the Belleville Bulls and then I got traded to Owen Sound. I played 2 years in Owen Sound and then I signed with Tampa Bay instead of playing my overage year."
What NHL team were you drafted by?
"I was drafted originally in the 6th round in '02 by the Canadiens. I never signed there and I signed on as a free agent with Tampa Bay. And Tampa Bay traded me to Atlanta and that's why I played with Chicago for 2 years – that was Atlanta's farm team. And then I was fortunate to sign with the Maple Leafs 2 years ago and I re-signed this summer."
How did it feel to be signed by the Toronto Maple Leafs organization?
"I grew up an hour away, it's the team I grew up watching. I was fortunate enough to play a good chunk of the year there last year, I wish I could have got some more games up this year, there's still time but we'll see. That's every kids dream to put on the jersey and go play for the team you grew up watching and I consider myself lucky having done that."
What did it feel like playing in your first NHL game?
"My first game, I was like a deer in the headlights, I was so nervous. I can still remember my first shift, I was supposed to be on the fourth line and the first line went out, the second line went out and I was watching them play Ottawa and I don't know why but Ron decided to switch the lines and he just said "Moorsey, Stempniak," and he yelled my name "Devo" and we all looked at each other and before you knew it, I hopped the boards and I was on the ice. I can't even remember what happened, it was just reaction, but I'll never forget, I thought I had some more time to prepare and then all of a sudden I was on the ice."
What is your greatest hockey moment so far?

"It was pro – winning the Calder Cup a couple of years ago with the Chicago Wolves. That's the best thing I've done in my life, let alone just in hockey. We were expected to win but I didn't understand how much work and how much dedication it takes to win a championship – it was definitely a great life experience for me."
What's the biggest difference or differences from playing in the AHL vs. the NHL?
"The NHL is a little faster, more polished, I'd say. You're not going to find many passes that aren't on, guys out of position in the NHL. But that makes it a little harder to score too then. That's why I think there's a lot more breakdowns and mistakes in the AHL, hence that's why guys are down here and it's a little bit more open. But the biggest difference I've noticed in the NHL, the best players, there's a big gap between the best players on the team and the rest of the guys. The superstars are really superstars in the NHL, they could decide a game pretty quick."
Do you have a pre-game ritual?
"Absolutely, I try to eat at the same place. Depending on how I played and if the team won, I would eat the same exact meal as I did last time, at the same time. All the way down to the coffee I get before the game, it changes from a latte to a hot chocolate to whatever depending on how we did – I'm really superstitious in that way."

What's your pre-game meal?
"I usually have penne with rosé sauce with some grilled chicken. The noodles change a lot depending on how we did the previous game."
Did you pick your jersey number or was it given to you?
"I picked 13. I had it for two years in Belleville when I was in junior. I had it in Chicago as well. When I came here they just gave it to me and I like it and stick with it."
I thought you were superstitious, isn't 13 an unlucky number?
"Yeah I know, it's weird like that but it's more of a superstition where I'm used to it, so I like it."
What's it like playing in a hockey-mad city like Toronto as opposed to other places you've played in?
"You're under a microscope here definitely. You go out and people recognize you. The biggest thing I notice is if you're with the Leafs and you make a mistake, you can't read the papers, that stuff will drive you insane. I think the media tends to focus too much on the negative here and not enough on the positive. I don't think in a smaller market, other places especially down south I don't think you would have that problem. I think if you made some mistakes it wouldn't be in papers, just the coaches will be on you – which is good, which is bad. That's the biggest difference I noticed."
What part of your game do you excel at but don't get much credit for?
"People expect me to be physical but I think I'm a pretty good passer. I think I dish the puck pretty well and I think I make plays that some people don't expect me to make. I think my passing, my vision is pretty good. I haven't been doing it long enough to get respect for it."
What was your first job?
"I was actually a dishwasher in a Chinese restaurant with my best friend, Girardi, he plays for the Rangers now. We dish washed together."
What's your favourite movie?
"Shawshank Redemption"
What kind of music do you listen to?
"Hip-hop and a bunch of DJ's, DJ Tiesto and stuff like that. Hip-hop and electronic."
What do you like to do when you're not playing hockey?
"I'm definitely a big music guy – I spend a lot of time of my day downloading music and seeing what type of music is new. Besides that I watch a ton of movies. I bet you that I've seen everything that's out right now, I'm a big movie buff and that's what I like to do."
What nicknames do you have or what nicknames have your teammates given you?
"Probably just Devo, that's the big one. Fozzie (Alex Foster) calls me "Big Daddy", some guys call me 'Big D' but whatever, guys make up different nicknames for me every day, but for the most part it's Devo."
Has anyone ever said whip it, you know like the 80's song by Devo?