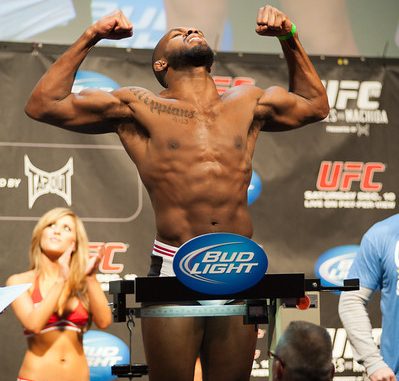 Walk like a champion. Talk like a champion.
Jon "Bones" Jones stepped out onto the stage for his weigh-in on Friday and looked completely relaxed and unfazed as fans gave him a mixed reception of boos and cheers.
For a fighter that is one day away from defending his UFC light-heavyweight title for a second time, Jones almost too relaxed. Perhaps it was an air of over-confidence or maybe the result of deep meditation calming his inner soul.
Jones is known to meditate regularly to clear his mind and help maintain focus on attaining his goals. On Saturday night his goal will be to remain the champ as he steps into the octagon against Lyoto "The Dragon"Machida in the main event at UFC 140 in Toronto.
After both fighters weighed-in, they approached each other for the pre-fight stare-down and photo-op. Machida raised his fists in a fighter stance with an intense gaze at Jones who simply stood calmly with his arms at his side less than an inch from his opponents fists. Jones looked cool, calm and collected.
Host Joe Rogan asked the challenger and former light-heavyweight champion to give his thoughts on the upcoming fight.
"It's a great opportunity for me," said Machida in English. "My second time fighting here in Toronto- I'm very well prepared and I hope to do a great job (Saturday)."
Rogan commented that it was the most relaxed he had ever seen Jones at a weigh-in and asked the champ about his thoughts on the fight.

"This is an awesome opportunity against an awesome opponent," said Jones to a chorus of boos. "I'm just so grateful for the whole situation. I can't wait to go out and play this game that I'm so in love with."
The game has treated Jones well since he fought his first professional fight in 2008. The 2005 New York State wrestling champion racked up six straight victories – all by stoppage – and was enough for UFC to take notice.
He signed a four-fight contract and quickly ascended in the UFC ranks dominating fight after fight. His only mixed martial arts loss came as result of a disqualification in 2009 for the use of illegal downward elbow against Matt "The Hammer" Hamill.
After defeating Ryan Bader in a second round submission victory in February, it was announced that Jones would replace his training partner Rashad Evans in the title fight against Mauricio "Shogun" Rua on March 19.
Just over a month later, Jones dominated Rua and won by TKO in the third round to become the youngest ever UFC champion. He later defended his title in September at UFC 133 by defeating Quinton "Rampage"Jacksonvia submission in the fourth round.
Jones realizes that all his success in 2011 can be wiped out with a loss to Machida. But if he can come out with the victory it would be the perfect ending to a great year.

"It would be a cap on a great year – a great hard-working year," said Jones before an open workout on Wednesday. "I've grown so much. I remember being so nervous to fight Ryan Bader and now we're talking about a third world championship."
"I've matured so much. I believe in myself so much more and I've become more of a man this year."
Jones has not only matured in all aspects of his life, but the 24-year-old has also realized that he has found his purpose in life.
"I feel great. I feel as if there is no place on this Earth that I was meant to be in besides in the cage that night," said Jones. "I think it's truly a blessing to live your purpose and to find your purpose in life. A lot of people go through life not really sure what they were meant to do, what their real purpose is.
"Fighting, I don't feel like I'm kind of a fighter. I really feel like I'm a warrior that just so happened to be born in 1987."
Jones has a come a long way since his UFC debut and has managed to learn and master the sport at such a young age.
"My toughest fight was André Gusmão, my UFC debut, because I didn't really know how to fight then and felt like I was just treading water, like sprinting the whole time, hands up," said Jones.
"Now I know the game. I've played the game. Before I didn't know the game, I was just fighting. The art of fighting is fighting without fighting. That's blocking things, outscoring, dominating. I wasn't at that mindset back then."
Unpredictable

Jones is an unpredictable fighter in the octagon and has thrown off his opponents with his un-orthodox style. He has a lot of tools in his arsenal and that makes it difficult for other fighters to prepare for a fight against him.
"I just study, study, study and I realize what I got to do and I focus on me. That's the question I get so much 'how crazy is it to prepare for Lyoto.' But I truly think how crazy is it to prepare for me.
"I'm a big studier of myself and I realize that I do a lot of things that people don't do. Flying knees, spinning attacks, south paw, just efficient orthodox. I'm sure he's confused. That's the mindset that I have."
Jones has become more regimented with his training in the past year and it has translated into victories with devastating results.
"I'm just getting more responsible and treating my body like my job, like my work that it is and in return starting to have more stamina, more strength and more agility," said Jones.
"I practice everything on a heavy bags to the point where I look silly doing a basic technique over and over and over and over. And I guess to the point where my mind sees it (in a fight) and my body just pulls the trigger."
The ability to change his style and method of attack in a split second is the combination of mind and body coming together in one fluid motion.
"That's just having an open mind, just realizing you body can do anything you put your mind to," said Jones. "That's something I pray for all the time. I pray for fluidity. And I think doing things like that is an example of fluidity."

Machida is capable of being unpredictable as well and demonstrated that in his fight with Randy Couture in UFC 129, also in Toronto. The Brazilian surprised the Couture with a high-right kick that UFC legend never saw coming and ended the fight in spectacular fashion. The kick was a move taught to Machida by martial artist and actor Steven Segal.
Although Jones realizes that Machida has an element of surprise, he has learned that all his opponents have habits and inclinations and has been able to pick up particular patterns.
"You know everyone is predictable to some extent. No matter how unpredictable they are, there's gaps and holes in everyone's game," said Jones. "And yeah, Lyoto is, not predictable, but he has tendencies."
"For example he uses the left side of his body way more than the right. He has a great left knee, a great left high-kick and a great straight left. He finally switched it up with a fake straight left and he jumped and shot a right at Randy Couture. And it was one of the first times he kicked with his right leg. I think that was the biggest surprise factor was about the move and I think that's why it landed so clean."
"But yeah everyone has tendencies and things you can find, especially when you've been fighting in the UFC for so many years. There (have) been a lot of things I've noticed about Lyoto's game."
Some observers have called this matchup the toughest of Jones' career, but the champ doesn't see it that way.

"Everybody is just so different. Everybody has something different," said Jones. "That's why everyone's like 'should Lyoto Machida be the toughest test of your career?' No not necessarily. It's just a different one. They're all good at something. Rampage can punch with his left or his right and knock you out either one. That's scary. That's an awesome gift to have.
"Shogun kicks like a mule. He kicked me one time and my leg hurt for like three days…so none of them are tougher than the other one really. Lyoto has lost to two people I've beaten, that doesn't mean he's going to be the easiest. He's just going to be a different one. That's what I really want to emphasize – they're all something different not necessarily better or worse than any of them."
Machida has been in Jones's shoes before. He was once the light-heavyweight champion in 2009 and on top of the MMA scene before losing in a title rematch to Rua. Not only have the two fighters had a similar trajectory in the UFC, they have similar approach to spirituality and martial arts.
"I respect him a lot. Don't get me wrong, honestly, I respect Lyoto probably more than half the people in UFC as a whole," said Jones. "Just because of the person he is, the fact that he does his Kada still, the fact that he's into meditation like I am, the fact that he's a student like I am. He has my utmost respect."
On Saturday night, both fighters will have something to prove. The now matured Machida wants to regain a belt and title that was once his while Jones is looking to show the world that he is the best pound-for-pound fighter in the world.
"To be at this level where there is a champ versus a number one contender obviously we both have to be smart about and be good at what we do," said Jones.
"We could all be solved but it's just a matter of who takes the sport seriously and who wants it more."
To follow me on twitter click HERE
Photos courtesy of John Lucero
Click HERE to view more pictures from the UFC 140 Open Workouts.
Click HERE to view more pictures from the UFC 140 Weigh-Ins.
Download or stream the 500 Level podcast with co-hosts Aman Dhanoa and Ben Trattner as they discuss news, opinions, and views on Toronto sports from the Upper Deck. Leafs, Raptors, Jays, Argos, TFC – nothing is off limits. It's good to be a fan!
Also available on iTunes