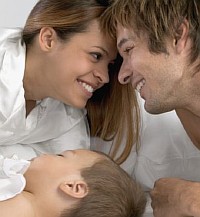 You can publish this article on your website as long as you provide a link back to this page.
This article was last updated on April 16, 2022

Devoting most of their time and energy into nurturing their young ones, couples often find their personal lives taking a back seat .
Bringing up kids is a 24 hour task which can be both stressful and demanding at the same time. Thus it's important to take out a few moments from your day to brighten up your tiring routine.
"Being a good mom or dad does not mean that you forget being husband and wife. Even the best of parents get tired of changing diapers, playing with Barbies, and picking up toys," says relationship expert Mahima Mathur. "It's always refreshing to remember that you are a human being with a personality and interests," she adds.
"But in a scenario where parents are trying to meet and match up to their kids' demanding schedules along with coping with their jobs, one hardly gets time to tend to the fading relationship, so what's the way forward?," asks Divya Mehra, a PR professional who is a mother of 6-year-old boy. Relationship expert Mahima Mathurs proposes that one of the ideal times to bond with your partner is when the kids are in bed. "Since most couples in a metropolitan city live in a nuclear family and therefore find it difficult to leave their kids behind while they have a ball, thus the perfect time to rekindle your love life, is when the kids have gone to bed."
So if you are stuck for ideas, we have listed few activities that the two of you can do to reconnect with each other while your kids are asleep…
Watch a movie: Pick one of your favourite movies from your classic collection and just sit back and enjoy the show together. "Since it's not possible for us to visit a multiplex with our 6-month-old girl, we usually rent movies at home according to our mood and watch when she sleeps", says Manish Verma, a banker. "Leaving your kid with a responsible baby sitter whom you can trust is another option you can explore," adds Manish.
Enjoy a romantic dinner: Light those candles, put on some romantic music and relish a sumptuous meal just for the two of you. Pratima who is a mother of two young boys narrates, "Sometimes when we feel like treating ourselves or we are too tired to step in the kitchen, we order our pet pizza and enjoy it in peace while catching up on the day's gossip. It helps relaxes us and makes us connect even in the middle of a tiring day."
Rewind nostalgic memories: Dig out your old photos and CDs and relive the happy times the two of you had together. Starting from your marriage to your honeymoon till the arrival of the new member in your family, each event holds its own significance to your lives. "Me and my hubby love going through our old albums, but I really dread taking it out from the closet thanks to my naughty two-year-old toddler. As a result, usually we take out these picture treasures on a Sunday, and while my daughter enjoys her siesta, me and my hubby, have our share of enjoyment."
Reconnect with nature: Admire the beauty of the night sky while lying on the wet grass of your garden. "My son is a hyper active kid and makes sure that we are always on our toes. So, when he is asleep, me and my wife visit the neighbourhood in search of some solace leaving our son in the care of his grandmother. Sometimes just walking hand in hand under a starry night sky is enough to make us feel romantic and ready for the night," says Manav, a chartered accountant.
Pamper each other: Running behind your child is a tiresome exercise. And there is no better way than a good massage to ease out those worn-out muscles. We all need a little pampering and sometimes a message is a great method to stroke your partner's love chords. "Handling twins is a Herculean job and my poor wife who braves through the diaper change and feeding routine, just collapses after a hard day with them. So, I make it point to give her a good back massage once the kids' sleep, to make her feel better. This is the least I can do to help her," feels Jayant Sharma, a techie.
Play a game: We all have a kid inside of us and if you also happen to have kid in your house, you have a good excuse to turn into one. Work your mind with brain-teasers, jigsaw puzzles, crosswords or quiz books. They not only challenge your IQ, but they are a excellent exercise for the mind. You can also choose from cards, computer games, or if you're in sensual mood, you can also try some naughty love games with your partner. Neha Bhandari, a school teacher states "I keep myself updated with the all the current affairs and GK because it makes me better equipped to provide satisfying answer to ten-year-olds' inquisitive queries. Moreover my husband is a web designer who loves spending time on his play station. So once my child sleeps, both of us love spending our time, playing games or going through quiz books,"
Try some effortless stuff: If you don't do anything just make two cups of hot chocolate and snuggle up on the sofa. "Since I own an export house, I am usually tied up till late in office clearing consignments packages. By the time I return home my kids are off to bed and I am too tired to either watch TV or step out of the house. To unwind I play some good music and relax on my favorite couch, while lying on my wife's lap to cool off my heels…we find it utterly sensual," quips Girish Nanda.