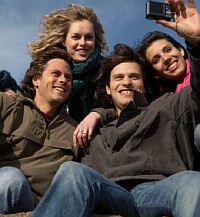 This article was last updated on April 16, 2022
Canada:

Oye! Times readers Get FREE $30 to spend on Amazon, Walmart…
USA:

Oye! Times readers Get FREE $30 to spend on Amazon, Walmart…

Sometimes men's buddies get on their women's nerves. Read on to find out why…
EVER-READY DRINKER
These friends just need an excuse to go boozing. No cricket match or post-work meet is complete without 'good ol' monk'. Drinking buddies can be injurious to your relationship, especially if your guy can't say 'no'. MA student Pranoti Surve agrees, "My partner's 'drinking friend' not only drinks but usually gets too drunk to pick up the tab. Also, every morning is a fresh one with no memory of the previous night." Strategic planner Wesley-Anne Rodrigues' boyfriend had a worse buddy, "He roams with his quarter everywhere!" she fumes.
YOUR STAND
Here's a neat trick. Play photojourno. Click pics of the most disgusting moments of those drunken binges on you cell camera. Ensure your boyfriend figures in as many as possible. Then create a slideshow and set it as a screensaver on his laptop. Of course, this strategy won't work if your man is proud about his booze-buddies!
FOREVER BROKE
Boom or bust, there are some who have a chronic habit of asking for cash. These money-launderers ask for any amount ranging from a rupee for a PCO call to a Rs 500 note to mend their phone. Surve agrees, "Being broke is one thing, borrowing is another! My boyfriend was a softie but now he refuses any loan to his friends!"
YOUR STAND
This one's easy. Just set a condition that each time he lends a sum of Rs X to this pal, he has to pay you Rs 2X.
EX 'GOOD FRIEND'
Frankly, there is little you can do, when confronted with the 'former flame'. Says Manisha Dhingra, a corporate writer, "They are everywhere, women who went out with him, broke up and then meet him about once a year; conveniently on occasions when he's out with me!"
YOUR STAND
It's war. Dig up those beach picnic pictures of your beefy ex-flame, pop them into a self-addressed envelope, and pretend to receive the courier when you both are together. Let your boyfriend open the packet. The green eyed monster will take care of the rest.
CHIPKU COLLEAGUE
This co-worker, usually a junior, tends to be your tail during meetings, smoke breaks, meals and even visits to the loo. But when the incessant lurking extends itself to dinners and weekends, it's time for your girlfriend to frown. Dhingra says, "He's always with colleagues! When he's travelling, I can't drop him off at the airport because of a delegation that turns up! I try to edge my way into his gathering, but to no avail," she scowls.
YOUR STAND
Sharpen your claws, behave like the girlfriend from hell. Be Ms over-possessive or a nag, and watch the crowds melt.
GYAN DISPENSER
Although not as intrusive as the others, these 'friends' can really drive girlfriends up the wall with their penchant to dispense unsolicited advice. Be it how to deal with your boss, which train to take to work, to even what SMSes to send if one's girlfriend is pissed off, he is Mr Know-it-all. And the women usually lose it when this man turns love guru. "Earlier it was his mother, now he is the competition!" fumes Pranoti, "He dishes out advice not just for my boyfriend, but me too!"
YOUR STAND
Don't get worked up. If he dishes out advice, lap it up. Pretend to have a deep interest in his philosophy as he drones on. Let your boyfriend know how you find wise old men attractive and impressive. Your man will know what to do next – drop him like a hot potato.
You can publish this article on your website as long as you provide a link back to this page.