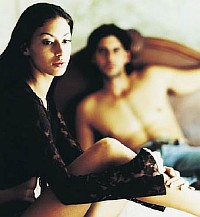 This article was last updated on June 18, 2022
Canada:

Oye! Times readers Get FREE $30 to spend on Amazon, Walmart…
USA:

Oye! Times readers Get FREE $30 to spend on Amazon, Walmart…

Do you think her action is getting colder in the bedroom? Here are some things you might be doing wrong… 
Your rush hour ends when you reach home
You've rushed home, travelling in the packed metro, rush through dinner to rush between the sheets. You do not even bother to switch on the bedside lights, hurriedly talk dirty and start angling in the dark. You are in such a rush that you do not even realise that she is not ready yet. Have you forgotten the most important rule you learnt when you set out in the first place — that women take time to warm up and cool down. Let's face it; she still has morsels of the caramel custard you had for dessert clinging to her lower lip. Rather than use that to further the play of love, you are going for the kill right away. If you do not stop in your tracks now, she will be put off sex (with you) for a long time.
You're not acting in a porn film
Porn sites, even the classic Kamasutra, can teach you a lot. But it's impossible to master all those painful contortions. Sexologists will tell you that while sex can be flirtatious and meaningless even among committed people, the best moments are those that have some heart.
Dude, ensure that she is comfortable and do not treat her like a porn star. There are two off shoots of this: either she will be completely repelled by your constant requests or may actually turn into 'rasadevi' in the bedroom.
Are you being too gentle?
You are a gentleman. She loved that about you right at the beginning. That's what drew her to you. She loves the fact that you are a conscientious lover; gentle all the way. But (and this might confuse you, as we have just told you that gentleness does take a man a long way in a relationship) women do like it when a man takes charge. Your courtly love is not getting you far. You have made her feel safe and secure with all your genteelness, but c'mon, be a man. Mix up that gentle-lover attitude with some Tarzan-tactics. Arrive at a middle ground to get anywhere close to her heart.
Remember Chandler from Friends?
This is straight off Friends. And is relevant to many men who are a few years into a relationship. In one of the episodes, Joey remarks what a lazy lover Chandler is after he and Monica emerge from a round in the bedroom. Joey can tell what a lazy lover his friend is by the way his hair is plastered flat at the back of his head. Lesson number four for you. Guys, there can be nothing more annoying than being with a non-active lover. Whatever happened to caressing and petting through the act? Or would you rather that she cuddle up with the pillow. Let it be known, many women find that very comforting. The pillow does not talk garbage not does it cavort clumsily around the four-poster.
Finally, where's the innovation, dude?
When was the last time you were inventive? For most women, sex is not so much about the act as it is about the anticipation. Put on some music, read to her, draw a warm bath and light up some aroma candles as a welcome back home from work surprise, or have dinner ready; basically create an atmosphere of romance. Most men dismiss this as being overly girly and a dent to their machismo. Let it be known, most women find a hint of the artistic in men very flattering. And then of course, sex.
You can publish this article on your website as long as you provide a link back to this page.