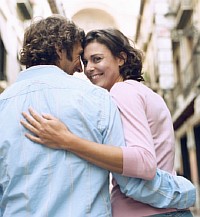 Wondering if speed dating is the thing for you? Here's all the basics to help you determine if you want to give speed dating a try….
What is speed dating?
Speed dating gained social acceptance among the young in the late '90s. It is a kind of a round-robin meeting where several daters meet potential partners at a one-on-one at the same event. Each date typically lasts ten minutes or less before you move onto the next potential mate. Within that time period, you must get to know whether whom you want to continue seeing, and why.
Is 10 minutes enough time?
You may not know in ten minutes or less if you want to marry the person, but you can often tell if you at least want to see them again. Plus, if you know right away it's a mismatch, at least you're not stuck sitting through a boring dinner, wondering what next to talk about while waiting for the check.
Is contact information exchanged?
Typically no contact information is exchanged at the end of each speed date. Rather, at the end of the evening, each dater submits a list of people they would like to see again. The event organisers look for corresponding matches and provide contact information to both parties for each match made.
What do you talk about?
A little more than flirty nothings. Because , the point of the whole exercise is getting to know a set of new people quickly and efficiently. In general, focus on topics appropriate for a first date, likes and dislikes. One can always get into long conversations under moonlit nights later on.
So now you know the basics, but what should you wear and talk about at a speed dating event, and how should you act to improve your chances of finding that special someone?
Read RomanceTale dating site review
What do you wear for speed dating?
The key in choosing your outfit is to dress attractively without dressing to attract. In other words, your goal is to meet a potential mate, not just attract attention, particularly from the wrong kind of person. A good rule of thumb is to look at yourself in the mirror before leaving and determine if any particular article of clothing or exposed body part could be distracting. If you pass this test, you'll know the people you meet will be able to focus on you, not your clothes or a body part.
How do you act?
It can be tempting to be something you're not. After all, you are trying to impress others at speed dating events. However, keep in mind that putting up a false front will not ultimately help you reach your goal of a committed relationship. In the end, if you act like yourself you'll know that others are meeting the real you and expressing interest in the person they'll date if the relationship progresses.