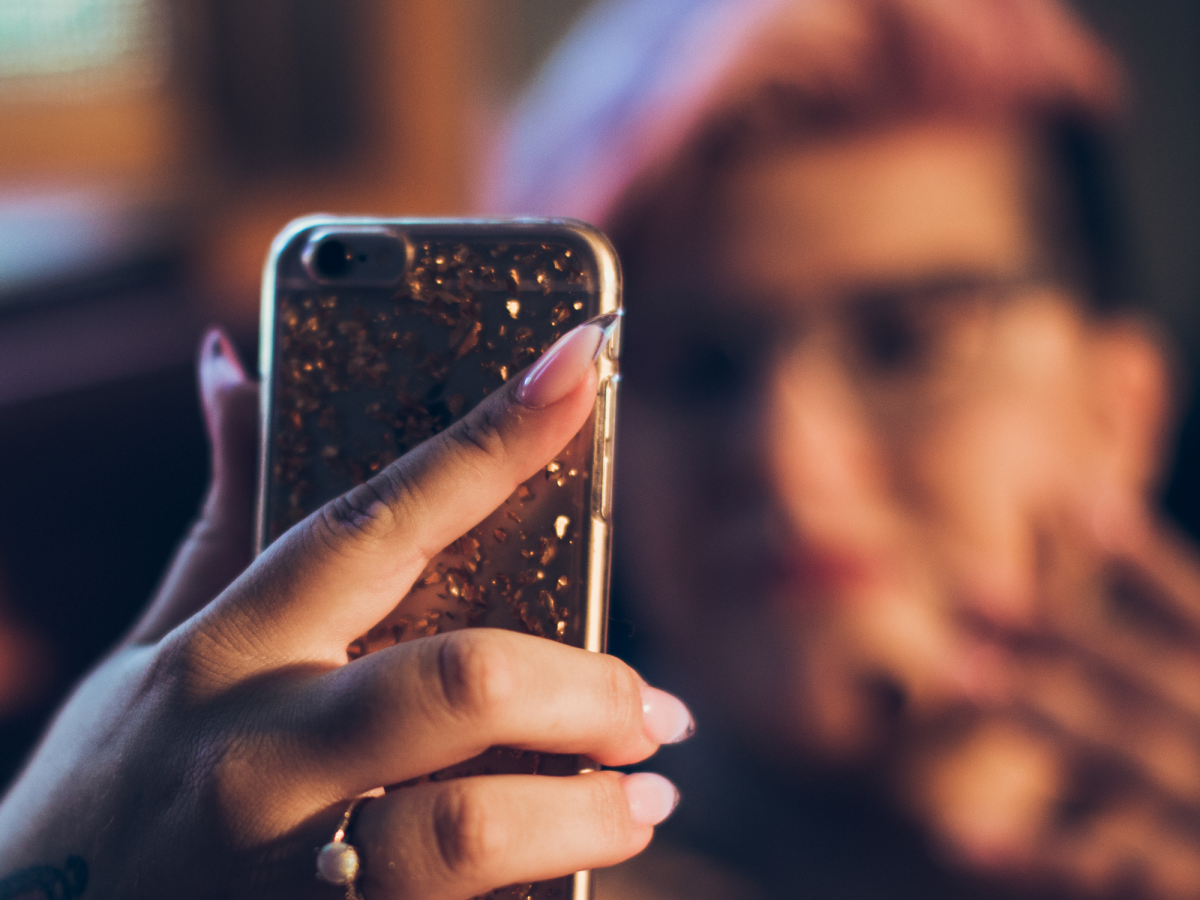 Without a doubt, dating in 2017 is an art form. If you're single and looking for love, you know where the scene is. It's online. (Unless you've made it onto The Bachelor, in which case, bravo.) But whether you've been on 100 Tinder dates or zero, it's a tricky little business. There's such a grand variety of dating apps to choose from — where do you even begin?
While there is no official handbook or rule guide, most dating apps operate more or less the same way. You download the app, create a profile, add some of your favorite pictures, and write a short bio. If you make a match, you can commence Instagram- or Facebook-stalking to learn more — at least that's what we do.
We're here to help you with that first step: Figuring out which dating app is worth your homescreen space in the first place. There's no reason you should have to do all that leg work when we can do it for you. So, each month we'll test drive the latest dating apps and report back on what's worth your time.
Ready to find your match? Read on to check out the latest.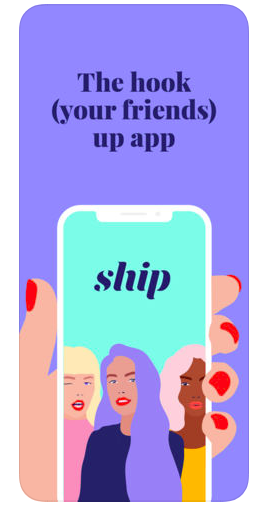 The App:Ship
The Pitch:
"The hook (your friends) up app"
What we think: Created by Betches Media, Ship lets you create "crews" with your friends on the app where you can share profiles and talk to each other — making the swiping process a much more social experience. (Since we're all showing our friends our online dating prospects IRL anyway.) And if you aren't single, you can still join in on your friends' dating fun by joining a crew as "not single." Perfect for big friend groups who are already clogging their group chats with dating app screenshots.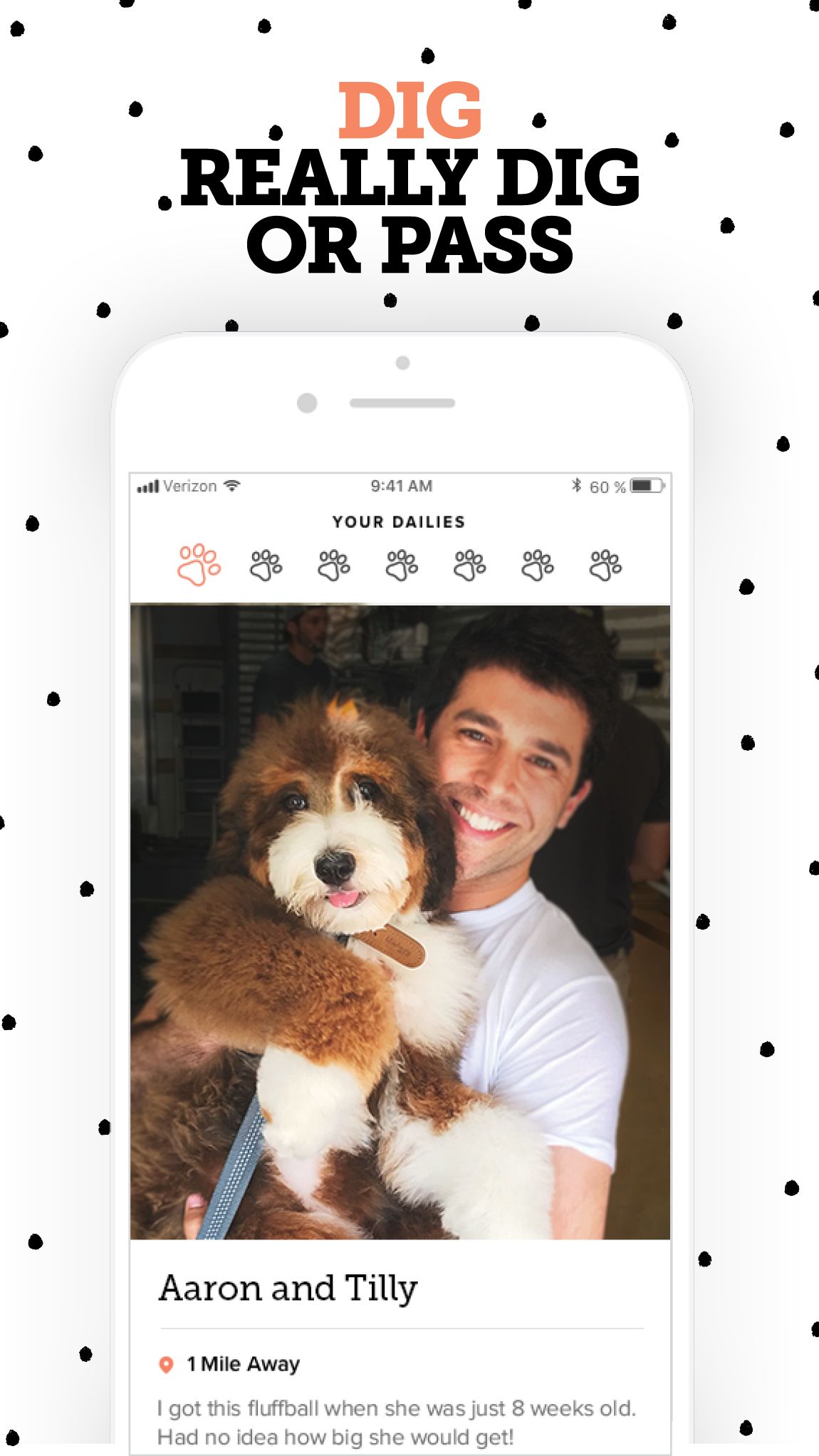 The App:
Dig
The Pitch: "The dog person's dating app"
What we think: If you're a dog person only looking to date other dog people (which is fair), this is the dating app for you. You don't have to be a dog owner to use the app, but if you are, you can make a profile for you and your dog, and then filter your potential matches based on whether they have a dog, as well as the size of their dog. Each day, the app presents you with five prospective matches, and you can then decide if you "dig," "really dig," or want to pass on them. And if you want to meet up IRL with a match, Dig can help you plan a dog-related first date. Plus, the app gives its users daily dog-related deals and tips. It's definitely one of the most wholesome dating apps out there, which is refreshing, to say the least.
If, as the saying goes, your potential partner "Must Love Dogs," this is a sure-fire way to make that happen.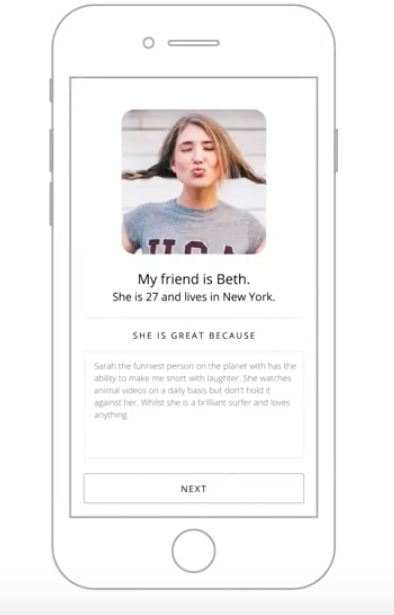 The App:Wingman
The Pitch: "Friends know you best."
What we think: We've all let our friends play matchmaker on our Tinders before. It's scary, and they might swipe right on profiles we wouldn't ordinarily look twice at, but sometimes letting a friend take the wheel can yield better results than when we're the ones in the driver's seat.
Enter Wingman, the first-ever matchmaking app. In theory, it's great. Your friends make a profile for you and then do all the work — the point being for them to "do something good" for and live vicariously through you (their single friend). But this setup, though certainly unique and full of potential for matches, is slightly off-putting.
The app specifies that it's for non-single people to help their single friends — implying those in relationships have done something right that their single friends have not and need their help with. If the app's language were more general — perhaps designated as a place for any kind of person to help their friend find a match — that might be more palatable.
Using the app, it feels like it was created more with the helper friends in mind than those actually seeking matches. But if you have a friend you'd trust with this task, why not let them have a go at it?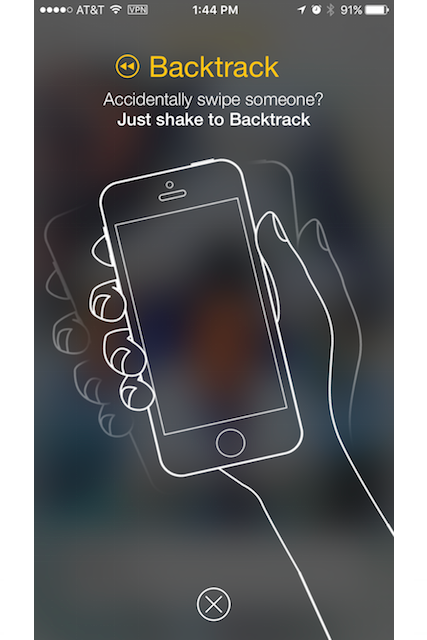 The App:Bumble
The Pitch: "We're changing the rules of the game."
What we think:
Bumble is the Sadie Hawkins dance of the dating-app world; if a match happens, the only way to chat is if the girl makes the first move. Conversations begin on her terms and hers alone. If the female doesn't say anything within 24 hours of connecting with someone, that person disappears and the connection is lost. If a connection with someone of the same sex is made, each has one day to spark a conversation before the connection is deleted. If the 24-hour mark is approaching without a message, matches can request another 24 hours.
It's definitely an ego boost thinking, Ha, he is waiting by his phone for me to text him and there's nothing he can do about it! (We watch a lot of He's Just Not That Into You rom-coms around here, so it's nice to envision the tables turned.)
Another fun Bumble feature is backtracking. Say you by mistake swiped left or right too soon — no worries! Just shake your phone and it'll take you to the previous profile.
Note: If you are a Bumble user, make sure you're swiping in the right mode. There's the traditional Bumble, but also Bumble BFF, for making new friends, and Bumble Bizz, for networking.
Photo: Courtesy Bumble.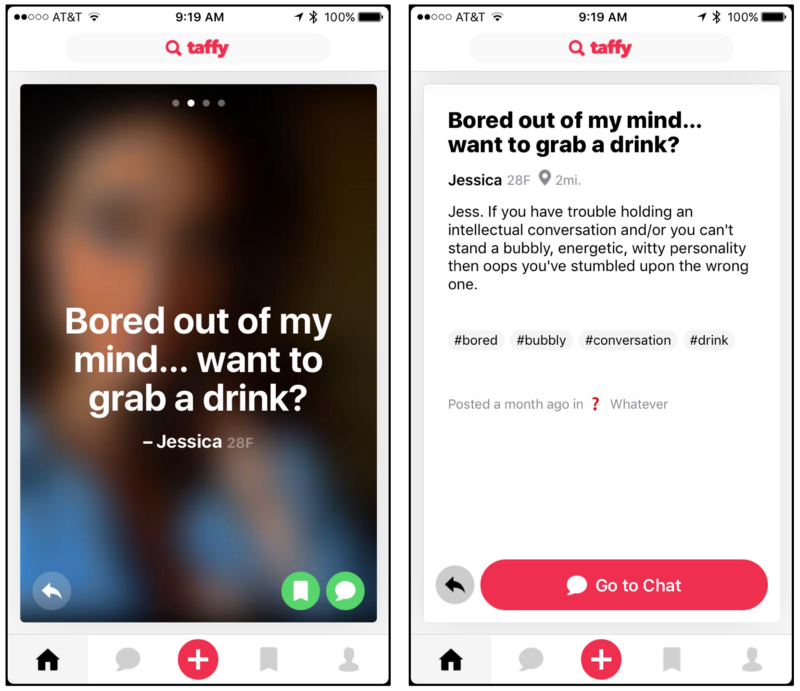 The App:Taffy
The Pitch: "The chat-first way to meet new people"
What we think: The more you get to know someone, the more you see the real them, right? This is the premise behind dating app Taffy. Your photo and all other users' photos on the app remain blurry until a series of messages are exchanged. Instead of swiping based on looks, you'll see "catchy headlines" and short bios that will hopefully pique your interest and lead you to kick off a chat. The app is a refreshing change from the norm.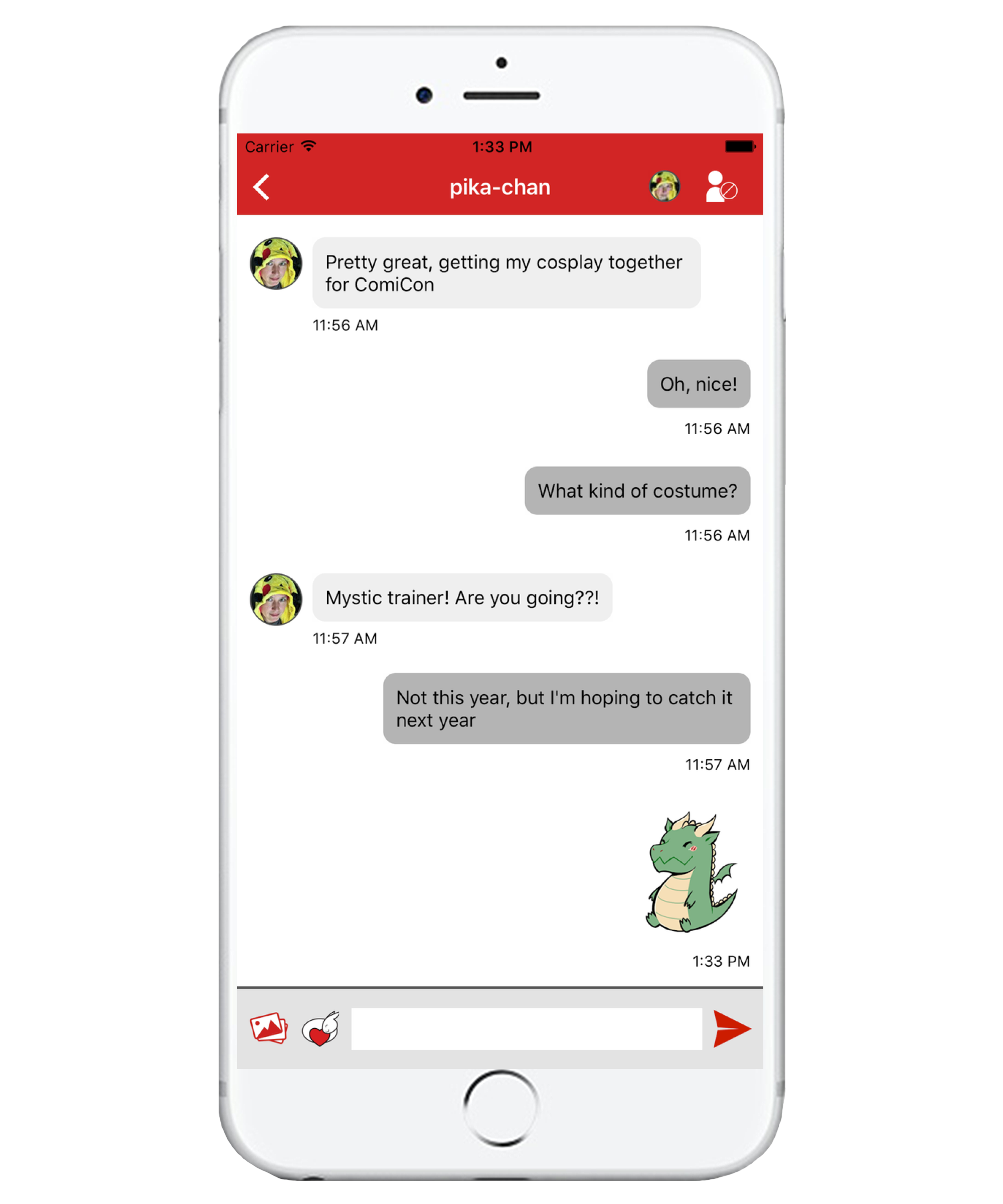 The App: Cuddli
The Pitch: "Find That Geeky Special Someone"
What We Think: Cuddli targets Marvel fan communities and those who prefer to spend their weekends playing Magic. However, beyond some gaming icons that people can use to express themselves there doesn't seem to be anything that makes this app specifically for "geeks", beyond the fact that it calls itself the "dating app for geeks."
Nevertheless, it helps weed out ghosting by requiring users to respond to matches who message and want to meet you. Plus, an embedded tool for picking a local meet-up spot makes it easier to plan an in person rendezvous.
Photo: Cuddli.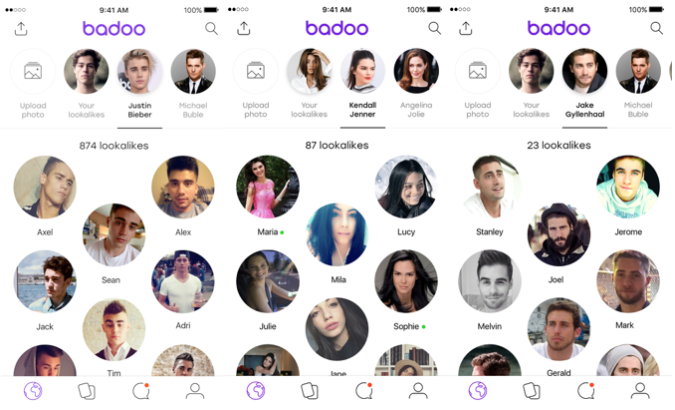 The App: Badoo
The Pitch: "Meet New People, Chat, Socialize"
What we think: If you want your celeb crush to become a reality, Badoo might be the app for you. While you won't really end up with Chris Evans, Jake Gyllenhaal, or Chris Pratt, you could get pretty close.
The app's latest update includes a new "Lookalikes" section where you can narrow down the profiles you see based on which users share a celeb doppelgänger. It's a fun idea and one that works relatively well, give or take some facial hair. If you want to see which celebs the app's algorithm thinks you look like, you can head here.
Photo: Courtesy of Badoo.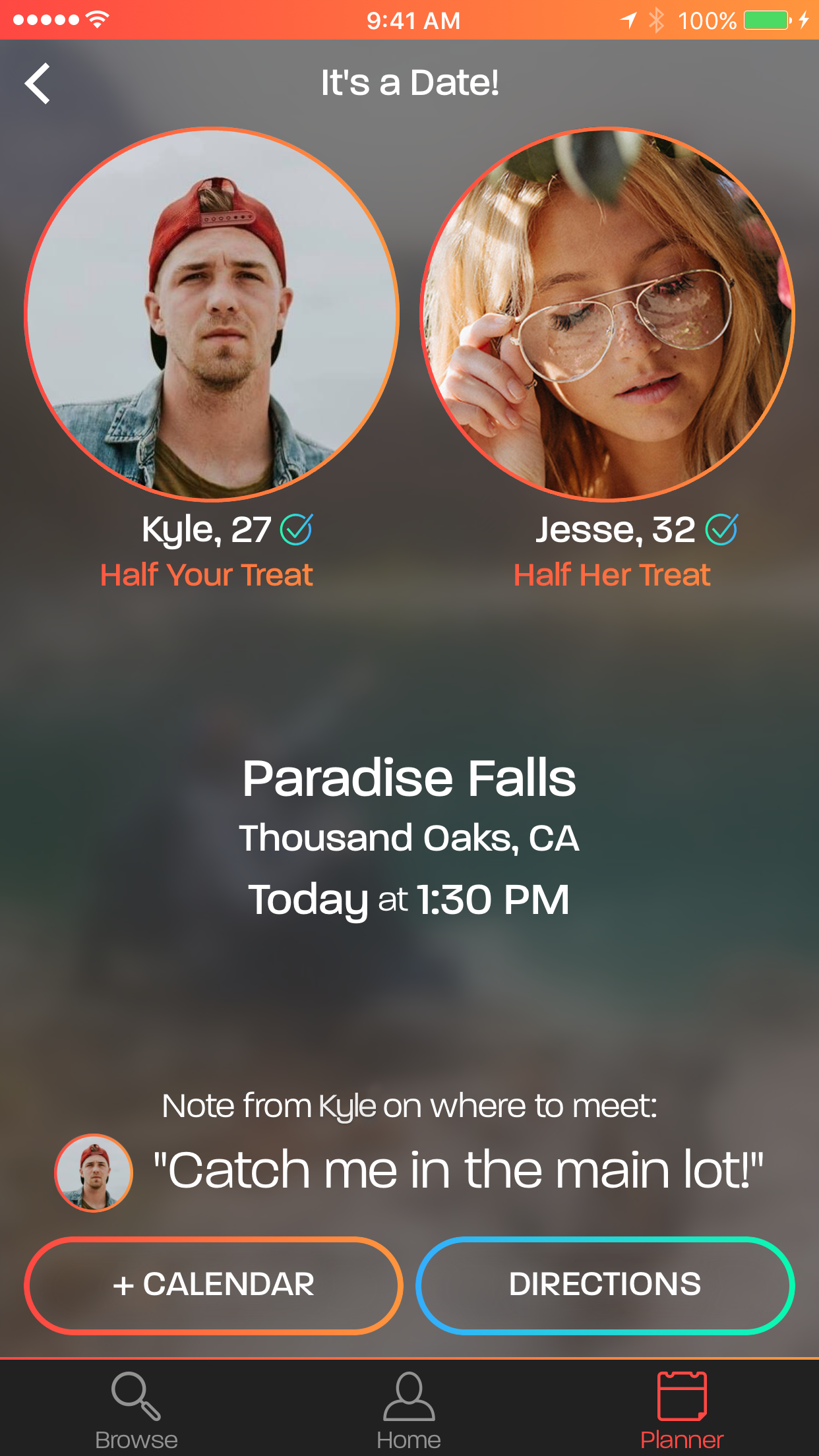 The App: First
The Pitch: "The First Real Dating App"
What We Think: Anyone who has spent time on a dating app knows that many messages go unanswered and, even for those that are answered, an in-person meet-up doesn't always happen. First aims to eliminate both concerns. You post a date you're interested in going on and other users express interest. You can also specify ahead of time who will pay or whether you will split the date.
Other users will express interest and you can sort through the profiles to pick the lucky winner. Or, find a date in your feed that you'd like to go on. This is essentially a (nearly) blind dating app for the 21st century.
The one downside with First is the very thing that sets it apart: A lack of any communication before the date. You can't get a sense of what the person is really like until you exchange words during your first meeting. So, if there are red flags that you can identify ahead of time through messaging in other apps, you won't get that here. Still, the concept is an interesting one and a nice change from the exhausting back-and-forth of arranging a date.
Photo: First.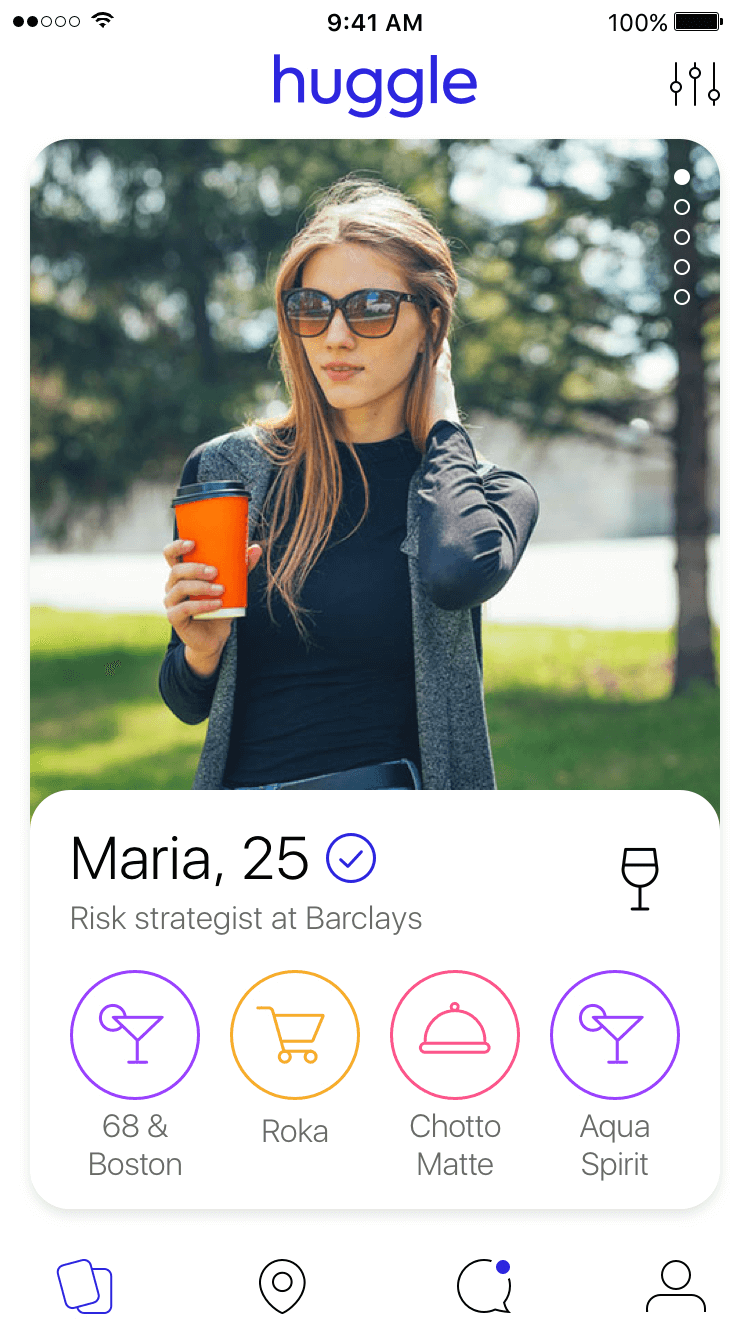 The App: Huggle
The Pitch:
"Discover people who go to the places you do."
What we think: The more places you visit, the better your chances of meeting someone on Huggle. After you go somewhere, the app will ask you to confirm that you did, in fact, visit that location (the geolocation was off a few times, but you can easily correct it). Then, you'll see other users who also visited that spot.
It's an easy conversation starter (hey, which pastries do you usually get at Ceci Cela?), but few people on the app actually started or responded to conversations, which was frustrating. Plus, there weren't very many users for each location.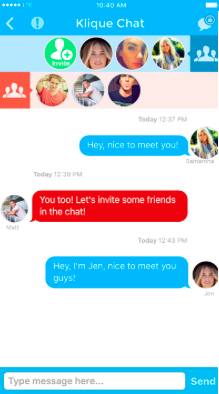 The App:Klique
The Pitch: "Meet New People, With Friends By Your Side."
What we think: Like almost every other dating app out there, Klique lets you create a profile and swipe for nearby matches. Where it differs is its social component. After you start a chat with a match you can both invite friends to join the chat and make plans as a group.
While this is nice in theory, it feels like a waste of time and a bit odd. Why not just make plans with your match to go out and agree that you'll both invite friends to come along? That way, you can save time messaging online and get to what matters: an in-person interaction.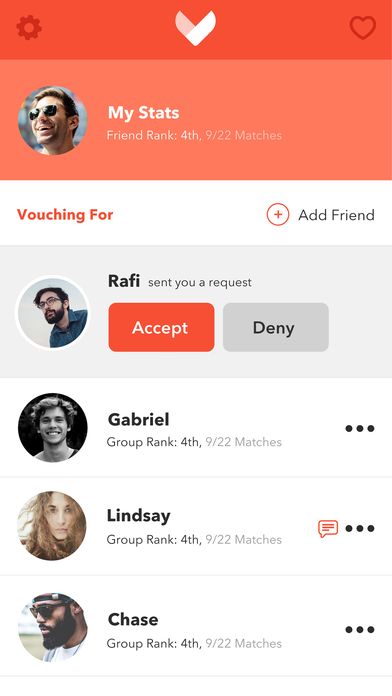 The App: Vouch Dating
The Pitch: "Friends Swipe For You"
What we think: We were excited about Vouch from the minute former Bachelor star Sean Lowe announced it. Why? It takes all the endless swiping out of your hands and lets your friends — who know what you like and can be more objective — do all the leg work. On the flip side, it's fun to match friends with people you think are the right fit.
Both ends of the process worked seamlessly. Of course, after you've matched your friends, or they've matched you, the conversation is in the dater's hands. But it's so much easier to pick up there, with the swiping already done. So go on — match or be matched.
Photo: Vouch Dating.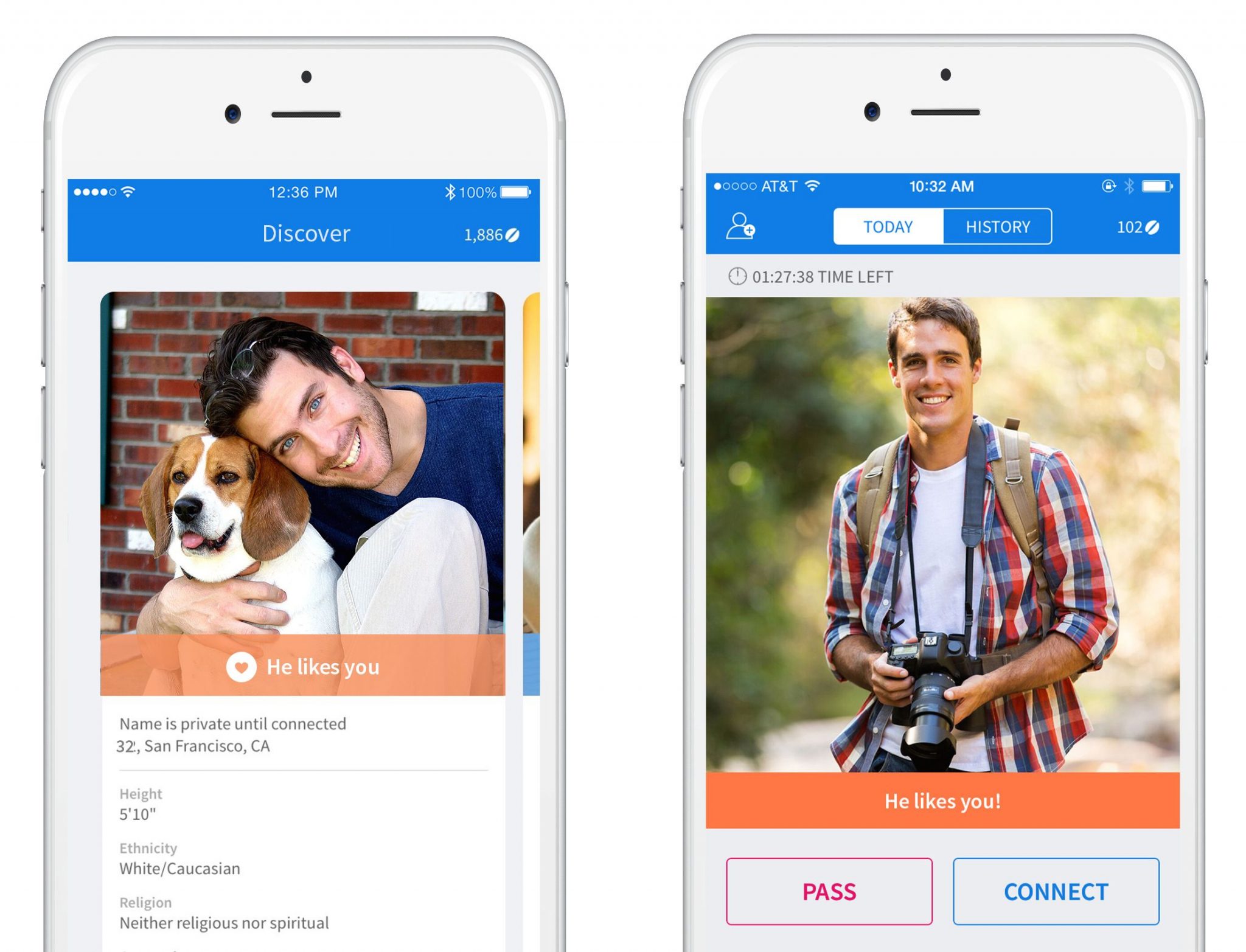 The App: Coffee Meets Bagel
The Pitch: "Meet Your Everything Bagel Today"
What we think: If you want to be on a dating app that has lots of users but you don't feel like swiping, Coffee Meets Bagel is the app for you. Every day you're presented with one "bagel." Take a look at his or her interests and photos, and choose to pass or connect. It's that simple. Some days you may get more than one person, but never the infinite number that you'll find on other apps.
In a perfect world, fewer overall matches would mean that the matches you do get lead to deep, meaningful connections and wonderful dates. But, as with any other modern dating app, Coffee Meets Bagel has its fair share of unanswered messages and dead-end conversations. If you're over swiping left and swipe right, though, it's worth a try.
Photo: Courtesy of Coffee Meets Bagel.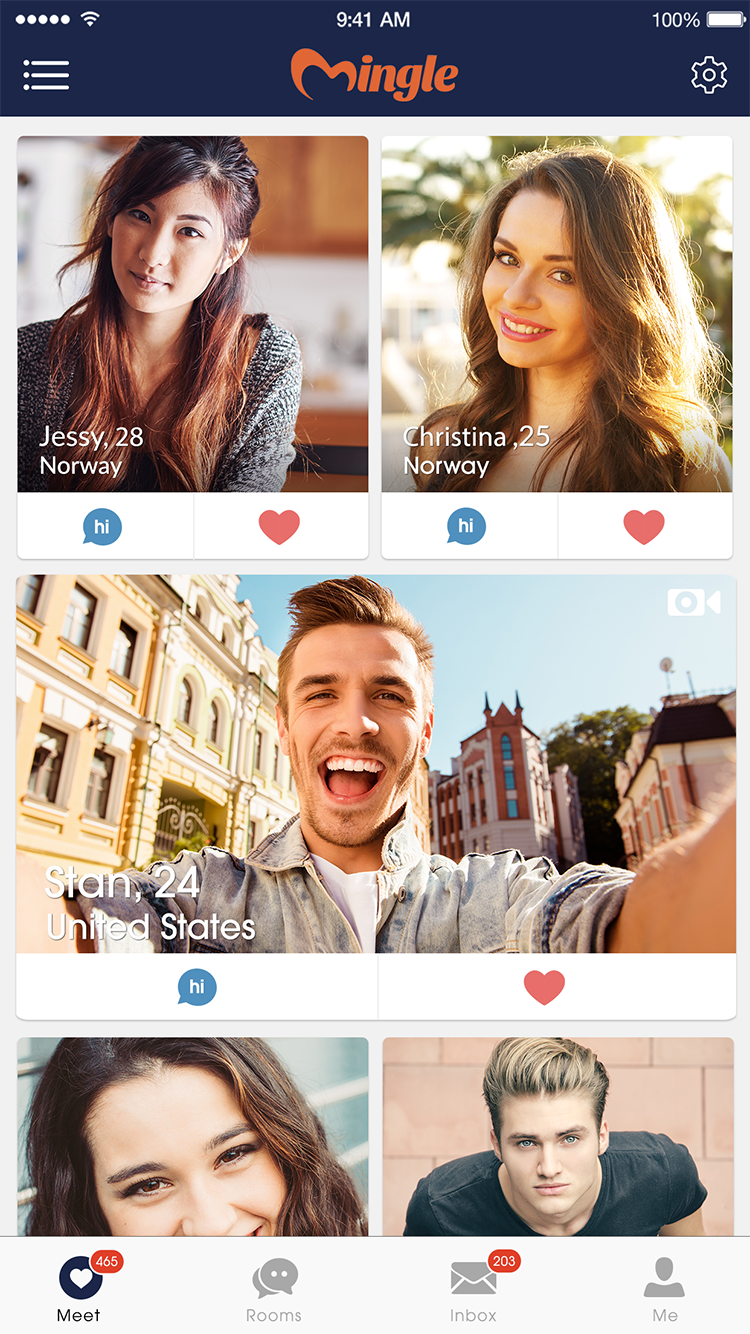 The App:Mingle
The Pitch:
"They say a picture is worth a thousand words and a video is at least a thousand pictures!"
What we think: Mingle gives you more options than your traditional swiping app. To chat with someone directly, you'll need to match with them, but you can also choose to go into a "chat room" and talk with anyone else there. However, it will cost you, which is one of the main deterrents of the app. To send messages to users and enter chat rooms you'll need to buy coins. The lowest number of coins, 100, will cost you $1.99. This isn't unlike Bumble Boost, but it is annoying to have so many hidden fees.
The one advantage that Mingle has over many other dating apps is the video profile option. While it might take you at least a few tries to take a video that you like and think feels like you, it's nice to hear how someone else sounds — and really see them — before meeting.
Photo: Mingle.com.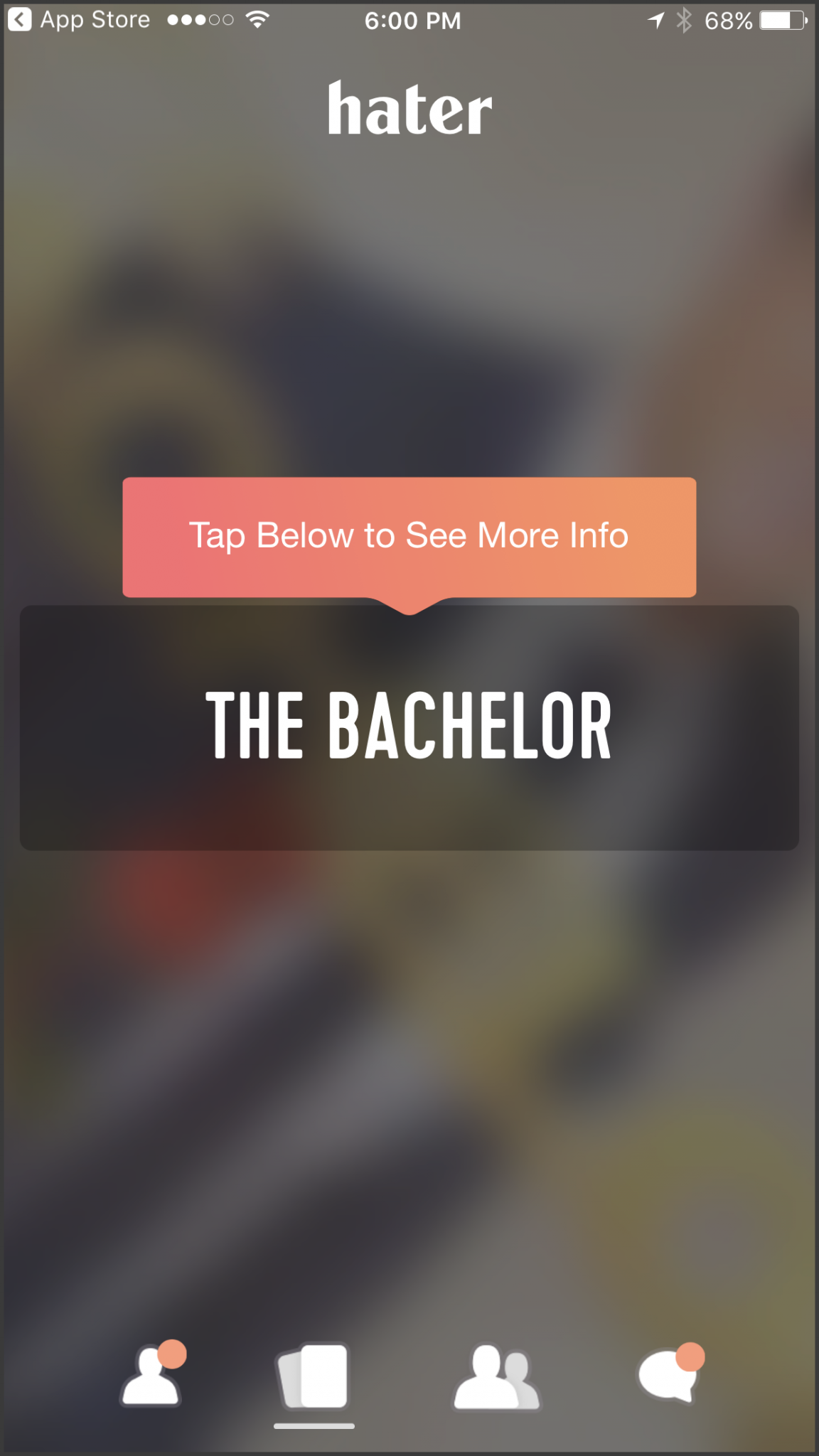 The App: Hater
The Pitch: "Meet someone who hates the same stuff."
What we think: Hater is similar to other dating apps in that you create a basic profile with photos and enter preferences for age. What's different is that instead of swiping on photos, you swipe on issues, indicating how much you like or dislike a show ( The Bachelor), Person (Tom Brady), or other part of life, such as "butt selfies." You match with people who dislike the same things as you do.
Hater just launched as a beta version on the App Store, so not many people seem to be on it yet. Aside from that, optimists might find it somewhat sad that you're meeting someone based on what you both hate. Then again, maybe true love can form over a shared dislike of cilantro.
Photo: Hater.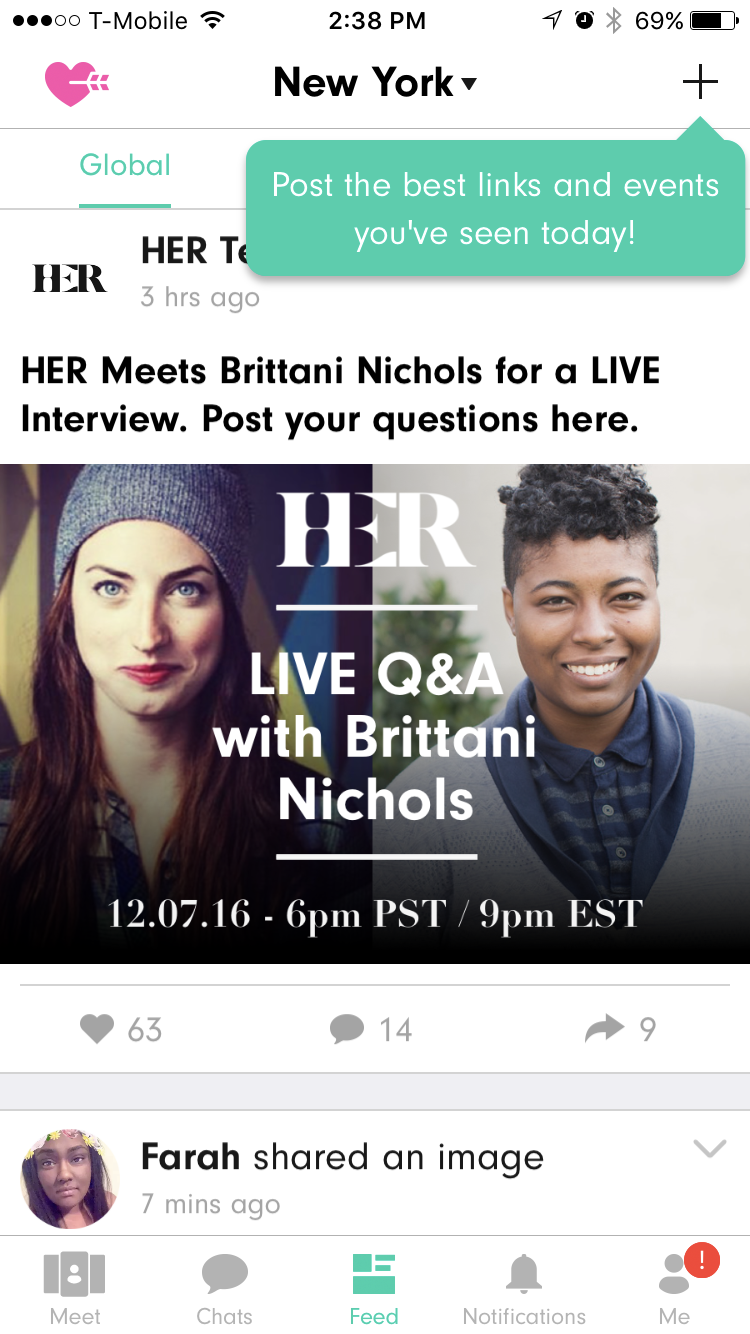 The App:Her
The Pitch: "Your Lesbian, Bisexual & Queer Community In One Place"
What we think: Her caters to gay and bisexual women, and nonbinary and trans people. However, it is so much more than just a dating app. The first thing I saw on my feed was posted by the Her team and invited users to join a live Q&A with actress and comedian, Brittani Nichols.
As I continued to scroll down, I noticed people uploading selfies, sharing thoughts, and posing questions to the larger community about how to come out to their parents. The Her team also posts a question each day, including, for example, "How did your family and friends react when you came out to them?" Users can Like, comment, or share these posts, in addition to uploading their own.
The more time I spent on the app, the more I realized what a safe space it was. All the profiles are verified, and in order to chat with someone, you must add her as a friend first. Whether you're looking for a date, a new buddy, a serious relationship, or all the above, everyone on the app is friendly and welcoming. You'll find news, events, and women who you can connect with regardless of your sexual orientation.
Overall, the app feels like a hybrid of Pinterest (each profile has a board you can update and add to), Instagram, and Facebook, but with a dating component, too.
Photo: Her.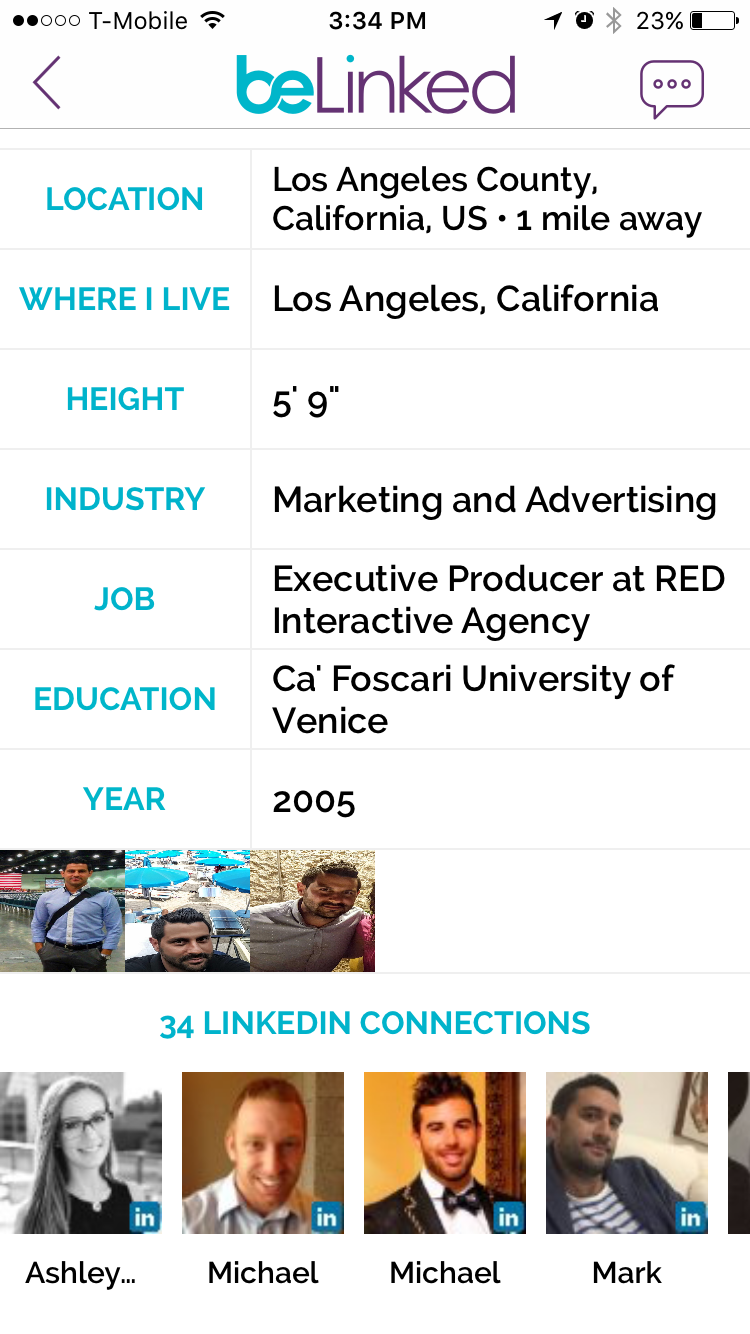 The App:BeLinked
The Pitch: "Be True. Be Selective. BeLinked."
What we think: BeLinked is a dating app that connects to your LinkedIn account, catering to young, career-driven professionals. I'm used to dating apps that connect to my Facebook account, so this was a nice change of pace.
BeLinked operates more or less like any other dating app, but there are some notable benefits. I hate looking someone up on LinkedIn,
especially a potential date, knowing that they got a notification saying I viewed their profile. On BeLinked, I can view their profile without them getting a notice about it. So, for example, I immediately see what they do, where they went to school, and what year they graduated. Having all this information gives me more conversation starters than Bumble or Tinder, which don't require as much background.
One downside: Because the app is so new, I came across many BeLinked tester profiles.
Photo: BeLinked.

The App:Loveflutter
The Pitch: "Discover People & Places To Meet Nearby"
What we think: When I downloaded the app, a screen very reminiscent of Twitter popped up. I had 140 characters to write anything I wanted about myself. If you don't know what to write, you've got to think of something — it's not optional. I used that space to say, "I'm voting for Hillary Clinton!"
Aside from the Twitter-like bio, Loveflutter stands out from other apps because it puts personality first, and appearance second. Let me explain.
Under the "People" section, I was shown one profile at a time. I saw their short bios, which were superimposed on very blurred profile pictures, along with their ages, names, and whether we had any similar interests. But, if you then tapped on the image, the text would disappear and you could see that person's photo. Instead of quickly swiping based on someone's main image, I found myself swiping left and right solely based on their text, often not even looking at the picture at all. (Certainly a change from Tinder!) If the match is mutual, you can chat with the person.
The app also has a nice "Date Ideas" section that suggests restaurants and bars nearby, taking out the awkward guesswork of choosing a first date location.
And if you really want to get straight to the point, you can press "Suggest-a-Date," which will notify someone you've matched with, essentially asking them out for you. What's the point in mindless small talk anyways, right?
Photo: LoveFlutter.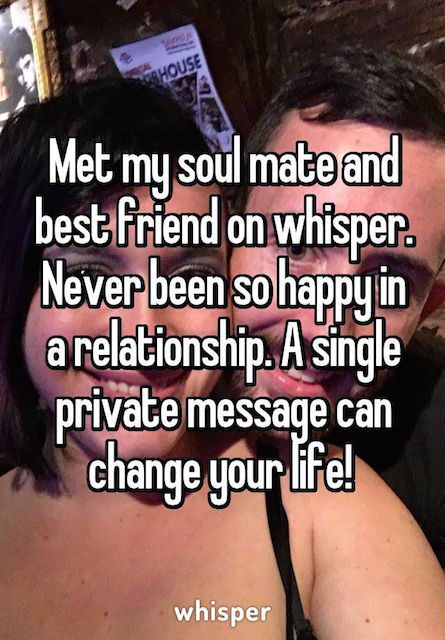 The App:Whisper
The Pitch: "Share, Express, Meet"
What we think: Technically, Whisper isn't a dating app, but many a wedding has come out of it. The app is an anonymous social network, and aims to provide users a safe online space to share thoughts, secrets, feelings, and opinions, and to trade advice.
After enabling push notifications, watching a short video introduction, and turning on my location settings, I was shown a feed of "whispers" (images and videos with text superimposed). No profile creation here.
Under the "Popular" section of the app were whispers that read, "Please don't call me 'exotic.' I'm not a plant," and, "I think the saddest thing I've ever seen to date was my dad spending 5 min trying to take off his wedding ring after my mom left him," among others. I lost myself in a sea of thoughts. I liked the fact that I was connecting with people on an incredibly intimate level, while remaining anonymous. But plenty of people are also using it to hook up.
"25 Male 6ft-3 Italian…message me."
"To the blond girl walking down Eddy st in hull, message me if you see this. I had the long red hair and beard."
"Will you be my dirty little secret?"
While you can see whispers from all over, sticking to the "Nearby" section will limit posts to people in your general vicinity — which does make it a reasonable option for finding a date. When you post a whisper, other users can reply and heart it. You can also chat with other people directly on the app, but if you accept a chat request, both parties must provide their age, gender, and location.
If you're tired of traditional dating apps, checking out the personalities on Whisper could be an interesting — and even inspiring — way to go. And you might have fun sharing some of your own thoughts in the process.
Read on for the dating apps we've tested previously.
Photo: Whisper.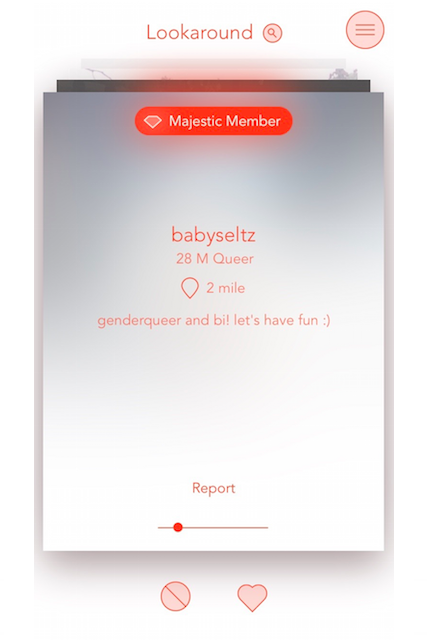 The App: Feeld
The Pitch: Dating for couples and singles
What we think: Feeld used to be a dating app for threesomes, but now caters to both singles and couples. While I wasn't necessarily into the idea of a threesome, I wanted to explore the app and see what all the fuss was about.
The app opens with a pleasant greeting: "Date awesome people around you who are kinky, curious, and open-minded."
Profile creation was different than with your typical dating app. First, I had to specify whether this account was for a single person or for a couple. Then, I was asked to create an imaginary name. (That's a first.) Another first: Adding a passcode and touch verification for security! But then again, I feel like the app is all about firsts.
When I was going through the "looking for" part of the process, I realized why the app had changed its name. It's not exclusively for threesomes. I had the option of checking off female, male, male and female couple, male and male couple, female and female couple, and TS/TG/TV.
Then I had a look around. At first I was confused because I was shown a profile picture, and had to swipe left in order to find out details — counterintuitive for a dating app, if you ask me. Other than that, I was amazed by who I came across. Feeld has mastered fostering an online space where anonymity, exploration, and personal freedom come together seamlessly. This is rare in the world of dating.
After browsing through a few profiles, I instantly felt that I was part of a community where everyone was genuine and open.
Photo: Feeld.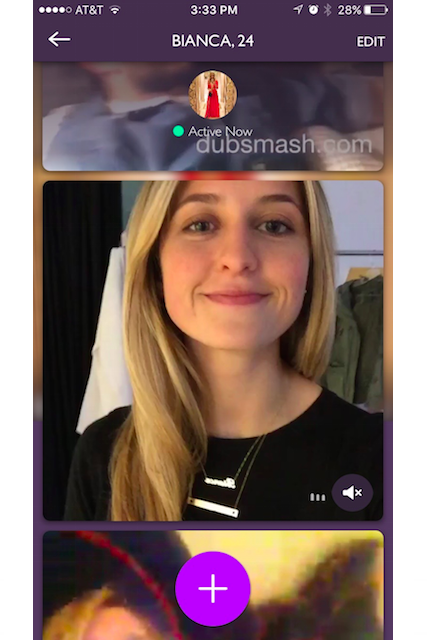 The App: Lively
The Pitch: Meet People in Motion
What we think: Lively, built by Zoosk, uses videos to help you get to know other people around you faster.
In making my profile, the app quickly gathered all my videos from my phone and Facebook so that I could choose which media I wanted to include in my profile. The four videos I selected were then transformed into a collage, showing off my personality and interests.
So, the app Lively really is quite lively: My profile felt like a short film in which I starred. The videos I chose included one dubsmash, while the others were of me and my friends goofing off. I felt it was an accurate representation of me.
Unfortunately, the app is brand-new, so there aren't a ton of people on it yet. But I enjoyed the idea of skipping the "about me" section in lieu of videos. In a world where video dominates social media — just look at Snapchat and Instagram stories — the visually stimulating factor at play is a serious plus. Instead of looking at a picture, I could decide whether or not I liked someone from watching 15 seconds of video footage, which feels a lot less judgmental than making a swipe based on a photo or two.
Photo: Lively.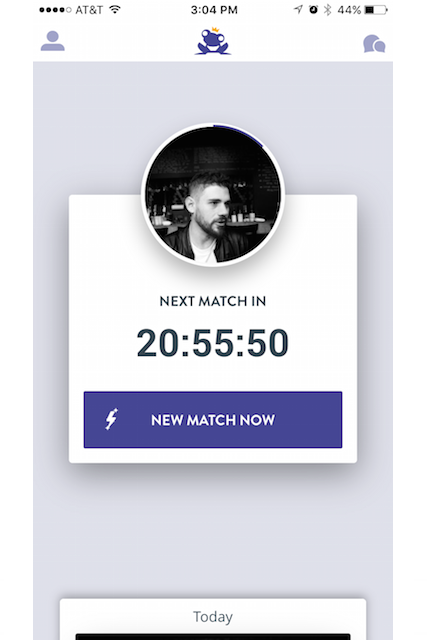 The App: Once
The Pitch: Handpicked matches every day
What we think: True to its name, Once is a dating app that handpicks one match for you each day. Instead of swiping, Once has matchmakers who do that for you.
After I downloaded the app and filled in my profile, I was ready to start browsing — except that I couldn't. It was an unexpected surprise. I could just sit back, relax, and wait for the app to alert me when they found my match of the day. Both parties get notified of their match at the same time.
After you get your match, you can message one another — and you can enjoy 24 hours of their undivided attention. But, if you don't like your match, you can request someone else.
I am a fan of any online dating app that focuses on quality over quantity when it comes to matches. And when I got a push notification about my first match, I'm not going to lie, I definitely got excited.
Photo: Once.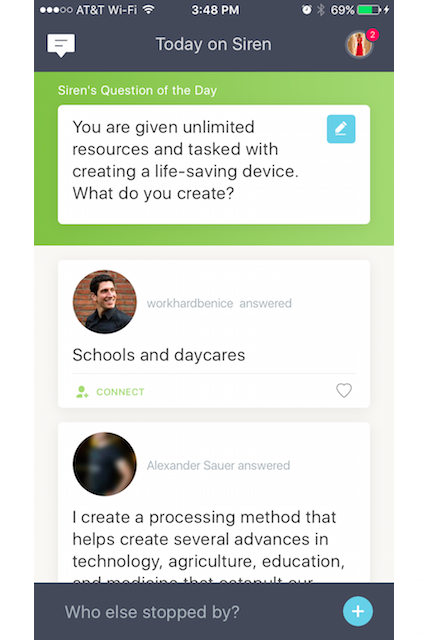 The App: Siren
The Pitch: Dating apps make you sell yourself. Siren lets you be yourself.
What we think:
Siren "fights the swipe," focusing on values such as comfort, respect, and privacy. And it's unlike other dating app I've encountered. For starters, the gender selection gave "non-binary" as an option. And then, since the app is all about not objectifying its users, it focuses on your thoughts and opinions instead.
Each day, a new question is posted to the app and users are invited to respond. You can scroll down and see other people's responses, and "heart" them based on their answers. When you like someone's answer, only that user can see it.
After first downloading the app, the question of the day was: "You are given unlimited resources and tasked with creating a lifesaving device. What do you create?" The responses were plentiful and diverse. One user answered: "A non-dangerous car. Can't be harmed in it, can't be harmed by it."
I hearted a user who responded: "nanobots that kill cancer." Then, I pressed the connect icon below that, letting the person know I was interested. If that person reciprocates the connection, then the messaging feature will be unlocked. You have two privacy options in the app: keeping your profile private until a connection is approved, or making it visible to all (I went with the latter).
I liked that, right away, you have a conversation starter with someone you've matched with. It's unlike any other dating app, and feels refreshing. It puts people's personalities on display rather than just their profile pictures.
Photo: Courtesy Siren.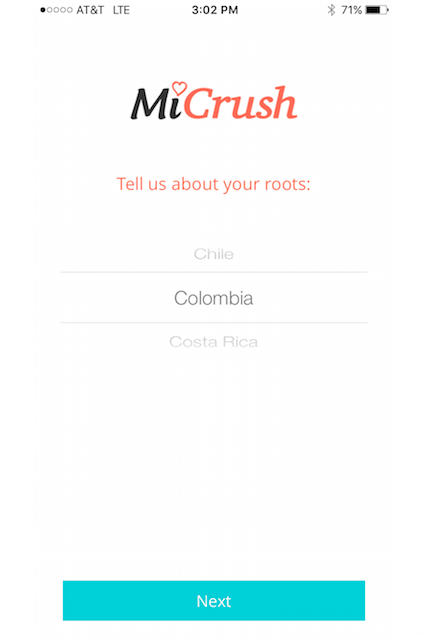 The App: MiCrush
The Pitch: The Latino dating app.
What we think: MiCrush is designed to help you find single Latin Americans. It is the only dating app on the market that is offered fully in English, Spanish, or Portuguese. Spanish is my first language (my mom's side of the family has its roots in Colombia), so I was intrigued.
After connecting via Facebook, MiCrush asked me about my roots, presenting a multitude of Spanish-speaking countries I could choose from. I selected Colombia, but you can also select "bicultural," "other," or leave out this detail.
After viewing and silently approving my new profile, I noticed I had the option of connecting with Instagram, too. I like this feature (and I've only seen it on one other dating app, Raya).
Next, I began filtering my matches by age, gender, and distance. But I could also filter by roots here. I decided to filter by choosing "Colombia," seeing as my mother would like nothing more than for me to end up with a Colombian. Okay, done. I'm ready to get swiping.
As I scrolled through profiles, I was pleasantly surprised by how many people showed up. I thought I would get through all the profiles of people who had roots in Colombia quickly, but, as it turns out, there are quite a lot.
While the app itself is free, you can, "say hola," to one of your crushes without waiting to see if they swipe right back by purchasing messages. Otherwise, messaging is free with people you match with. I liked the optional in-app purchase because it will get you noticed ASAP, but I wasn't ready to splurge on five "holas" for $4.99. And being able to select the language of the app made the app feel really special — it was also a great way to practice my Spanish.
Photo: Courtesy MiCrush.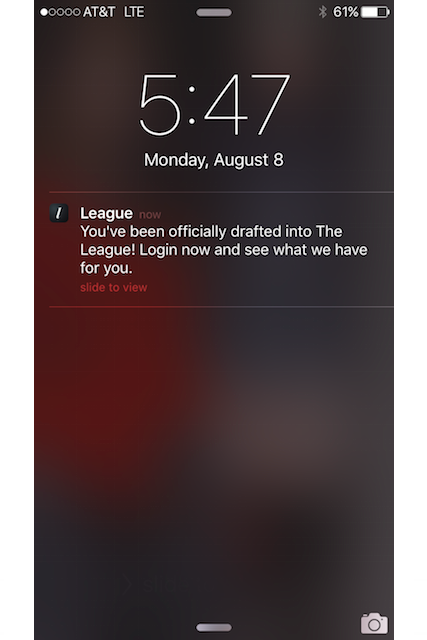 The App:The League
The Pitch: Meet. Intelligently.
What we think: The League doesn't just let you connect to Facebook automatically, like most other dating apps. It's all about connecting you with people who share your same education level, are successful, and driven — it's dating for ambitious young professionals. Before I started swiping, I had to give access to my LinkedIn profile, then wait to get vetted and approved. After sitting on the wait-list for a tense couple of hours, I received a push notification saying, "You've been officially drafted into The League!"
Okay, I know — it sounds a little obnoxious. But why not give it a try?
Here's how it works: Each day at 5 p.m. you receive a new batch of bachelors. If you "heart" someone, don't be surprised if it's not an instant match (not everyone receives the same daily batches of people). And you can join groups and group chats when you heart them in your feed. If users are inactive or unresponsive, they'll get kicked off the app.
In my feed, I came across two surprising profiles: Soho House and Burning Man. If I were to heart Burning Man, I would be added to a group messaging chatroom where I could talk to other people who were going. Same goes for Soho House — except you already have to be a member (and send proof!) to the app in order to be added to this private chat group.
As for matches, I liked that I was only presented with a small manageable number of profiles (five, to be exact) each day. Instead of judging a person quickly, I delved into their profile before swiping so I could make an informed decision. I definitely felt like the quality of my matches were better here than on most other dating apps.
And while I initially thought the whole idea of connecting to your LinkedIn account to match you with someone with "drive and motivation," was snobbish, I did like its core values: Keep your standards high and don't settle.
Photo: Courtesy The League.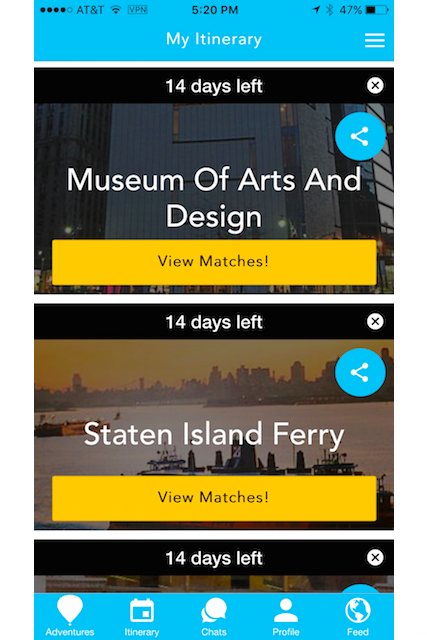 The App:Adventurely
The Pitch: "This Dating App Gets You Out Of The House"
What we think: Adventurely aims to help you have adventures. The app serves locals and travelers alike who want to discover a foreign city or their own — and are looking for some company along the way.
After downloading the app, I quickly composed my profile and pressed the "adventures" icon. I was prompted to choose from a selection of restaurants, museums, parks, landmarks, cafés, music venues, bars, and even bike paths that I was interested in and could add to my "itinerary." I also had the option of entering in dates I was free to go.
If someone else had added the same adventures to their itinerary, I received a match notification. Thus, Adventurely connects like-minded people who want to do the similar things, allowing you to chat and make plans to get out there. (At last, no more pointless swipes or conversations that go nowhere!)
There is also a live feed where I explored other users' adventure itineraries and had the option of joining. Even if you're not using it in search of romance, the app is a great tool for seeing sights with a new friend.
The app is new and currently only available in New York City.
Photo: Courtesy Adventurely.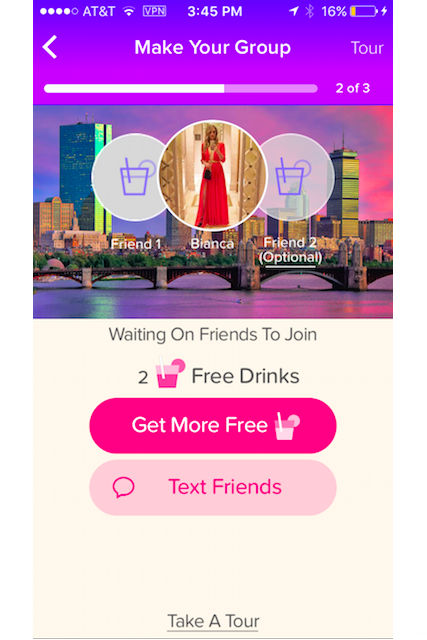 The App: Cheers
The Pitch: "Drink with friends"
What we think: Let me begin by saying that the first round of drinks is on Cheers. +1. Once downloaded and connected with Facebook, I saw if any of my friends were already on the app, so I could form a group with them and get my free drink.
I was initially attracted the app because instead of going on a blind one-on-one date (which can be incredibly awkward), the app is all about connecting two groups of friends and going out for drinks. Hopefully, a match comes out of it.
So, you can invite friends on the app to join your group and form a collective profile that others on the app can see. You can't form groups larger than three people, though. When swiping through potential groups to go out with, you're presented with either a duo or trio, their respective information, any mutual friends that might be shared, and a nice variety of group pictures.
If the match is mutual, you are immediately prompted to press the "pick a place" icon. The bar or restaurant you select will have a round of complimentary drinks under your name. We love the idea behind this app, because it takes any awkwardness out of the date (" Who pays for what? "), takes out meaningless in-app conversations, and, of course, free drinks.
However, I had a bit of bad luck. The only friend I had on the app was a girl I barely knew who lived in a different city from me. I invited a few of my friends to join, but even after joining and creating a profile, the app did not register them as my friends. I was never actually able to form a group, making the app virtually useless, since the only way to meet other people and go out for drinks is when two groups show mutual interest.
Hopefully, it's just a bug and I'll get to take advantage of the app's free drink soon.
Photo: Courtesy Cheers.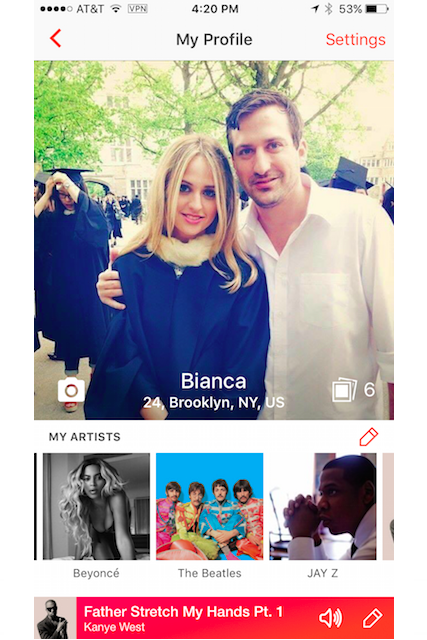 The App:Tastebuds
The Pitch: "Meet People through Music"
What we think: Tastebuds matches you up with someone who shares your taste in music. It's basically the Tinder for music lovers.
With Tastebuds, the major component in setting up your profile is choosing artists who you like. It gathers information from your music "likes" on Facebook and your iTunes library, automatically inserts them into your profile, and then prompts you to add more. Obviously, you can tailor it — you might not want potential suitors to see you as a die-hard Taylor Swift fan from the get-go.
Personally, I kept Taylor Swift in the mix for the sake of online authenticity, and then curated my list so it best represented me, a task that took me no more than three minutes. You can also round out your profile by answering questions such as what your dream concert would be, and what your favorite band was when you were 13.
Then, you're presented with profiles of people whose music taste most closely matches yours. In lieu of sending a message, you can flirt by sending someone a song. Pretty great icebreaker, in my opinion.
What I like most about this app is that while browsing other people's profiles you might discover a new song you like, and then you can easily save it to your Spotify account without even having to exit the app. Also, because it's centered around music, there's a larger incentive to meet up (i.e., go to a concert together). That's always a great first date idea, and in the case of this app, a very appropriate one.
Photo: Courtesy Tastebuds.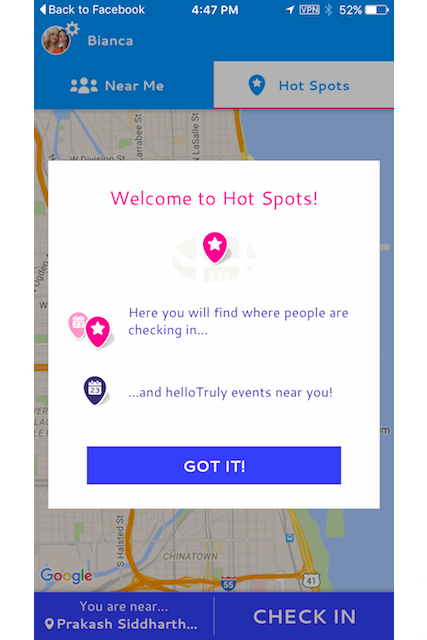 The App:helloTruly
The Pitch: "Know When To Say Hello"
What we think: helloTruly is unlike any dating app I've yet to encounter — in a good way.
When first opening the app, the screen shows a mission statement of sorts: "helloTruly helps you make real, personal connections at the places you go." And the app means that in the most literal way possible. If you're one of those people who typically opts out of push notifications, think twice, because on this app, you're going to want them.
The app functions as a digital icebreaker, designed for people who would rather meet someone IRL than first chatting on an app. In lieu of all the standard dating app algorithms and questionnaires, helloTruly is simple: It's centered around a location based checking-in feature. You open the app and check in somewhere, whether you're at a bookstore, café, bar, lounge, club, restaurant, or wherever, and if someone else (who meets your set preferences) checks in at the same spot, you'll receive a push notification. Off the bat, you know you have things in common with this person because you're both in the same spot at the same time.
Once you check in, you can press the "get found" button if you're interested in meeting someone new. You then share what you're wearing, drinking, or doing, so you're identifiable to other app users. If you see someone you like that has checked into the same spot, you can send them a "wave" to let them know you're interested. You don't have to check in to see who else is around you, but when you do check in, it shares your full profile with those in the same spot.
If you're not sure where to go to meet a potential date, the "Hot Spot" screen shows you the most popular places people have checked in near you, which is convenient.
Unfortunately, since the app is so new (it just launched in June), I haven't seen other people who have checked in at the same spot as me — dating app fail. Hopefully it will pick up some steam, though, because we like the idea.
Photo: Courtesy HelloTruly.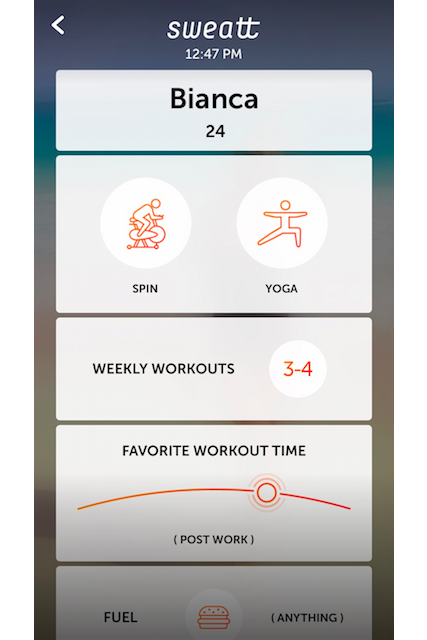 The App: Sweatt
The Pitch: "A Dating App for the Fitness Community"
What we think: Sweatt is a dating app for people who love to work out. Naturally then, after I created an account via Facebook, the app asked me a series of workout-related questions, such as what my favorite time to work out was (I selected the "post work" option) and how many times a week I worked out (three to four). The next screen asks you to tap your true loves — icons representing activities such as lifting, Spinning, biking, running, yoga, and dance come up. You can only choose two, though! I tapped on the Spinning bike (because yes, I belong to SoulCycle) and yoga icons.
From there, you can fill out a short bio, and you can also list your preferred "fuel" (your preferred diet or dietary restrictions). I eat pretty much everything, so I chose the hamburger icon.
Once that's done, you're presented with five profiles each day. While I enjoy working out, I quickly realized I didn't quite belong on the app. I am not an obsessive exerciser, nor would I even consider going on a Paleo diet. Many of the people I came across were trainers, hardcore gym fanatics, and people who wrote in their bios that they were looking for a workout buddy. But, the app itself is easy to use and has an attractive design scheme. However, it is truly geared towards fitness buffs. If you're a fitness connoisseur, it's definitely worth a try.
Photo: Courtesy Sweatt.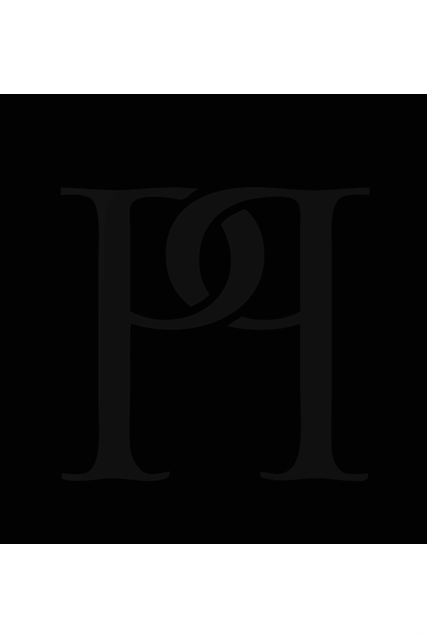 The App:Platinum Poire
The Pitch: "The nation's premiere invitation-only matchmaking service."
What we think: Technically, it's not an app, but it's a unique, invite-only dating service that aims to do the same thing as an app like Tinder does. Founders of the site, Rori Sassoon, professional matchmaker and style consultant, and Errol Gluck, PhD, an expert in forensic profiling, work to assist you when you find the online dating scene scary or hard to navigate.
Platinum Poire caters to NYC singles only, for now. If you're interested, the first step is to send along a short biography and a photo of yourself. Then, a consultation is arranged with Sassoon, followed by a one-hour profiling session with Dr. Gluck, where you talk about your relationship history.
Then, you complete a 10-page questionnaire about yourself. With all of this information, the Platinum Poire team builds your profile and presents you with suggested matches. Every introduction is confidential.
If two parties agree that they would like to meet, Platinum Poire then discloses contact information and allows you to take it from there to arrange a date.
The duo behind this service does more than just play matchmaker, though. They help you with everything, from what to wear and what to say, to how to handle your nerves. If you need more than just an app, you should give it a shot.
Photo: Courtesy Platinum Poire.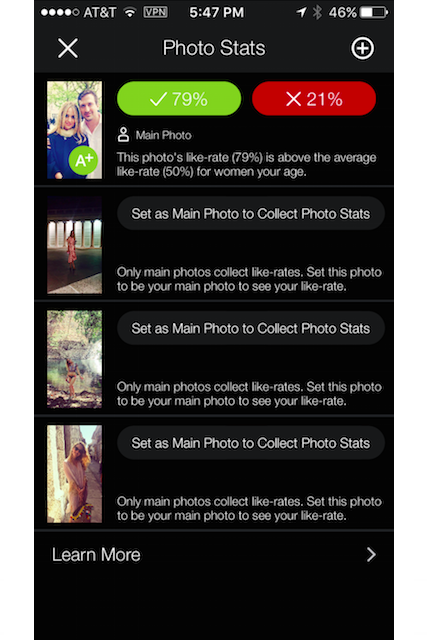 The App: The Grade
The Pitch: "Make the Grade or Be Expelled"
What we think: If you don't like being judged, this is not the app for you. The Grade is, naturally, all about grades, as in, the app uses a grading system for you to judge and be judged by other people on the app.
But the app is very user friendly and easy to navigate. Once you grant it Facebook access, it loads up your profile with information, and gives you a "Grade Pending" next to your name until you've entered enough data to be assigned a number.
So, how do you get a good grade? The letters are assigned based on how many people "like" you (how many swipe right), how responsive you are to messages, the quality of your messages, and the anonymous feedback you receive from other users. The higher your grade, the better your chances are of meeting someone you like.
Why have this grading system in the first place? The goal of this app is simple: #NoMoreCreeps. The app tries to eliminate things such as X-rated messages and pictures, matches with people who don't respond, and matches with people who are already in relationships. The Grade holds users accountable for this type of behavior — and if you get an "F," you get kicked off the app. However, if its algorithm does expel you unjustly, you can go on its website and appeal.
Other than that, the app is kind of like Lulu, which lets users anonymously comment on guys, so other ladies can see from the comments whether a guy is worth their time. You can review your friends who are on The Grade by clicking on the "review your friends" icon, and pressing "yes" or "no" when asked if they are a "quality person." You also have the option of adding or editing a full review.
Photo: Courtesy The Grade.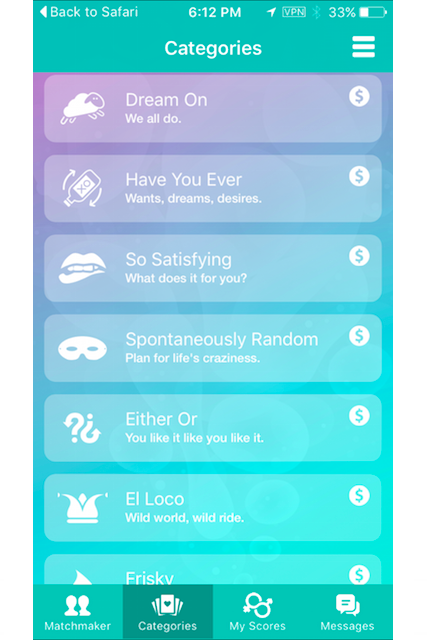 The App:Score
The Pitch: "The Ultimate Matchmaker"
What we think: Score has an interesting premise: It keeps your image blurred out until someone else "scores" with you. Half of the personal information that you fill out in the app — your profile image, and up to three additional images — is hidden to casual browsers unless you match up.
Here's how it actually works. After setting up my profile, I was presented with bachelors nearby. Their faces were blurred, and I could only see their usernames, location, age, height, gender, and something they like (i.e., humor). Then, I pressed a red, "Let's Score" icon, which led me to a list of categories to choose from, as shown in the image here, and I answered five questions in whichever category I chose. From there, the app matched us based on the compatibility from our answers.
The questions are generally light and fun, which makes it seem more like a game of compatibility rather than a dating app. The questions are quirky, like, "You just got to Moscow. First thing you do is: (and here you choose one) Free Pussy Riot. Photograph the Kremlin. Find the dude from Borat."
If you have two or more of the same five answers in common, you unlock each other's profiles.
Photo: Courtesy Score.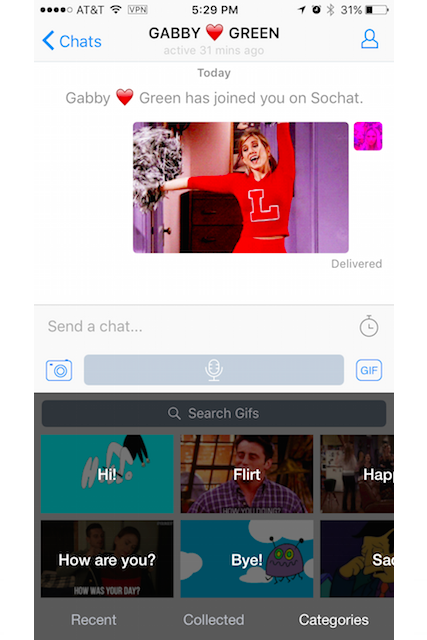 The App:Sochat
The Pitch: "Chat with Everyone"
What we think: Sochat is an app that's all about chatting with those who you know, along with some you don't know. It's a messaging service first, and a dating app second.
After requesting access to your phone contacts and Facebook friends, it automatically adds them as your friends on Sochat. Chatting via Sochat is different than, say, iMessage because of its in-depth GIF integration. "Magic Words" (specific keywords) let you send videos or songs, and you can create events and polls within different groups. You can also see who is currently online, and see who is nearby, which is where the dating aspect comes into play.
If you see someone nearby who you think is cute, tap on their profile — and then you can tap a heart emoji-emblazened button that says "like," or the blue hand waving button next to it to say, "hi."
If you press "hi," that person will automatically get a chat request, which they can ignore or reply to. You also have the option to "swipe chat," which transforms the app into an iteration of Tinder, where you see one picture and a short bio of an individual, which you can then swipe right or left on. If the person likes you back, you get notified that you've matched.
Overall, my favorite feature on this app is its GIF integration. You can access a wider variety of GIFs organized by category, search GIFs, and see which ones you have recently sent, along with ones that you like and can collect for later use.
Whether you're looking for a fun, new messaging service, or to meet new people and potential dates, Sochat does a pretty good job of combining them all into one easy app.
Photo: Courtesy SoChat.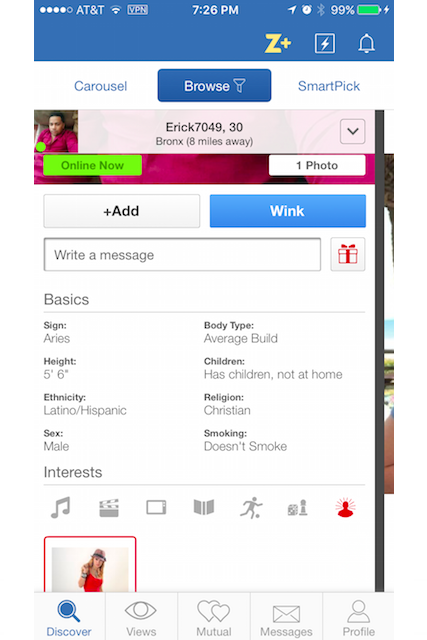 The App:Zoosk
The Pitch: "More Singles Who Are More Your Style"
What we think: Zoosk is your standard dating app, but it does have some interesting features. After setting things up and answering questions about my body type, if I have children, and my education preferences, I created a password, a display name, and answered a bunch of other optional questions to complete my profile. Then came security: I had to verify my phone number, as well as my pictures, which the app did by opening the camera and asking me to stare ahead, then turn my head to the right and then to the left. Extra points for countering fakes and scam accounts!
There are three sections at the top of the app: "Carousel," "Browse," and "SmartPick." I pressed "SmartPick" first, which shows you people with similar interests. The "Carousel" shows you profiles picked at random — you can then select "yes," "no," or "maybe" based on their profile pictures and age. The "Browse" section shows full profiles, including how far away they are from you, plus the last time they logged in.
To boost your profile (and — the app claims — get an average of three times more views), you can pony up 100 coins of Zoosk's in-app currency system. You get coins by paying to become a member: a one- month subscription is $29.99, a three-month subscription for $59.99, and a six month subscription for $74.99. Kind of steep!
The benefits of subscribing include being able to chat with other members and connect with singles who have been chosen for you using their "SmartPick" algorithm. Personally, these perks do not seem worth the price of the membership.
The main perk of the app is being alerted when someone has viewed your profile. But you can get that for free on so many other apps, why pay if you don't have to?
Photo: Courtesy Zoosk.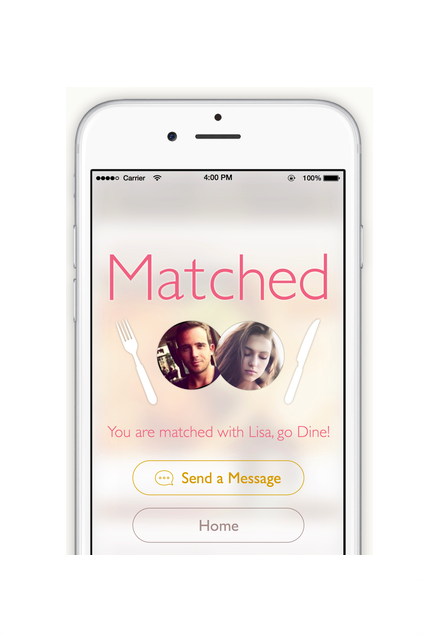 The App: Dine
The Pitch: "More dates, not swipes."
What we think: Dine is all about matching you up — with a focus on getting you out on that first dinner date. It's perfect for foodies looking for a partner with similar taste buds.
After your typical set-up process, you are asked to select from a list of restaurants that you like or would like to try out and your favorite cuisines. The app uses that information to pair you up accordingly. Having similar taste in food is a major plus (and obviously the cornerstone of any healthy relationship?).
Typically, if someone were to suggest a dinner first date, I'd be taken aback. I'd rather get drinks — a date option with less pressure on both parties. But Dine will have you rethinking that mentality. The first date venue is already chosen, which takes out some of the pressure and adds an element of safety, as well.
Dine is very much about keeping the old-fashioned idea of chivalry alive and well, which is where a "my treat" feature comes into play. If one party is willing to pick up the tab, the "my treat" icon is highlighted, so there's no post-meal payment confusion. If you see someone you like, you can send him a wink so they know you're interested, but it's up to him to ask you out. Once he does, you can freely message one another.
The app also has a fun "dine with friends" feature, which basically sets up a double date. And to keep things fresh, every day, the app's restaurant options change and new picks are presented, so you're not left choosing from the same Japanese joint over and over.
Photo: Courtesy Dine.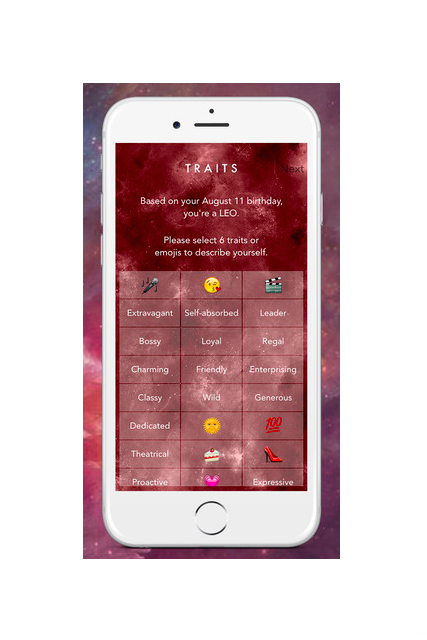 The App:Align
The Pitch: "Injecting soul into mobile dating."
What we think:Align is all about astrology dating, showing you profiles whose signs are compatible with your own. The L.A.-based app, which launched in May of 2015, is now also available in NYC and the Bay Area.
Here's how it works: Connect to Facebook and put in your birthday. Based on your sign, you are presented with a list of characteristics to choose from. You have to choose six that you identify the most — I chose silly, food, drink, stubborn, goal-oriented, and warm.
Instead of having to sift through endless matches that miss the mark, Align gives you a neat-and-tidy roundup of just five matches per day. You also get a detailed report explaining how you two galactic lovebirds would get along. If both people choose to align, you'll be able to exchange messages.
The app presents your matches in a unique way — they appear in the form of circles, varying in size, orbiting around your profile. The larger the circle, the more astrologically compatible you two are.
If you don't like any of the matches for that day, don't worry, they refresh at midnight.
Photo: Courtesy Align.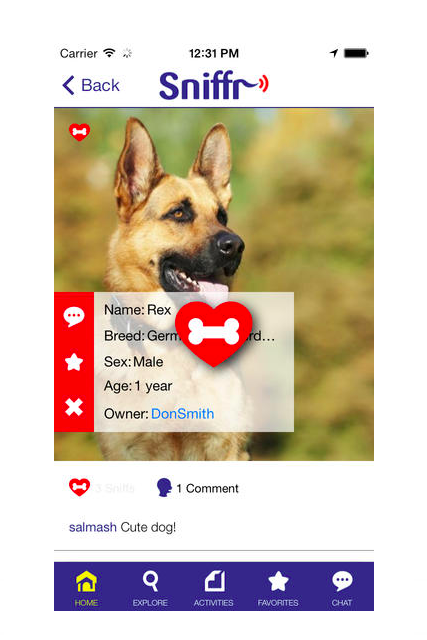 The App:Sniffr
The Pitch: "It's a dog-meet-dog world."
What we think:
If you are a dog owner (or a dog lover), Sniffr is for you. The app targets those who truly know the value of the statement made famous by Frederick II, King of Prussia, "Dog is a man's best friend."
A major deal-breaker for me personally is meeting someone who hates dogs. On Sniffr, you automatically know you have a shared love with everyone on the app right away (and that's one less potentially awkward question-and-answer section of your date).
When you open the app, you have to make two profiles: one for you, and one for your pup. Then, once you give the app to access your location, you can find bachelors, bachelorettes, and pooches nearby. If you see a furry friend you like, you can "sniff" their profile to show your interest — you and your pet could find a new playdate or a new real date.
Photo: Courtesy Sniffr.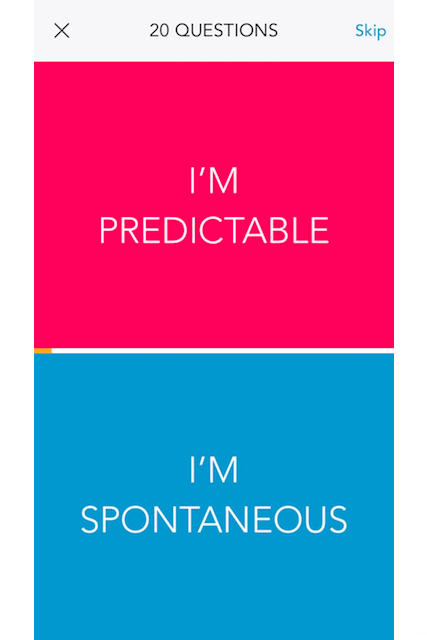 The App: Clover
The Pitch: "Swipe less, date more."
What we think: After connecting with Facebook, the app asks for some basic information such as your age, gender, sexual orientation, and religion. It feels a little like filling out doctor's office paperwork, but most of it is optional, so there's no pressure to answer. From there, Clover lets you filter people by their relationship intentions (friendship, a hookup, or a serious relationship.)
The app doesn't waste any time. Right away a bachelor appeared, taking up my entire screen. He was online, and lived in the same borough as me. "Javi, 26/male/straight. Brooklyn, NY." Before I even looked through his pictures, I had a short bio in front of me, which was convenient.
I'm not going to lie, this app has a lot of unique capabilities, such as an on-demand dating option that chooses the place and time for a date with your in-app match. But what really got me excited was the "20 Questions" game, which lured me in to find compatible matches based on my answers. If you're browsing someone's profile, you can see their answers to these questions, and see how many you answered the same. (My match Javi and I answered 13 questions identically.) 13 out of 20 sounded pretty good to me, so I proceeded to swipe left to see more pictures of him. You can upload up to 100 pictures in the app. From there, you can "heart" or "X" a match, or send him a message. Anyone can message anyone, whether you're a match or not, which could be good or annoying, depending on your personal preference. In the app's chat feature, you have the option to share videos, images, and audio clips, and control who can see if you're online, and your location.
You can manage your busy new dating life within an hour of downloading Clover with its Prospects feature. This lets you manage and track your matches, people you've liked, people that have liked you, and those you passed.
This app, surprisingly, made me excited. You can't say that about most dating apps.
Photo: Courtesy Clover.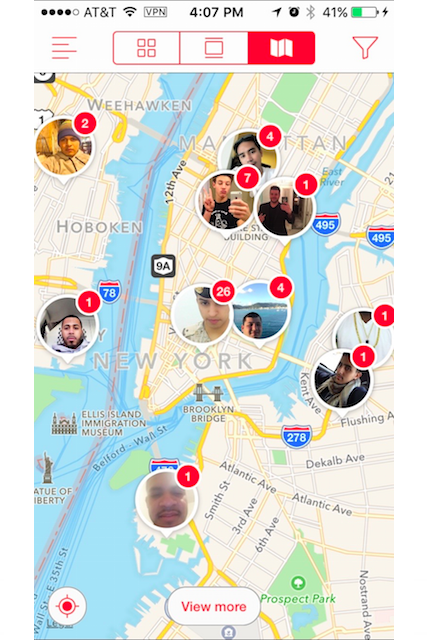 The App: Quickflirt
The Pitch: "Speedy online dating for the restless."
What we think: Quickflirt is a hookup app. It connects to your Facebook, and then asks you to upload your main photo. After a brief tutorial, I pressed the app's little funnel icon to filter my feed to specify what gender and age group I was interested in, and location.
I liked that the app offered a 'Safe mode' to keep things from getting creepy (or unsafe). There are three safe mode options: off, basic, and full. When set to off, you can be contacted by all members; when set to basic, you can be contacted be everyone except people who've been flagged as suspicious by the app's safety team; and in full, only trusted members can get in touch with you. I want to feel like I'm in a safe space when online dating, so I set it to full.
Below that, you can customize advanced parameters. Here, you can choose to see who is near you, who is online now, and new members. The app also gives you the choice to choose between three different interfaces. You can see potential matches on a grid, scroll through them one by one, or tap the map and see where people are in relation to your location — handy if you don't want to end up across town.
Personally, Quickflirt was not for me. It's advertised as the Fast and Furious of dating apps, and that's exactly what it feels like. Within minutes, I had received a few flirty messages so, uh, "flirty" that I was slightly taken aback. If you're looking to step up your sexting game, or want a fun fling, this might be the right place for you (but it's definitely not for me).
Photo: Courtesy Quickflirt.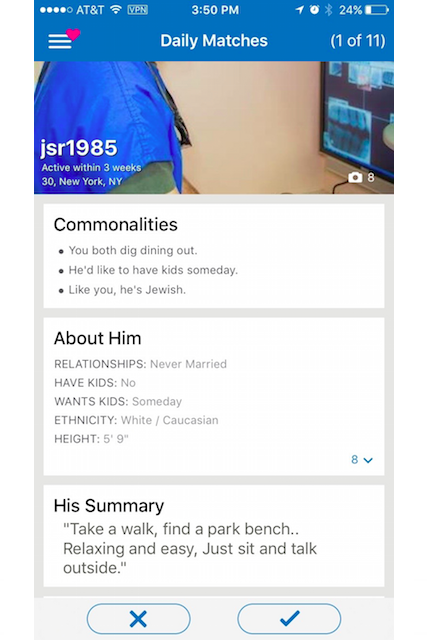 The App:Match
The Pitch: #1 in dates, relationships, and marriages.
What we think: When we think of Match, we typically think of our high school gym teacher on an old iMac (the one with the see-through, colored back) scrolling for potential matches. When it launched in 1995, Match.com pioneered the online dating world. Now in 2016, it's dropped the ".com" and is trying to prove it's still a hip place to find a date.
But it's still old school, in a way. When you download the app, instead of connecting to Facebook or Instagram, you're prompted to answer a series of 29 questions to fill out your profile. The nitty gritty queries range from "How often do you drink?" to "Tell us about your ideal date."
After that, it's standard procedure. You tap on Discover, and the app uses your location to show a stream of bachelors or bachelorettes that match your preferences and location. You can 'like' them by pressing the thumbs up icon, or send a message right then and there. This is different from most dating apps now — you don't have to wait until there's a match to strike up a conversation. Downside: All the annoying unsolicited messages. The app does show you your daily matches, and lists what you both have in common.
Overall, I didn't feel like I would find someone on here — it felt like an older community to me (but if you prefer an older partner, this is definitely where you should hang). It's still worth a try, though.
Photo: Courtesy Match.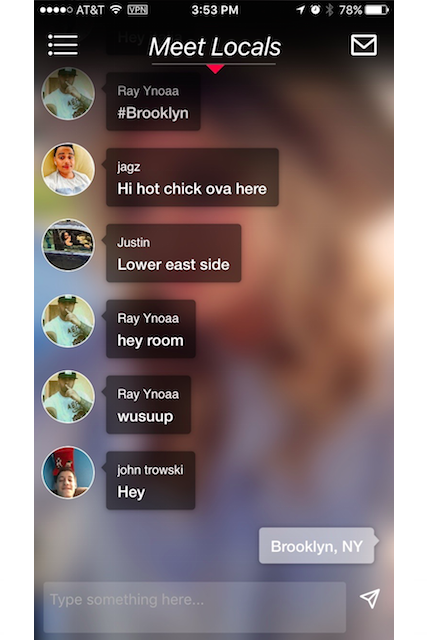 The App: Just Say Hi
The Pitch: "Chat, date, connect, and mingle with people around you now."
What we think: Just Say Hi is interesting because your profile is a video. It's basically video chatting strangers (potential matches) instead of browsing a typical online profile. The idea is that while a picture is worth a thousand words, a video can communicate way more about you and your personality. It sounds silly, but I like the idea of knowing what someone's voice sounds like before meeting them.
After filling out some basics, you then upload a video (bet you didn't see that one coming). Instead of filming one on the spot, I decided to upload an old video of me singing along to some of my favorite T-Swift songs, along with a random video of me and my goonsquad friends.
After completing my profile, I browsed other peoples' video profiles nearby, and around the world. The profiles were fun to watch. Usually, it would be a guy saying something like, "Hey my name is Logan, I'm 26 and from New York. Come say hi!" If you see someone you like, it's standard procedure: like, heart, etc. If they like you back, then you can chat with one another. There is also another way to meet people: through the app's group chat feature. Here, you can browse a variety of chat rooms AIM-style circa 2005. Since it is a video based app, you feel like you're really meeting people from all over the world. There is a USA chat, a variety of international rooms, one for new users, locals, and…a roast room? Intrigued, I immediately tapped it. The chat room is true to its name, with a message that pops up saying, "Warning: Do Not Enter." This room is for people who like to be insulted and laughed at. It's fighting room with rude people. Enter at your own risk!" I like to think I have thick skin, so I went in anyways. After browsing through though, none of the messages were that malicious.
While the app itself is free, you have to pay to see your fans. For $2 you can unlock fans for seven days, and for $6 you can unlock fans for 30 days.
Photo: Courtesy Just Say Hi.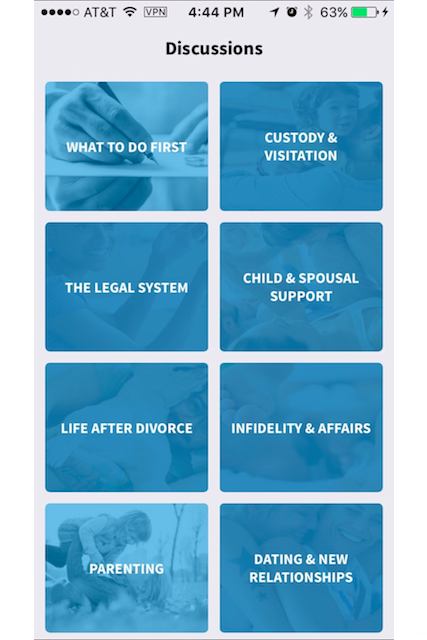 The App:DivorceForce
The Pitch: Learn from others. Ask questions. Share your experiences. Meet new friends.
What we think: This app is for those thinking about getting back into the dating game following a divorce (that, for better or worse, could be a lot of us at some point, considering the divorce rate in the U.S.). The app is an empowering and resourceful place, featuring educational articles, current divorce news, forum discussions, lawyer ratings, and much more — just what you'd need if you'd come to the conclusion your high school sweetheart wasn't such a catch after all.
If you don't want to create an account at first, you can 'go incognito' to view content anonymously, which is cool and welcoming. I tried this out first. It took me to the 'Discussions' page, where I was presented with a pleasantly laid out list covering topics such as advice on choosing a lawyer, mediation, child support, and getting back in the dating game. Cool, right? A little blue box labeled, 'What to do first' can guide you if you don't really know where to begin. If I were going through a divorce, I would have to say that this page was incredibly informative, educational, and helpful, filled with discussions and articles. Most of all, it felt like a really safe space.
When you make an account, the experience is more customized. You choose topics to follow (parenting, custody, new relationships), selecting your gender, your location, and your name. For those currently going through a divorce (or contemplating the idea), the app suggests creating a new email account to protect your identity. This app cares about you! 10 points for DivorceForce!
With an account, the app had much more to offer. You can connect with people and filter by all sorts of granular topics ranging from gender and age to topics followed. Overall, the experience seems pretty great. You can meet people who are going through or have gone through a similar situation, and also connect with people on a romantic level, without any stigma about having been previously married.
Photo: Courtesy DivorceForce.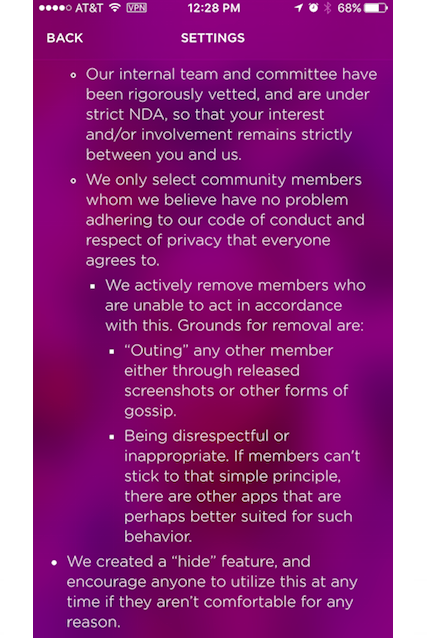 The App:Raya
The Pitch: "An exclusive dating and networking platform for people in creative industries."
What we think: Unlike most dating apps, Raya screens applicants through their Instagram account before rejecting or accepting them into the app. Based on their Instagram presence (and referrals from existing users) an anonymous committee votes on whether to let you in or not. Sounds kind of brutal, huh? So, why all this screening you might ask? The goal is to create a niche where like-minded people can connect.
Raya is serious about this vetting process — which makes the app quite exclusive. Since launching in March, it has been known as the dating app for celebs. According to
Page Six
, spotted Raya users include Joe Jonas, Kelly Osbourne, Moby, and that new
SNL
cast member…So if you get in, always swipe right! (PSA: Be careful. If you're caught leaking pictures or screen grabs of app users, they'll kick you right off!)
But
(there's always a but), Raya doesn't come cheap. Accepted users have to pay $8 a month. In my opinion — totally worth it.
Raya's premise and design differs a bit from most other dating apps. To kick-start your profile, you have to choose a song and then curate a slideshow to go along with it. When making my profile, I chose Carly Simon's classic, "You're So Vain." Conversation starter, right? They also show you who your mutual Instagram friends are. But since the app is known for its exclusivity, there aren't that many people on it. Running into my brother as I was swiping felt kind of funny, until I saw his bio: "I'm a guy with a big, throbbing vocabulary. I like girls with tight, neat grammar." When I confronted him about it, demanding that he change it immediately, he responded with, "What! It was a really popular Whisper post!"
Overall, I love Raya. You never know who's going to be on there! But if you don't make the app's rigorous selection process, no stress — there are plenty of other options for meeting boys and girls with your phone.
Photo: Courtesy Raya.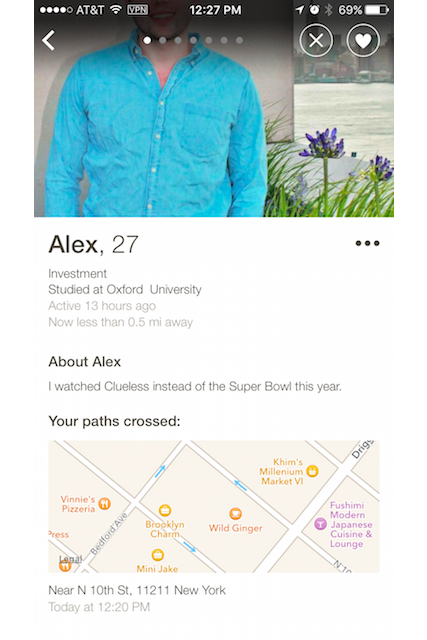 The App:Happn
The Pitch: "Find the people you've crossed paths with."
What we think: See someone you like on the street? Are you always on the same train as him or her, but never had a chance (er, the bravery) to chat them up? Let Happn help you out.
Like Tinder, Happn connects to Facebook for your basic information, pictures, and to be able to tell you if you have mutual friends with someone you've liked. From there, it works like this: You scroll through the app and if you see someone you like, you can heart them. If they heart you back, voila. It's a match and you're both notified.
However, you also have the option to "charm" them. This is a feature most dating apps do not have and allows you to let someone know that you like them, even if they haven't liked you back…yet. You receive a "charm sent" notification and if the receiver does not send a charm back within 24 hours, you get your charm back. For females, the app is completely free. But, for men, sending charms is going to cost you.
Where the app gets its namesake is its location awareness. A profile will have "now" written up at the top when you are crossing paths with that person within 250 meters (see train cutie above). I am a fan of the proximity factor, because chances are you'll have more in common with the stranger that frequents the coffee shop by your apartment than the guy who lives two hours away. From what I can tell, it's got a decently wide pool of users (here in New York, at least), so even if you've seen that passerby a dozen times, you won't be stumbling on their profile every time you open the app.
Photo: Courtesy Happn.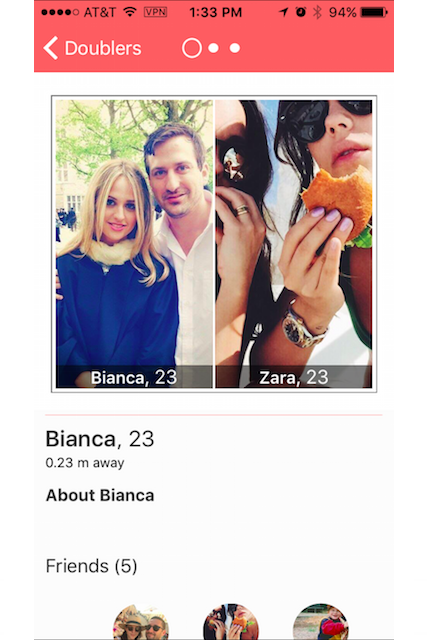 The App: Double
The Pitch: "Don't date alone. Take a friend!"
What we think: This app is brand-spanking-new, making its New York launch just before Valentine's Day. As its name would suggest, Double is an app for double dating. You can double up with a friend and your profiles will appear side by side. Then, instead of browsing for one potential match, you're looking at two. You and your wingwoman choose a couple together, using the same swipe left or swipe right navigation we are all too familiar with. If your pairs make a match, then you enter a group chat. From there, you all can decide whether or not a double date is in the cards.
Double aims to take out the awkwardness and stress that seems to be synonymous with first dates, because this way, you go with the support of your friend. Going on a date with a pal makes the whole situation much more comfortable — and safer — and much more likely to actually happen. And despite being brand-new, when I signed up, I already had four friends using the app in NYC.
One thing that was slightly confusing was the matching process. When scrolling through prospective bachelors, the app shows you two side-by-side. (In the same way as it shows my profile next to my friend Zara's.) If I click to X one, both are technically swiped left, and vice versa. What if I like one of the guys, but not the other? Then what? And if I only liked one of the two guys paired together, chances are my friend will, too. So, then what? Do I convince my friend to take one for the team and go on a double date with me even if she doesn't like her match? And then there's the general issue of who gets who once you do actually meet your matching pair. (As it turns out, it only takes one person from each pair to like the other for a match to be made.)
Since the app is still so new, I haven't quite figured it out yet. But my "doubler" and I were just matched with another duo, so we'll update you on how it goes.
Photo: Courtesy Double.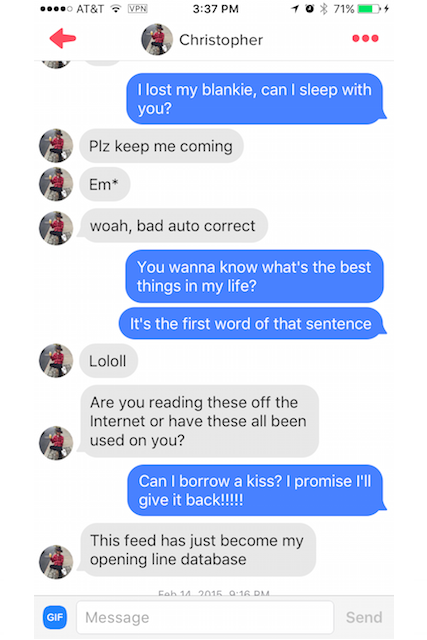 The App:Tinder
The Pitch: "Friends, dates, relationships, and everything in-between."
What we think: With Tinder, you create a profile that is connected to your Facebook account. Tinder will never post anything on your behalf, but it lets you know if you have any mutual friends with the bachelor or bachelorette on your screen. You can make the pool of applicants more manageable to sift through by filtering age, gender, and location. The trademark feature of Tinder is how you go through matches by swiping right or left to like or pass (but you can also Super Like with the blue star on the far right).
The thing with Tinder is this: It feels like a game and matches come in quick. Once you match, if you decide to utilize the messaging feature (which everyone does), it turns into an exercise in creative writing. Due to the nature of online dating, my experience and the experiences of my friends has led me to believe that "Hey, what's up?" isn't going to get a response. You need something catchy from the get-go, a conversation starter. Openers that work: "Does your onesie come in other colors?" "Do you have any free time this weekend to babysit my poodle?" "What a funny group of mutual friends we have!"
If all goes smoothly, you might get to level two, which I call "exchanging numbers." Now the conversation has moved from a carefree flirtation in your Tinder inbox to an actual name and number in your address book. After that, it's pretty standard procedure. You aggressively stalk his or her social media accounts and then decide if level three, meeting IRL, is worth it.
There's a reason that Tinder is the dating app du jour; it's tried-and-true. The app boasts ten million matches to date and a high school friend of mine counts herself as one of the successes in that bunch. (She met her fiancé on Tinder about three years ago, one thing led to another, and their wedding is in April. B-A-N-A-N-A-S!) If you're a Facebook user and haven't tried it yet, it's worth some experimental swipes.
Photo: Courtesy Tinder.
Click HERE to read more from Refinery29


Loading ...