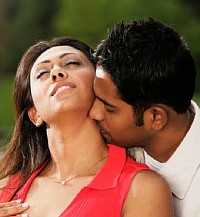 This article was last updated on June 18, 2022
Canada:

Oye! Times readers Get FREE $30 to spend on Amazon, Walmart…
USA:

Oye! Times readers Get FREE $30 to spend on Amazon, Walmart…

A man would love to have a sex-kitten in bed ready to woo him in all exciting ways.
Descending his way to bed, he would expect his wild cat doing everything that ensures a gratifying session. But why just men have all the fun?
It's high time they realise that even their partner needs to be aroused to feel the pleasure. After all, it's a two way enjoyment that seeks equal participation from both the partners. Though enough has been said and heard about the ways to seduce a man but rarely does one steps up to woo a woman the way she likes it.
"Seduction is an art in itself and needs to be treated with a lot of care. Everyone prefers to be the 'seduced' rather than be the 'seducer'. The element of surprise is very important; getting the unexpected is a real turn on," says Dr Gitanjali Sharma, a relationship expert.
For a woman, a man's seduction skills are on test not just in bed but out of it too. So, all men out there – master the art of seduction that goes beyond the usual gesture of hugs and kisses.
Here are some useful ways to get your lady hooked on to you as you gear up for a hot steamy session…
Blindfold the beauty : Women love surprises, which indeed is the biggest turn on for them. The perfect way to seduce a woman is to blindfold her and let the passion heat build on. The surprise factor works wonders and of course, makes the job easier for men. During these moments, treat her with different tastes, different fragrances and different texture to heighten her senses! A casual rub up her arm close to her bossom or back may give her a different high but make sure to keep her blindfolded till the time she gets crazy.
Caution : Dr. Devesh Roy, a sex therapist adds, "Make an effort to know your partner's trigger zones. Since most women are hesitant when it comes to undressing, a blindfold can be really helpful, as it comforts her in the best possible way. And what more, you can take advantage and get a bit naughty by touching her at the right spots."
Truth or dare : This game may appear to be a slow verbal foreplay but it can do wonders. Women are usually less experimental or daring when it comes to trying out different techniques to seduce their man. But men can think out-of-the-box to woo their partner. Truth or dare, it can be a win-win situation for you. If it's truth, ask her something sexual and if it's a dare then ask her to do something naughty. If she reciprocates the game in a way you want, then you've already won the game. This game in itself is super naughty and when played in the right mood becomes very sensual.
Caution : Remember your woman wants to test all your moods – from being romantic, naughty to a bit dirty and finally sexually aroused. Do not portray yourself as if you are hungry for sex. Keep your sexual gestures understated and during such a game, don't expect her to do whatever you ask for! Be considerate towards her comfort zone and accordingly set the sexual mood," warns Dr. Amita Mishra, sex and relationship expert.
Talk dirty : Bringing sexual elements into a conversation is a gateway towards actually doing it. Women might feel reluctant to include this in their list of seduction techniques, but a man can surely set the mood right for a sexually intimate discussion. Just bring up sex in a conversation in a general manner. For instance, talk about erotic scenes from different movies. As the conversation progresses, open up with her a little more and ask if she would like to act like that. Now once you've discussed sex openly, you can start working on your physical contact and then take things to the next level.
Caution : "Make sure that you don't sound obscene or vulgar because that might turn off your woman. Keeping the conversation sexually inclined; try to retain the romantic element throughout, as it acts like a magic spell to arouse a woman," suggests Dr. Kirti Mishra, a clinical physiologist and a relationship expert.
Taking on role-play : Men always expect their woman to seduce them by taking on role play. Be it of a nurse, a wild tigress or a porn star – role-playing has always played a crucial role during seduction moments. So, men too can make the most of it by enacting a character to seduce the girl. Now, it could be as wild as Tarzan or as superficial as a Superman. Just make sure it has all the elements to take your woman into a different world.
Caution : "Role-playing can go wrong at times, if your woman dislikes a particular character. So beware of her likes and dislikes. Don't keep the role-play boring, involve her as well. Take her on a fantasy trip. Share your fantasies and tempt her in a manner that she cannot resist getting into some steamy action," says Dr. Roy.
Sensuous cooking : Try this role reversal for a day and look for yourself how it works. A man who knows cooking is one thing but a man who cooks for his lady love is another. Display your culinary skills and cook something really special and exciting, of course of her choice! Adding ingredients with aphrodisiacal qualities will certainly be an add-on. Whatever you cook, don't forget to sprinkle it with love, add a pinch of naughtiness, garnish it with romance and arrange for an exotic dining experience just for her.
Caution : "Simply cooking a few dishes can't arouse your woman, so present her in a way that conveys a message to her. Make her feel special and let her know that you tried it all only for her love and affection. During the special dinner, serve her and keep expressing your desires that hints towards a night of passion," advices Amita.
Texting love : Texting is easier than saying it out loud. And dirty texting is indeed the magic mantra to woo her. Get wild with your imagination and let your words do the talking for you. You should be at your confident best while your are texting and chances are that your oops can turn to a good move for you.
Caution : "Know exactly what turns her on – romantic messages or a bit dirty ones and play your wild cards accordingly. If she responds well and hints that she's also charged for a romp, you better know what lies next! Don't delay it further by wasting time to ask her out, just invite her comfortably and let love take over the rest," says Dr. Kirti.
Fun unlimited : It's official. Women like 'funny men' with a good sense of humour. Now it's up to a man how he uses this humour to seduce his lady love. While dirty talking and sensual gestures can surely set the mood right, what matters the most are those little things that make your woman feel wanted. Crack jokes or kinky yet funny comments and as she splits into laughter, give her a pat or touch her hands in a happy gesture. Such humorous moments coupled with a physical touch is a modest way to seduce a woman.
Caution : "A woman may seem least interested in your humour and if that's the case, recall some funny incidents that you had together. And if she is equally enjoying the rib tickling moments with you, then touch her tenderly and whisper words in her ears to keep up the physical contact. It can turn out to be a great seduction technique," feels Dr. Roy.
You can publish this article on your website as long as you provide a link back to this page.