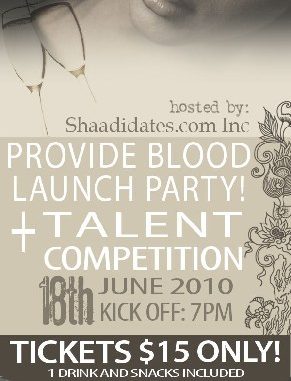 Provide Blood is launching its charitable organization in a special event on June 18
th
2010 from 7pm to 10pm at Lol Resto Lounge in Toronto to create awareness and raise funds for blood and stem cell donation in the Greater Toronto Area.
In addition to promoting blood and stem cell donation, the event will feature a talent competition in conjunction with South Asian Talent (
www.satalent.com
) and Miss Pakistan World to give guests in attendance an opportunity to showcase any unique talent they may have, whether it's singing, modeling or even belly dancing. Tickets for the event are $15 and will include appetizers and one drink. 10% of all proceeds will go back to Provide Blood which will then channel the funds into combined events with Canadian Blood Services and OneMatch. Tickets must be purchased in advance at
www.satalent.com

Provide Blood
Provide Blood (
www.provideblood.com
) is the vision of Amit Ohri who is of South Asian descent – he created the organization as a means to inspire South Asians around the world to donate blood and help save lives.
In 2009, out of approximately 250,000 registered donors, less than 2% had registered from a South Asian perspective. To say the least, Ohri was not impressed and set out on a mission to create awareness in the South Asian community.
"We all run on the same energy, the energy of life: Blood," says Ohri. "Without it, you or I would not be here today."
In his research and work within the community he soon realized that the need wasn't just for blood but for stem cells as well.
"We have diseases to fight against every single day of our lives and there are millions of suffering individuals who could do with your support. We tend to forget about the families and loved ones of the victims who also suffer because there are not enough registrants donating their blood or stem cells."
Ohri recently received recognition for his efforts from Canadian national health organizations such as Canadian Blood Services and Onematch. These two organizations help patients by supplying blood and stem cell donations to help fight cancer and leukemia to give patients a fighting chance to stay alive.
"Money can never replace the gift of life," says Ohri. "But it can help create further resources to create educated awareness and facilities for anyone to go to enquire about how they could really help and not have to worry about any financial costs whatsoever."
"I hope my message could be translated across as many languages that exist so that one day, especially during my lifetime, I could say with honour, that I made a difference to the society in which I was fortunate to live."