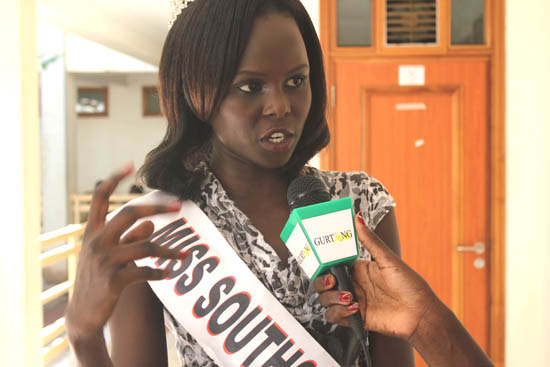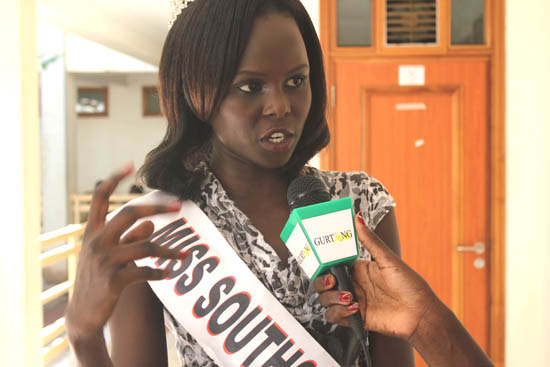 Ms Atong Ajak De Mach, the South Sudanese Miss Malaika 2010 crowned in 2009 has urged all ladies to refrain bleaching their skin and maintain their black beauty.
Ms Atong spoke to the press yesterday in Juba. Skin bleaching is a common culture practiced in Juba by most women as a way of beautification.
South Sudanese black skin is admired in foreign countries and the African continent.
While in Vietnam playing her role of Miss Malaika 2010, the Fourth crowned South Sudanese beauty pageant said that many people admire the Sudanese black colour and its cultural nuance.
Atong further said that girls and women should avoid interfering with their skin colour as it loses the South Sudanese identity.
"Significantly, one can only represent her country if she did not change her colour in any other ways," Atong told Gurtong in an exclusive interview.
She is leaving to New York to participate in a one year 'style model' with other world Beauty Pageants; Ms Mexico and Brazil among others.
In her message to the women of the to-be recognized new nation, "do not change your colour, that is what makes you beautiful," she reckoned.
Atong was addressing the press shortly after visiting the Minister of Culture and Heritage of the Government of Southern Sudan H.E Gabriel Changson Chang following her arrival from Vietnam.
"GOSS has been sending winners of the Miss Malaika beauty pageant to strategic countries as cultural ambassadors for the country," the Minister accounts.
He confirmed that, so far South Sudanese beauties have been sent to Japan, China and Vietnam and have done a superb job in marketing the rich cultural heritage of South Sudan.
Changson asserted that the liberation war was partly motivated by the need to defend the rich cultural values and attributes of the people of South Sudan. He reiterated the commitment of the government to support such cultural exchange programs.
The Minister also lauded the efforts of the initiators and managers of the Miss Malaika beauty pageant and urged them to maintain transparency in selecting winners of the pageant.
Article viewed at: Oye! Times at www.oyetimes.com