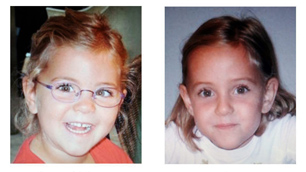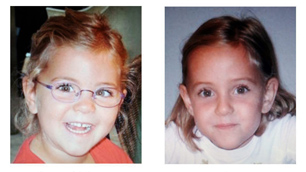 Mathias Schepp, 43 and his wife, Irina Lucidi, 44 separated last August. About a week ago, Irina asked her husband for a divorce. On January 30, Mr. Schepp took their six year old twin daughters, Alessia and Livia, from their home in St-Sulprice, Switzerland where they were living with their mother. On Friday, February 4, Mr. Schepp killed himself by jumping in front of a high-speed train in Cerignola, Italy, where police found Ms. Lucidi's car stolen by Mr. Schepp when he took the kids. No one knows where the two children are.
It is reported that Mathias Schepp was born in Canada, but that he and his daughters hold Swiss citizenship.
It is known that the trio spent time in Marseille, France before the suicide occurred in Italy. Police in Italy, Switzerland and France are now searching for the girls and calling on the public for information. Around Cerignola in the southern region of Puglia, police teams are searching using helicopters and tracker dogs while in Switzerland, about 30 police had been assigned to the case. AFP reports that two officers have gone to Marseille in southern France to follow up leads.
The Herald Sun reported that the children's mother, who is of Italian origin, went to French police in Marseille, from where her husband had sent her a postcard on January 31, the day after he took the children. He had said he was desperate and could not live without her. Swiss police said he had drawn large sums of money out of cash machines in Marseille.
A Facebook page has been set up in the hopes of getting tips on the possible whereabouts of the two young girls. The info page currently reads:

Matthias with Livia & Alessia, 6 year old twin sisters, disappeared on Sunday, January 30th. Should you have seen them or you have any information please let us know at email liviaealessia@gmail.com.

Update Feb 4th: Matthias committed suicide. His body and car was found in the south of Italy.

The online newspaper Geneva Lunch talks of the possible reason for the kidnapping:
The father previously worked in Italy and the mother is originally from Marches, on the eastern seaboard of Italy, but investigations in these two areas have so far turned up nothing. French and Swiss police are also reinforcing their searches.
Her husband, Matthias S, threw himself under the Milan-Bari Eurostar City train, at Cerignola, she says. He had a long vacation with the girls recently, without any problem, but he could be violent, she says of her "introverted" estranged husband. The two separated in August after six years of marriage. She was the one to leave the family home, but she was still living in St Sulpice. Last week, she told the Tribune, she asked him for a divorce, which may have triggered the kidnapping.
Click
HERE
to read more from William Belle.
Article viewed at: Oye! Times at www.oyetimes.com