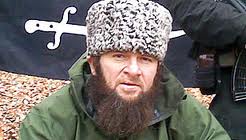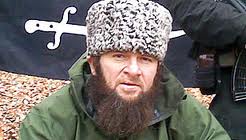 A video has surfaced in which insurgent leader Doku Umarov claims responsibility for last month's suicide bombing at Moscow's Domodedovo Airport, the largest airport in Russia. 36 people were reportedly killed and over 130 injured. (see Oye! Times: Carnage and horror after Moscow airport blast – Jan 24/2011) Investigators determined the bomber to be a 20-year-old man from the Caucasus region that includes Chechnya but did not release his name or other details.
The Kavkaz web site, affiliated with the Chechen rebels, said it received the video late Monday posting the original video in Russian on Dailymotion. In the video, Umarov wearing a camouflage uniform and a skullcap claims to have recorded the video the same day as the suicide bombing. TodayOnline quotes Umarov as saying in Russian:
"You see this special operation carried out by my order … more special operations will be carried out in the future. Among us there are hundreds of brothers who are prepared to sacrifice themselves in further attacks. We can at any time carry out operations where we want."
Umarov has threatened more violence, saying 2011 would be "the year of blood and tears". His rebel organisation has claimed responsibility for numerous attacks, including the double suicide bombing of the Moscow subway system in March 2010 that killed 40 people and the bombing of a train between Moscow and St Petersburg that killed 26 people in November 2009. According to Reuters, Umarov's group also claimed responsibility for a suicide bomb attack in June 2009 which left the leader of Ingushetia fighting for his life and a Siberian dam disaster that killed 75 in August 2009. Russian authorities blamed it on a technical failure.
Two wars have been fought by Chechen rebels against Russian forces since 1994. Conflicts dropped off about a decade ago after the second war but the insurgency did continue with small clashes in Chechnya and in neighbouring Caucasus republics. Umarov seeks to create a Caucasus emirate independent from Russia and governed by Sharia law. To do so, his fight will go on with him stating that he could call on 50 to 60 suicide bombers if necessary.
Euronews – Feb 8/2011
Islamist rebel says he ordered Moscow airport blast
A Chechen warlord has apparently claimed responsibility for last month's carnage at Russia's busiest airport and warned of further such attacks. In a video on an Islamist website, Doku Umarov said he ordered the "special operation" to avenge what he called Russian "crimes" in the Caucasus. He does not mention Domodedovo Airport in Moscow by name. But his reference to the 24th – the suicide bombing occurred on January 24 – looks to confirm suspicions of his involvement.
References
Kavkaz Center
Kavkaz Center – Feb 7/2011
CE Emir Dokku Abu Usman took responsibility for Moscow airport Martyr bombing
Late on Monday, the Kavkaz Center received by e-mail a statement of the Caucasus Emirate Emir Dokku Abu Usman in regard to a Martyr operation carried out against Moscow airport on January 24, 2011.
According to the statement by Emir Dokku Abu Usman, it was recorded the same day, January 24, 2011.
In his statement, the Caucasus Emirate Emir said that he had ordered an attack in Moscow and that such operations will undoubtedly continue in the future.
Emir Dokku Abu Usman said that the Muslims of the Caucasus were at war with the Russian occupation army in the name of Allah to defend Islam and the people's right to dignity, to liberate the land of Caucasus Muslims, and to establish law and justice.
It is to be recalled that earlier, Dokku Abu Usman made a statement at the base of the Martyr Brigade Riyad-us-Saliheen together with the Emir of Martyr Brigade Khamzat and a Mujahid named Seyfullah who was sent to Moscow for a martyr operation.
The Kavkaz Center publishes the new statement by the Caucasus Emirate Emir Dokku Abu Usman without cuts and omissions.
Kavkaz Centre (www.kavkazcenter.com) is a Chechen internet agency which is independent, international and Islamic. Our agency was founded in March 1999 in Jokhar (Grozny) by the CRI National Centre for Strategic Research and Political Technology, registered with the CRI Ministry of Justice in October 1998 (N 1377/б-17).
The internet agency Kavkaz Centre provides reporting of events in the Islamic world, the Caucasus, and Russia. One of Kavkaz Centre's chief objectives is to report events in the Chechen Republic of Ichkeria connected to the Russian military aggression against the CRI. Besides we also provide international news agencies with news-letters, background information and assistance in making independent journalistic work in Caucasus.
Kavkaz Centre is a privately run, independent agency and does not represent the viewpoint of any state structures or the CRI government. The Kavkaz Centre agency makes it its mission to report real events in Ichkeria under conditions of a total information embargo and to disseminate to the world community the truth about the war, the war crimes, the evidence of genocide on the part of the state aggressor against the entire population and the positions of the side defending against aggression — the Chechen mujahedeen.
The agency has plans to widen its activity in creating a complete international information corporation and organization of additional information structures.
Click HERE to read more from William Belle.
Article viewed at: Oye! Times at www.oyetimes.com