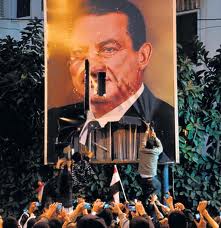 On Friday at 6 pm local time, Vice-President Omar Suleiman announced on state TV that Egyptian President Hosni Mubarak had resigned and handed over power to the military. The CBC quoted Suleiman as saying:
"In these difficult circumstances that the country is passing through, President Hosni Mubarak has decided to leave the position of the presidency. He has commissioned the armed forces council to direct the issues of the state."
This surprise statement comes a day after Mubarak himself stated in a televised address that he would remain until the end of his term in September. What happened in the last 24 hours? There have been reports that Mubarak flew to his palace in the Red Sea resort of Sharm el-Sheikh earlier on Friday in advance of this momentous announcement.
CNN is using the word "jubilation" to describe the reaction of demonstrators in Cairo. Protesters swarmed army tanks that had been deployed to keep order, banged drums, blew whistles and frantically waved the Egyptian flag in celebration. They danced in circles and chanted.
Tariq Ali, writing in The Guardian, talks of this joyous occasion and the return of the age of political reason. In a telling paragraph, he says:
The removal of Mubarak alone (and getting the bulk of his $40bn loot back for the national treasury), without any other reforms, would itself be experienced in the region and in Egypt as a huge political triumph. It will set new forces into motion. A nation that has witnessed miracles of mass mobilisations and a huge rise in popular political consciousness will not be easy to crush, as Tunisia demonstrates.
$40 billion? What stories will come out in the coming days, weeks, years about what has happened during the past 30 years under Mubarak's rule?
ABC News reports:
Experts say the wealth of the Mubarak family was built largely from military contracts during his days as an air force officer. He eventually diversified his investments through his family when he became president in 1981. The family's net worth ranges from $40 billion to $70 billion, by some estimates.
Swiss government has now frozen his assets.

World Reactions
CNN reports the Obama administration is calling this a "welcome step" while adding that now comes "an unpredictable next chapter". Al Jazeera quoted the royal council of Qatar's Emir as saying that Mubarak's resignation was a "positive, important step towards the Egyptian people's aspirations of achieving democracy and reform and a life of dignity". Positive comments are coming in from elsewhere, the European nation and the European Union itself, all saying this is a positive step for democracy.
Voice of America is reporting that Mubarak is credited for Egypt's stability during his 30 year reign but critics are saying that stability came at too high a price. It will be interesting to hear what stories coming out now that Mubarak is no longer calling the shots.
Swiss freezes Mubarak's assets
CNN Money
is reporting that the Swiss government has frozen funds of Mubarak and 20 other officials. This announcement came from the Swiss Federal Department of Foreign Affairs and it is apparently part of a normal procedure to avoid embezzlement of state property by any foreign leader who may be "politically exposed".

Hosni Mubarak – Timeline
1928:- born May 4.
1949: received a Bachelor's degree in Military Sciences at Egyptian Military Academy.
1950: received commission as pilot officer.
1972: became Commander of the Air Force and Egyptian Deputy Minister of Defence.
1975: appointed by Sadat as Vice President of the Egyptian republic.
1981: became the President of the Arabic Republic of Egypt, and the Chairman of the National Democratic Party (NDP) following the assassination of President Sadat. He is the longest serving president with a term of 29 years. According to the BBC, Mubarak has survived six assassination attempts.
1989: succeeds in regaining membership in the Arab League. Egypt's membership was suspended when Anwar Sadat signed a peace treaty with Israel in 1979. It is noteworthy that Jordan signed a peace treaty with Israel in 1994.
1995: survived an assassination attempt on his motorcade while he was attending an Organisation of African Unity Summit in Ethiopia.
1991: joined the U.S. in the first Gulf war. The Economist reports that when America was hunting for a military alliance to force Iraq out of Kuwait, Egypt's president joined without hesitation. His reward, after the 1991 Gulf war, was that America, the Gulf states and Europe forgave Egypt around $20 billion-worth of debt, and rescheduled nearly as much again.
2003: came out against the war in Iraq.
2005: called on parliament to amend Article 76 of the constitution to allow multiple candidates to run in elections scheduled for later that year. September 2005 saw elections held with multiple candidates; a first for Egyptians. Nevertheless, Mubarak still won with 88% of the vote.
2011: resigns
Click HERE to read more from William Belle.
Article viewed at: Oye! Times at www.oyetimes.com