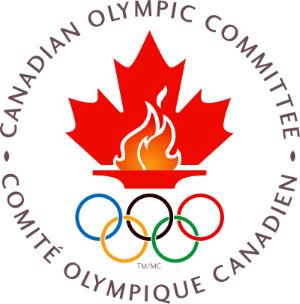 Athletes and London Assistant Chef de Mission launch new Canadian Olympic Team brand
Monday, in Canada's first ever Olympic city, the Canadian Olympic Committee introduced its celebration of Canadian Olympic athletes with the exciting new "Tout Donner" campaign.
Formally introduced to the world for the first time outside Montreal's historic City Hall, the dynamic multi-media campaign speaks to the very heart of what Canadian Olympic athletes do to achieve success at the Olympic Games. The official campaign video spot, "Relentless" featuring music by Montreal band "We are Wolves", will debut on CBC's Hockey Night in Canada on May 7.
"All the women on this team rely on one another to get our performance where it needs to be," said Marie-Pier Boudreau-Gagnon, Synchro Canada's Senior National Team Co-captain on behalf of her teammates.
"It's such an incredible feeling to be able to trust that every teammate is pushing herself right there along with you. It's an incredibly special and intense bond that is built over time, through countless hours of practice and training. It's a trust that brings a whole other dimension to what it means to Tout Donner."
"To me, Tout Donner means being able to perform at my best," said 2008 Olympian and Laval native Jennifer Abel. "I don't mean just once or twice, but consistently.
"In my case, the most important thing is doing everything in balance: training, sleeping, eating properly, all aspects of my life that contribute to my success. Doing that means I'll be able to take myself as far as I need to go. It means I'll be able to Tout Donner."
In addition to Abel and the Synchro Canada's Senior National Team, the campaign features athletes from across the country, including: Mary Spencer (ON); Adam van Koeverden (ON); Paula Findlay (AB); Ryan Cochrane(BC); and Julia Wilkinson (ON). Also included in the campaign are: Alexandre Despatie (QC);Émilie Heymans (QC); captain Christine Sinclair (BC) and the Canadian Women's Soccer Team; as well as the Men's Eight Rowing Team.
"Sharing the 'Tout Donner' campaign at this time will help Canadians understand what drives our Olympic athletes to strive for continuous improvement," said Canadian Assistant Chef de Mission for London 2012, Sylvie Bernier. "As we draw closer and
closer to London, this is a very exciting opportunity to further strengthen the emotional bond between Canadian fans and the dedicated athletes who will be competing for them at the Games."
"From the moment we welcomed the world in 1976, our city forged an unbreakable bond with the Canadian sport community," said Mayor Tremblay. "We were leaders then, and to this day, we continue to warmly host athletes from around the world. I am
particularly happy to welcome our athletes in Montreal to launch this exciting campaign. On behalf of all Montrealers, know that we will be behind you, supporting each Canadian athlete as you give your everything in London."
"Tout Donner is the ultimate expression of the dedication our Canadian athletes show every minute, every hour of every day in their pursuit of their Olympic goals," said Derek Kent, Chief Marketing Officer of the Canadian Olympic Committee. "We are pleased and proud that we are unveiling this unprecedented campaign in the city that hosted Canada's first Olympic Games."
To see the "Give Your Everything" 60-second live spot, please visit: olympic.ca