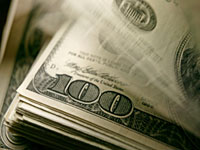 This article was last updated on April 16, 2022
Banks are finally opening up the books in the aftermath of the credit crisis with corporate lending surging to the highest since just before one of the darkest periods in our financial history. What's unclear is whether this lending to corporations is a precursor to financial institutions extending loans to consumers, a boost this economy could use.

Global corporate loan volume hit $1.64 trillion worldwide in the first half of 2011, a 50 percent jump from a year ago and the highest since more than $2 trillion in the first half of 2007, according to Dealogic. The Americas accounted for more than half of the volume and JPMorgan (JPM) was the leading lender, said the research firm.

"Corporate loan growth leads to more business activity, which leads to more jobs, which leads to more consumers spending, which leads to stronger housing market, which leads to a higher GDP," said Mitch Goldberg, President of ClientFirst Strategy.

What's more, banks willingness to lend to consumers is increasing, according to the latest survey of senior loan officers by the Federal Reserve Bank of St. Louis. Brian Kelly of Brian Kelly Capital points to this data as reason to purchase shares of regional banks through the KBW SPDR (KRE) ETF.

But despite what banks say, many investors have their doubts that this surge in corporate lending is the start of a cycle that will end with plentiful and easier to access loans for consumers.

"I view it as a structural change," said Joe Terranova, chief market strategist for Virtus Investment Partners and a 'Fast Money' trader. "There are those that will be given credit and those (who qualified in 2007) that will not be provided further credit for years to come."

The head of leveraged finance at a major commercial lender, who wished to remain anonymous, said that most of the loan activity in those Dealogic figures is related to companies refinancing debt, initating buybacks or mergers.

"There aren't a lot of companies coming to me and saying I want to build a new plant, can you lend me some money?" he said.

Until then, the multiplier effect of this jump in business lending may be nil.

For the best market insight, catch 'Fast Money' each night at 5pm ET and the 'Halftime Report' each afternoon at 12:30 ET on CNBC.
You can publish this article on your website as long as you provide a link back to this page.