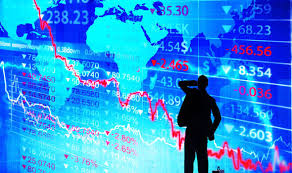 Stock markets have been steady overnight as traders await a flurry of potential developments, particularly for the US and Canada. US index futures and the FTSE are flat, the Dax and Nikkei are down 0.3%.
Crude oil has been slammed downward again overnight with WTI falling 3.0%, continuing the selloff that started yesterday after a brokerage report indicated US drilling activity may need to fall by 150 rigs to bring the market back into balance. It's unclear if the report was written before or after yesterday's bog DOE drawdown. Regardless, today's Baker Hughes rig counts could attract attention from traders and may impact the market more than usual. Recent chatter about potentially putting in production caps for Libya and Nigeria could provide some support if anything comes of it.
Currency markets have been steady for the most part. Gold and JPY have been underperforming, suggesting that political risk concerns may be easing for now. Sterling has also been sliding today on a surprise decline in UK industrial production.
There are several events today which could move the markets starting with employment reports for the US and Canada and potential developments from the G-20 summit.
The huge discrepancy between last month's strong ADP and weak nonfarm payrolls has been partly resolved through yesterday's ADP disappointment and downward revision to last month's number. The question now is whether we could see a rebound in nonfarm payrolls and/or an upward revision.
To me, between soft retail sales, housing starts, and durable goods orders, it's hard to see how we could get a strong employment report even though the employment component of ISM PMI rose to 57.2 from 53.5. The street is expecting payrolls to bounce back toward 185K. I'm thinking 150K plus a 20K upward revision to last month.
In addition to the headline number, manufacturing payrolls may also attract significant attention with President Trump set to talk trade at the G-20 summit in Germany. The President is expected to come under fire over his protectionist stance on trade but a low job number may support his case. What to do about North Korea and the US walking away from the Paris climate deal may also be points of contention. President Trump is also expected to hold side meetings with Russian President Putin and others, which could attract attention.
Wage data may also be scrutinized by traders looking for direction on inflation. Fed members think that recent low inflation numbers are transitory so wages may give a better handle on underlying inflation pressures. This number could kick off another round of interest rate speculation in USD although I still think the Fed is going to hold off on making any more moves until the battles over the budget and debt ceiling are resolved.
CAD may also be active today. Friday's Canadian employment and Ivey PMI are the last major data points before next week's Bank of Canada meeting. Considering the effort made lately by Bank of Canada Governor Poloz and his deputies to lay the groundwork for a July rate hike, it would likely take a major disappointment to knock the bank off course now.
Last month's Canada jobs report was extremely strong and I would not be surprised to see a retrenchment, particularly on the full-time side which had spiked 77K last month. Another positive number could boost the loonie as it would add to the case for a rate increase. The street is looking for a 10K increase but for most of this year the street has been overly pessimistic about Canada, I'm thinking 25K.
Chart Signals: Crude Oil crushed again, indices keep rolling over
Another active day for trading is underway with crude oil once again in the spotlight as WTI gets slammed back down under $45.00. Meanwhile indices continue to show signs of peaking and coming under distribution.
North American and European Indices
US 30 is testing 50 on the RSI where a breakdown would signal a downturn in momentum. A recent double top near 21,550 already suggests the previous uptrend has peaked and a correction starting. The index has dropped from 21,410 toward 21,310 with next potential support at the 50-day average near 21,150.
US SPX 500 is breaking down today, the index has dropped from 2,424 toward 2,410, taking out its 50-day average along the way. RSI has decisively broken under 50, signalling a downturn in momentum. Next potential support near 2,400 then 2,382.
US NDAQ 100 is sitting on 5,600 just above 5,582 a 23% Fibonacci retracement of its previous uptrend. Resistance drops toward 5,610 form 5,630. Next potential support near 5,545 then 5,500. Falling RSI confirms increasing downward pressure.
UK 100 continues to consolidate recent losses and the completion of a head and shoulders top trading between 7,300 and 7,400. Falling RSI indicates continuing distribution. Next potential support on a breakdown near 7,200, initial resistance near 7,350.
Germany 30 is still trending downward with resistance falling toward 12,390 from its recent 12,475 breakdown point. Initial support appears near 12,330 then 12,240 a 23% retracement of the previous uptrend. Falling RSI confirms increasing downward momentum.
Commodities
Gold has paused between $1,220 and $1,230. Signals are mixed as the price is attracting support above the May low near $1.214 but it remains in a downtrend below its 200-day average near $1,232. Falling RSI tips the scales in favour of a continuing downtrend with a test of the $1,200 round number possible.
WTI crude oil is breaking down again. RSI has broken under 50 to confirm momentum has turned back downward while the price has broken $45.00 and $44.85 a Fibonacci level on its way toward the $44.00 to $44.25 area. Next potential support near $43.50.
FX
US Dollar Index remains in a downtrend stuck below 96.30 and trading between 95.30 and 96.10. RSI steady near 40 indicates a pause underway within a larger retreat.
USDJPY remains under accumulation, decisively breaking out to the upside clearing 113.35 on its way from 113.10 into the 113.60 to 113.80 area. RSI breaking out over 50 confirms momentum turning upward. Next potential resistance near 114.00 then 114.60 a Fibonacci level.
EURUSD continues to consolidate recent gains between $1.1320 and $1.1440, trading well above its recent $1.1290 breakout point. The pair appears to be starting to climb again following a normal trading correction. Next upside resistance possible near $1.1500.
EURGBP has regained 0.8800 and is testing 0.8860 channel resistance where a breakout would complete an ascending triangle that has been forming. A golden cross and RSI lifting up off of 50 confirm the pair's uptrend continues.
GBPUSD is sitting on $1.2900 having dropped back from $1.2970 but still holding above its 50-day average near $1.2880. Similarly, RSI keeps drifting back toward 50 but not breaking it, indicating that we appear to be in a normal consolidation phase within a bigger uptrend.
USDCAD remains below $1.3000, consolidating recent losses and working off an oversold RSI between $1.2990 and $1.2920. Next resistance on a rebound possible near $1.3050 with additional support in place near $1.2900.
CADUSD continues to consolidate recent gains and work off an overbought RSI between $0.7680 and $0.7730 around $0.7725 a Fibonacci level. Next support near $0.7635 with next resistance near $0.7795.