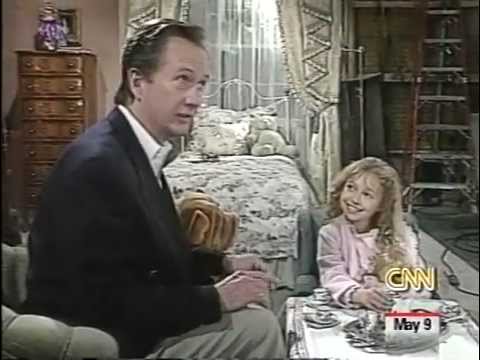 In case you've never noticed, Hayden Panettiere knows how to give a good interview. We were reminded of just how good when she appeared on the Late Show With Stephen Colbert. The Nashville star should know what she's doing — as Colbert shared with the audience, she's been at it since she was a little girl.
Colbert showed Panettiere a photo of her sitting down with Jay Leno in 1996 when she was seven years old. "I think it was for a Wendy's commercial," she said.
By that point, she'd already been acting on One Life to Live and Guiding Light so a little late-night interview couldn't have been that big a deal.
"Your confidence [at that age] is through the roof," she told Colbert. "Everything is great. Everything is amazing. You are the best … That's gone flying out the window."
That confidence carried her through some harrowing soap story lines — falling down a well, developing leukemia, shooting her mother's boyfriend — completely unscathed. Panettiere has publicly spoken about her battle with post-partum depression and managed to use her personal experience in her role as Juliette on Nashville.
Colbert questioned how she managed to not be a messed-up former child star.
"How do you know?" she asked, with an ominous tone to her voice. As Colbert joked that her freaking out on the show would be good for ratings, she actually did scream in his face for a split second.
"I'd like to get a screen grab of that, please," he said.
Being a total pro, Panettiere knows that these days, interviews are best with some unscripted surprises. In her early years, however, she maintained unwavering poise. Just look at how she handled this condescending reporter.
Click HERE to read more from Refinery29.



Loading ...