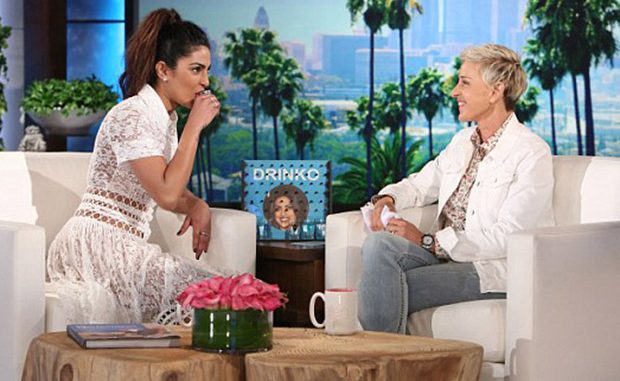 This article was last updated on April 16, 2022
Canada:

Oye! Times readers Get FREE $30 to spend on Amazon, Walmart…
USA:

Oye! Times readers Get FREE $30 to spend on Amazon, Walmart…
Ellen Show is definitely one of the most watched chat shows in the world. Any and every celebrity considers it as a status symbol if he/she makes it to the coveted couch. Ellen DeGeneres hosted the Oscars in 2014 and the famous selfie that she took with the choicest group of Hollywood actors became the most retweeted tweet of 2014 since it was retweeted 3.3 million times. So when Priyanka Chopra made it to the Ellen Show it was big deal and Chopra made a splash but was also treated to some trademark wry Ellen sense of humor.
Ellen probed Priyanka about her stint at the Miss India pageant. Chopra in her trademark fun style narrated how she became Miss India at 17 and then a Miss World at 18. When she showcased her Miss World wave of hands, Ellen felt that the hands should be more stiff instead of being casually lose. "That seems like you're unscrewing a light bulb. I have never been to a pageant but that is not how you do it," Ellen said amidst laughter all around. When Priyanka told her that this was the way she was taught in England, Ellen said, "They are wrong. They don't know. It's a miracle that you made it this far."
Ellen also had a surprise for Priyanka when she asked her on the show if she'd like to have tequila shot the way she did on the Red Carpet of Emmys 2016. Priyanka revealed that she had not eaten anything before the Emmys and when she had the tequila shot on an empty stomach she felt wonky. When Priyanka asked Ellen of she'd like to have Tequila shot as well, "No I am working," Ellen replied. An interesting conversation followed:
Ellen: Americans drink a lot
Priyanka: So do Indians
Ellen: What's the choice of drink in India?
Priyanka: Hmmm, Red Wine, it's elegant and it is appropriate to say on this show because your show airs in India twice a day and it is a little
Ellen: My show airs in India twice a day, thank you.
Priyanka: India loves Ellen
Ellen: I love India.
Source: Bollywood Masala original article at "It's a miracle you've made it so far" – Ellen to Priyanka Chopra
You can publish this article on your website as long as you provide a link back to this page.