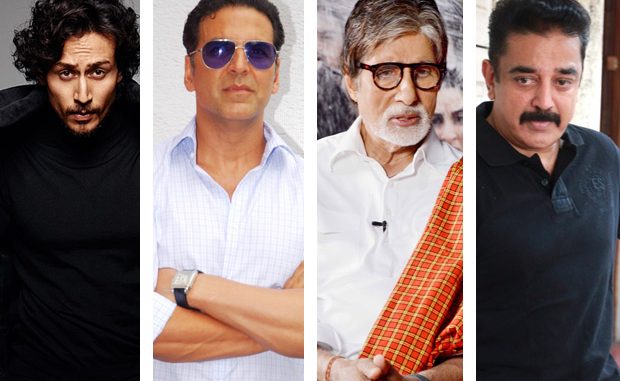 Tiger Shroff: "Actors losing their lives during stunt and that too due to negligence… That's sad to hear. My thoughts and prayers go out to their family. Action sequences are unpredictable no matter how safe you make your environment. I rehearsed tirelessly for Baaghi and The Flying Jatt. But when it comes down to shooting your adrenaline is higher and the ambience and geography changes which make a difference while performing."
Akshay Kumar: "Risks during action scenes come with the territory. You can't be doing stunts and not expect an element of danger. I remember while shooting for Priyadarshan's Garam Masala, I banged my head against a wooden cabinet, leading to profuse bleeding. There was panic on the sets. The blood just wouldn't stop. Everyone thought it was far more serious than it actually was. I was advised stitches. But I chose to use ayurvedic healing…I never take allopathic medicines. During the shooting of Khakee Aishwarya was hit by car and hurled several feet away. Just how she managed to remain unhurt is a mystery to us all…But, yes, we certainly need to be more careful with ourselves. After all we've responsibilities on so many levels…to our family, fans, producers and to ourselves. Look at what had happened to Amitabh Bachchan Saab during Coolie."
Amitabh Bachchan: In what's unarguably the most celebrated celebrity accident in India, Amitabh Bachchan was delivered a near-fatal blow on his solar plexus during the shooting of Manmohan Desai's Coolie in 1982. Struggling between life and death for months as the nation prayed for him, Bachchan realised how much he owed to his fans.
Says Mr Bachchan, "It was the most life-changing experience of my life." And when during the shooting of Khakee Aishwarya was hurled away from her chair into the far-away bushes, I relived the whole experience in my mind, wondering if this film industry will ever learn from its past experiences."
Kamal Haasan: "Shouldn't we all start thinking deeply over this matter before something seriously catastrophic happens? I spun out of control on a hurling motorbike and crashed into a roof during a stunt sequence for Mumbai Express. The little boy who was on the pillion and I had a providential escape. I may not be that lucky the next time. It's time we stopped doing unreasonably dangerous things. They certainly don't get us anywhere. Today, it's the hospital, tomorrow it could be the morgue. During the shooting of a K Balachander's Punnagai Mannan (dubbed as Dance Master in Telugu) the three harnesses by which I was hanging in mid-air all snapped and I fell to the ground with a thud. I thought Balchanderji would get a heart attack since the fall was so steep and sudden everyone thought I'd be dead or crippled. Luckily I got away with just torn ligaments wounds and bruises. Then during a Tamil film Kaligan I did an action scene in a subway. Again, it was a relatively easy sequence. But a car speeded up and hit me smack on my spine. I landed on top of the car. Then, when it halted, I went under the wheel. I dislocated my jaw, my nose was cracked and I had three fractures. I thought I'd never walk again."
Source: Bollywood Masala original article at Bengaluru stunt tragedy: Bollywood reacts



Loading ...