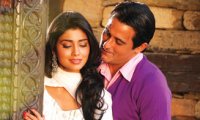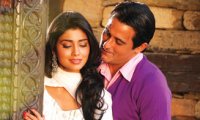 While credit must be given to writer-director Rumy Jaffery for focusing on the issue of corruption noble intentions don't necessarily make a notable work of art. Certainly
Gali Gali Chor Hai
(GGCH) must have sounded amusing and topical on paper. It is a savagely stinging satire on the harassment of the average law-abiding middleclass man, played with arresting earnestness by Akshaye Khanna, in the hands of various touts, middlemen, law enforcers, goons and politicians all of whom infest the tranquil city of Bhopal with the destructive determination of termites eating into a 'system' that has long ceased to be if any consequence, moral or ethical.
While the script has some sparkling vignettes and scenes taken from the portrait of a common man trapped in the wheels of a fluctuating fortune, the treatment of the theme of corruption is staid, prosaic uninspiring and frequently bland. The screenplay unfolds in segments and episodes that could belong to a long-running government-sponsored serial on Doordarshan, made with the express purpose of cleaning the bureaucracy's image.
Lamentably, for all his sincerity, Akshay Khanna's Bharat remains clueless about what the script hopes to achieve by showing the character running in and out of police stations and court premises, except to project the helplessness of the common man into a script that seeks to desperately extract creative juices out of the bourgeois desperation which has baffled, bewildered, frustrated and destroyed the under-privileged classes the world over.
Sadly the satire doesn't evoke any empathy for the common hero of this film who is sucked into the vicious vortex of bribery and palm-greasing for no seeming reason except his political innocence. Like Shyam Benegal's last satirical outing Well Done, Abba this film forgets to oil its joints which creak in protest each time the hero shrieks in protest.
The problem with Jaffrey's film is its dry almost clinical treatment of the theme of corruption and the Common Man. While the ambience, characters and the plight of our hero Bharat seem authentic, the languid movement of the story suggests a far less involving sequence of events than what we set out to witness when we sat down for a film.
Don't rub your hands in anticipation when you sit down to watch this ode to corruption. In Singham the slap sounded far more musical to the ears. Yes, there are stray amusing moments in GGCH. But by the time Bharat's slap on the face of the 'system' occurs it's a case of too little, too late.
And what on earth is that item song with Veena Malik lighting up her vital statistics with Christmas bulbs. A symbol of the common man's dream gone bust?
Sorry, but the original Bharat, Manoj Kumar did the anti-corruption theme much more interestingly in Roti Kapada Aur Makaan. You have to bribe the audience to watch the characters getting high on the anti-corruption theme of this film.