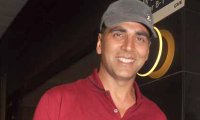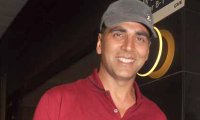 One of the most memorable characters enacted by Akshay Kumar in the last few years has been that of 'Wicked Sunny' in
Mujhse Shaadi Karogi
. While he has stayed on to be a permanent fixture in almost all films produced by Sajid Nadiadwala, it was time to take the 'panauti' route in
Housefull
. Now that director Sajid Khan is returning with
Housefull 2
, Akshay is happy playing to the gallery all over again and promises that it is time to get wicked and naughty all over again. In Part I of this exclusive conversation, Akshay talks about the film, his return with John after
Desi Boyz
and the true story behind four Jollys.
In Housefull, you were presented in a very 'non-Akshay' avtar. Gone was the flamboyance and in came the 'panauti' characterisation which was subtle yet effective. How has the transformation been in Housefull 2? Do we see a different Akshay on play this time around?
Personally, regardless of how much I enjoyed playing a 'panauti' in the first Housefull, I have really gone mad having fun with everyone on the sets of Housefull 2. I am playing this mischievous 'Lady Loving' lad in the sequel. I am Wicked Sunny. I begin penniless in a run down old shaggy trailer van and then supposedly become a billionaire's son overnight.
And what happens next?
Well, from being a big time loser to a small time bum to a rich kid, I now have the most interesting wardrobe that you can imagine (smiles). I am what you call a loveable letch who is innocently dirty, wicked but sweet. I am the unspoken dark side of every man. So ladies, don't be offended, just be titillated (winks).
Talking about ladies then well, there are quite a few beauties around, right from Asin, Jacqueline Fernandez, Shazahn Padamsee and Zareen Khan filling the frames. Guess it was one house full of them around all the Jollys, which means lots of fun and vibrancy all around?
Oh yes, these are what I call the poor unfortunate souls of the innocent ladies of Housefull 2 (smiles). They were tortured, picked on, poked, prodded & laughed at and I think even dropped once or twice! However we made their Housefull 2 adventure a seriously memorable one. We took great care of them as well and made them feel like Princesses every time they entered the set. What happened next was nothing far from mischievous; after all, what more could they ask from the Dirty Dozen!
An integral part of this 'dirty dozen' is John Abraham with whom you recently did Desi Boyz.
John is the softest lone ranger in the industry. He is loved and looked after by everyone. When he walks into a room, he can make everyone's teeth ache with his sweetness and humble charm. I love him. I wish we could spend more time together. There is so much respect between us that we spend half our time accommodating each other than anything else.
Seems like the camaraderie is pretty much on display all over again with Housefull 2?
I think we looked better than ever together in Desi Boyz and I couldn't be happier that he is in Housefull 2 with us. It's a John that no-one has ever seen before. Well, watch out for him, that's all I can say.
Coming to the core of the film, it is apparent that the film is about four Jollys and the mistaken identities. However from the sheer plot perspective what really is happening? One doesn't expect you to reveal the twist in the tale but can you give some idea at least of what really is happening in this house?
Good lord, where to start (sighs with a smile). Well, these four boys are high school buddies. I & John have a massive fight that tears us apart over a chick that never deserved his love. Years later our mates – Riteish and Shreyas – are having girl trouble and call on us for help. Basically we all need to pretend that we are Mithun Dada's son, who by the way is a billionaire. We all then fall in love with daughters of rival brothers who are fighting over superiority.
Go on…
So one minute I am playing a bum who lives in a trailer van and then next, I am playing the part of a billionaire's son, when actually I am working as his butler. Also, to keep Rishiji & Randhirji in the dark while playing their son-in-laws is like finding a needle in a hay-stack. It is challenging, practically impossible, but a dare that a man can never refuse. Now there is this confusion of all of us trying to marry the girl of our dreams while saving our best friend Riteish's love marriage.
Visit this space for Part II of the interview!