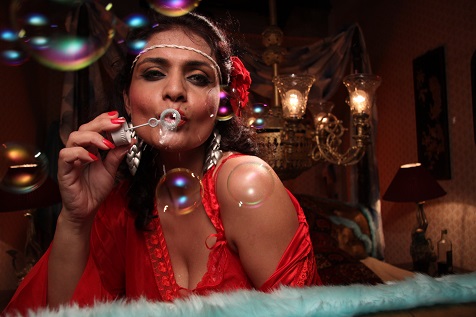 This article was last updated on April 16, 2022
Canada:

Oye! Times readers Get FREE $30 to spend on Amazon, Walmart…
USA:

Oye! Times readers Get FREE $30 to spend on Amazon, Walmart…

Reworked out of a shelved documentary on illegal sex-horror films in the lower depths of Bollywood, Miss Lovely by Ashim Ahluwalia, is a startling piece of cinema that explores a sordid tale of betrayal and doomed love. His first narrative feature, the film is an ode to renegade film making that flouts genre conventions to conjure up a world that very few of us have access to.
The film follows Vicky and Sonu Duggal, played by Anil George and Nawazuddin Siddiqui, two brothers struggling to produce illegal sex-horror films in the mid 1980's. It explores the intense and mutually destructive relationship between the Duggal brothers and a struggling actress Pinky, played by Niharika Singh. Besides winning the Best Film Award at the 14th Mumbai International Film Festival, the 'Reliance Media Works CreaTech (Creativity & Technology) Award' and Best Feature Film Award at the 11th Indian Film Festival of Los Angeles and the official selection of Un Certain Regard in Cannes Film Festival, globally, Miss Lovely has fascinated just about everybody. Deconstructing the morally bankrupt industry one fragment at a time, Miss Lovely can be easily misunderstood for its original storytelling and controversial content. Jonathan Romney of Sight & Sound described the film as "A shock to the system – an Indian film like I'd never seen." Constantly asserting its own originality, the film juggles spools of film and narrative, reality and fantasy that is almost akin to contemplative art. It has been compared to Rainer Werner Fassbinder's The Bitter Tears of Petra von Kant, Wong Kar Wai's Chungking Express and Dario Argento's Suspiria.
Variety's Alissa Simon avers, "something new in Indian film making, neither Bollywood nor traditional art cinema, the picture provides a unique, immersive experience…one that owes as much to dock and experimental filmmakers as to Scorsese, Welles and von Sternberg, plunging viewers into the characters' social milieu." While 'Film Comment's' Gavin Smith felt that the film was the strongest in the Un Certain Regard section writing. "I hope we do hear more from Indian director Ashim Ahluwalia, whose lively, fast-and-loose Miss Lovely, about two brothers toiling in the world of Bollywood's B-movie and soft core porn production in the Eighties, had an off-kilter, at times delirious first hour and then settled into a pungent story of jealousy, betrayal, and doomed love."
Libertas Film Magazine's Joe Bendel noted, "Straddling genres, Ahluwalia toys with crime story elements, but essentially tells a Cain and Abel tale, skewering India's celebrity-obsessed culture and sexual mores along the way. Stylistically, he spans the gamut from triply disorienting to in-your-face naturalism. This is kitchen-sink film making at its most relentlessly indie. Part expose and part fall-from-grace epic, Miss Lovely is highly recommended for those who simply love films about filmmaking." The New York Times' Joan Dupont profiled Miss Lovely and the directorship Ahluwalia in a piece titled "Mumbai in the Bad Old Days".
Director Ashim Ahluwalia was surprised by the excitement the film has generated worldwide, from being an official entry to Cannes and Toronto to winning numerous "Best Film" awards. "For the West, Indian cinema is either Satyajit Ray or Bollywood. Miss Lovely, on the other hand, is a mix of so many different genres, with a storytelling style and atmosphere that is pretty wild. It sometimes moves like a novel with multiple characters and side stories. I didn't expect people to react to it so enthusiastically." The 'A' certification doesn't matter for this director either. "The story does take place in the dark, lower depths of the industry, so this is not the kind of space that we usually depict in our films. It is a very adult film that explores sexuality and violence and the things that people do to each other when they are struggling to make it in a city. I'm happy that the censor board didn't ban it and, instead, eventually opted to grant it very few cuts."
Miss Lovely is all set for a January 17 India release.
You can publish this article on your website as long as you provide a link back to this page.