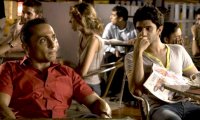 This article was last updated on June 18, 2022
Canada:

Oye! Times readers Get FREE $30 to spend on Amazon, Walmart…
USA:

Oye! Times readers Get FREE $30 to spend on Amazon, Walmart…

This seems like the most accomplished Friday, after a long, long time. Certain stories that were considered blasphemous, even sacrilege, that lay buried in the dark, with film-makers not wanting to touch with a bargepole, are gradually finding their way on the Hindi screen. Onir, however, attempts to narrate four different stories in I AM. The topics range from artificial insemination, child sexual abuse and homosexuality. Oh yes, Onir had always chosen the path less travelled, but with I AM, he goes a step forward. Er… four steps forward. I AM is a collection of four stories – each tackling a societal issue. Each of these stories seems straight out of life and the commonality is the emotion called fear. In fact, each of these stories takes the viewer on a journey that many of us may have encountered/witnessed/heard of, but discussed in hushed tones. These dilemmas bruise the Indian society at large and the sad part is that we are generally insensitive, indifferent and uncaring towards them. I AM – OMAR OMAR reveals the nexus between the police and male
sex
workers to blackmail and abuse gay men. This story is set in the criminalization of homosexuality days. This law was often used by the police to harass and extort money from gay men. OMAR tells the story of how, because of fear of society and law, gay men were blackmailed. This story brings to light a shocking incident where sex workers are hand in glove with the cops and extort money from hapless people [read gays]. The story seems straight out of life and what makes it even more disturbing is the way the cop exploits the situation. Of course, the story doesn't end there; there's more that follows.
This story revolves around three characters – Rahul Bose, Arjun Mathur [model/actor] and Abhimanyu Singh [cop]. While Rahul shows how vulnerable one can be when confronted with uneasy situations with realism, it is Arjun's character that you can draw parallels with, especially when one keeps hearing of models/aspirants taking to prostitution to support themselves in the city. He stands out in this story. Abhimanyu does a fine job as well. I AM – ABHIMANYU ABHIMANYU, the story of a child abuse survivor, is inspired by the true story of Harish Iyer and his struggle to reclaim his own shattered identity after 11 long years of abuse. A director [Sanjay Suri] is haunted by memories of sexual abuse as a child and the molester happens to be none other than his step-father [Anurag Kashyap]. After the step-father breathes his last, Sanjay decides to muster courage and reveal the secret to his mother [Shernaz Patel]. Haven't we heard of pedophiles? Most importantly, how will a child react if the molester happens to be his step-father? Stories of sexual abuse can be very, very disturbing and that's exactly what this story attempts to do. It makes you uncomfortable. But you can't shut your eyes to the harsh realities as well. The story makes you peep into the mind of the child [now a grown up man], who can't get over the fact that he was forced to become a 'slut' to fulfill his materialistic desires [the cycle, the money for film school]. The story of the abuser and the abused is filmed with expertise, without actually depicting the heinous act committed by the pedophile. On the flip side, the relationship between Sanjay and Radhika Apte is not well defined. Is he in love with her? Or is she just a friend? Anurag Kashyap does a fine job, while Sanjay Suri is, as always, competent. Shernaz Patel and Radhika Apte are sidetracked, although they pitch in dependable performances. Zain Salam [younger Sanjay Suri] exudes the innocence this character demands. I AM – AFIA AFIA talks about a woman whose biological clock is ticking. She's keen to have a baby, but her husband isn't. Later, she discovers that her husband is in a relationship with another woman. Afia wants to have a baby of her own through artificial insemination. But she wants to know about the donor, before she goes ahead with the process. The donor is Suraj, a student, who is hesitant to meet the lady initially. But when the lady insists on meeting the donor, the doctor arranges for a meeting between the two. Subsequently, Afia decides to go ahead with the implantation process. Another thought-provoking story that brings to fore the fact that independent women have no qualms when it comes to being a single parent. It also makes you realize that the mindset of most people – at least in a metropolis – is ready for a change. Set in Kolkata, the characters converse in Bengali at times, which makes the story appear even more authentic. Nandita Das is top notch, enacting the complex role with effortless ease. Purab Kohli is only getting better with every film. Anurag Basu, as the Doctor, springs a surprise. He acts well. Manav Kaul, as Nandita's husband, doesn't get much scope. I AM – MEGHA MEGHA is about a Kashmiri Pandit woman who goes back to Kashmir after 20 years to confront her past. A past of losing trust and faith in humanity. A past that saw Kashmiri Hindus leave Kashmir. Megha belongs to those forgotten minorities who have become refugees in their own country. The film also looks at the relationship between two women – a Hindu and a Muslim. Kashmir is a tricky subject to handle on celluloid and though there have been attempts in the past, the efforts [at least most of them] haven't been stunningly impactful. Onir handles the subject well and the story – especially the conflict between the two ladies – is brilliantly handled. The pain suffered by not just the Kashmiri Pandit, but also the Kashmiri Muslim woman comes across very effectively on screen. In fact, the best part is that it's not a one-sided affair, talking only of Kashmiri Pandits' plight. It's a delight to watch Juhi and Manisha, after a hiatus. Both deliver striking performances – even getting the language right. Rushad Rana, as Manisha's brother, makes his presence felt. Behram Rana and Madhu Sagar are efficient. I AM has travelled across the globe, winning awards and acclaim for addressing pertinent issues that plagues our society. Though not flawless, I AM is a landmark film that has four pertinent stories to tell, raises questions that haven't been solicited before and is a landmark film in my estimation. The screenplay [Urmi Juvekar, Merle Kroeger, Onir] is transfixing, while Arvind Kannabiran's cinematography is top notch. Especially the stunning locales of Kashmir, which have been captured on celluloid with dexterity. The soundtrack [Amit Trivedi, Vivek Philip, Rajiv Bhalla] stresses on melody.
On the whole, I AM, based on true stories and bona fide incidents, entertains, engages and enriches those thirsting for intelligent, sensible cinema. It is daring films like these that originate legal, social and political change in society. A motion picture of major significance, I AM will also be remembered because it's the first of its kind on the Hindi screen. Go for it!
You can publish this article on your website as long as you provide a link back to this page.