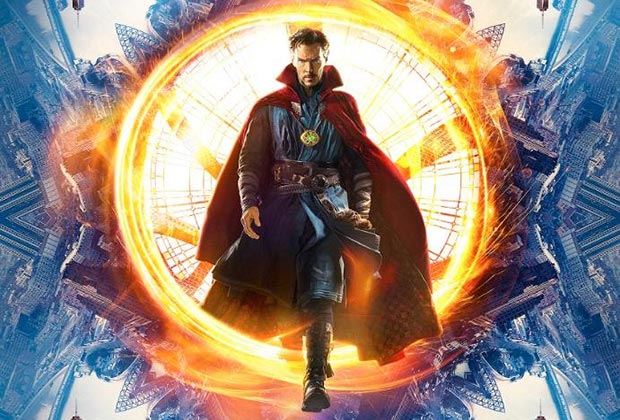 This article was last updated on April 16, 2022
Canada:

Oye! Times readers Get FREE $30 to spend on Amazon, Walmart…
USA:

Oye! Times readers Get FREE $30 to spend on Amazon, Walmart…
Over the past few years, superhero films have become a genre to contend with. Be it THE AVENGERS, GUARDIANS OF THE GALAXY, IRON MAN, CAPTAIN AMERICA, THOR, ANT-MAN or for that matter any of the unending list of characters from Marvel, films that bring these comic book heroes to life are fast becoming massive money spinners at the box office, both in India and internationally.
Continuing with the trend of introducing each superhero from its gamut, Marvel's latest offering is DOCTOR STRANGE that once again brings to life on the big screen, another comic book hero. But will the film that talks of a lesser known superhero as compared to an Iron Man or a Captain America be welcomed by the audiences, or will the film be just another introductory celluloid expedition well worth it to set up the Marvel Cinematic Universe, is what we analyse.
Marvel's DOCTOR STRANGE follows the story of the talented neurosurgeon Doctor Stephen Strange, a gifted surgeon with a flawless medical record and an inflated ego who believes in helping himself more than others. However, his life is thrown asunder after a tragic car accident. Now Strange who has injured his hands must put aside his ego and learn the secrets of a hidden world of mysticism and alternate dimensions. Based in New York City's Greenwich Village, Doctor Strange must act as an intermediary between the real world and what lies beyond, utilising a vast array of metaphysical abilities and artefacts to protect the Marvel Cinematic Universe.
The film starts off on a rather mundane note with an introduction of Dr. Stephen Strange (Benedict Cumberbatch) a pompous neurosurgeon working normal shifts in a hospital alongside his colleague and love interest Dr. Christine Palmer (Rachel McAdams). Considering himself to be the centre of the universe, Strange goes about his life with the outlook that whatever he does, whoever he decides to save is for the sole purpose of propelling him to greatness. However, life as he knows it is thrown out of whack with a freak car accident that he meets with. Having lost the stability of his hands, Strange sets off on a mission to regain his ability. After exhausting the resources provided by modern science, and yet being nowhere near normal, Strange sets off on a last ditch effort to save himself. This journey takes him to the mystic land of the Himalayas in Kathmandu, Nepal, where he has to literally unlearn everything he knows to understand and wield the power that is now placed before him.
Though most origin stories come across as being rushed, especially with the initial character introductions, director Scott Derrickson takes his time with DOCTOR STRANGE detailing each character and giving them depth. Despite this, with good screenplay and excellent time management the film does now slowdown in pace. Instead as the film progresses the overall pace of the film keeps time with the rising crescendo that plays in the viewer's mind culminating in a spectacular and novel climax. In fact Derrickson does a brilliant job with the visuals of the film, from mind numbing building powers to reality alteration a la INCEPTION; he melds both worlds, real and altered, seamlessly on screen. A special mention goes out here to the VFX and CGI crew whose efforts make DOCTOR STRANGE a worthwhile film and a more than equal contender among the bigger superhero films.
Talking about the performances, Cumberbatch as Doctor Strange both the surgeon and the reality alteration sorcerer suits the role perfectly. In fact seeing him don the cape of levitation complete with the devilish goatee beard, the viewer cannot help be feel like this role was tailor made for Cumberbatch. Chiwetel Ejiofor as Karl Mordo, a student of the Ancient One alongside Strange who plays the supporting character in the film is well detailed and used to help the story progress. Tilda Swinton as the Ancient One, whose vision and understanding spans space and time exudes a powerful aural presence, is spot on in depicting an individual in constant internal conflict but yet has a calm demeanour. Mads Mikkelsen as Kaecilius, a student of the Ancient One who has gone astray does equally well in his role as the precursor to doom. In fact Mikkelsen's character that comes across a combination of several antagonists is used in the film to drive the introduction and development of bigger villains for the future.
As for the music and editing of the film, DOCTOR STRANGE features a grand background score soundtrack. However, the score that is thrilling and insightful is impeccably composed and adds to setting the pace for the on screen happenings. The editing, given the context of the film, which could have been muddled up in umpteen number of places is flawless.
All in all, DOCTOR STRANGE that apart from all the action also features some good one liners and some humorous moments offers a cognitive story of manipulative sorcery, clever screenplay, mind-melting action and mind-bending CGI brings to life the virtually unknown origin story of a superhero that isn't quite one of the big league players in a spectacular fashion. Shot in IMAX, the film comes across as a visually stunning, entertaining worthy successor to the numerous superhero films before it.
DOCTOR STRANGE is a big screen experience that is a must watch! Preferably on IMAX 3D.

Source: Bollywood Movie Reviews original article at Movie Review: Doctor Strange
You can publish this article on your website as long as you provide a link back to this page.